Beyoncé Is Turning Homecoming Into a Peloton Class
The multi-year partnership between Beyoncé and Peloton will give HBCU students a virtual homecoming to remember—and you can join in from home, too.
---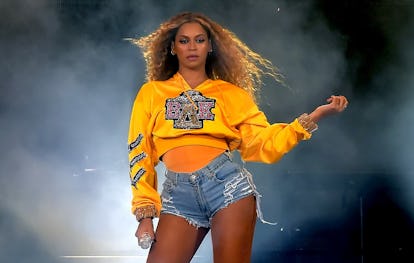 Kevin Winter/Getty Images
Everyone remembers where they were when they saw Beyoncé's "Beychella" performance for the first time, whether that was live and in-person in the Coachella Valley, or from the comfort of your own home on Netflix a year later as part of Homecoming.
Homecoming, of course, is the Emmy-nominated documentary that archived Beyoncé's history-making Coachella performance, and drew upon the aesthetics of Black Greek life as well as the annual homecoming games and parties at historically Black colleges and universities (HBCUs) like Howard and Spellman.
This year, students of HBCUs will likely miss out on the in-person homecoming spectacle, but thanks to Beyoncé's new partnership with Peloton, they can experience a virtual celebration of sorts.
The partnership, which is "rooted in the celebration of music," will also include pro-social initiatives. The curated themed workout classes will range from cycling to yoga and everything in-between.
According to Peloton, Beyoncé is the most-requested artist by the 3.6 million subscribers to the fitness platform, so collaborating on curated themed workout experiences with the musician was a natural fit. Students at HBCUs including Bennett College, Clark Atlanta University, Grambling State University, Hampton University, Howard University, Morehouse College and Morehouse School of Medicine, Spelman College, Texas Southern University, and Wilberforce University will receive two-year memberships to Peloton Digital. On the Peloton App, you can access the themed workouts, and Beyoncé plans to continue developing more fitness and wellness exercises on the platform. And, no, you don't need the famed Peleton bike for all of the workouts the company offers.
Beyoncé, who has apparently been a Peloton member for "several years," said that she is looking forward to the multi-year partnership. "Peloton and I both believe that the power of music can help uplift, motivate and inspire those on their fitness journeys," she said in a statement about the collaboration. "I'm excited to partner with a company that helps people, young and old, be the best versions of themselves, in an innovative and adaptable way. I'm proud to celebrate the students at HBCUs with this donation, to encourage them to find and embrace their own wellness regimens."
The partnership goes further than just giving out free homecoming-themed workout classes to HBCU students—the fitness platform promises to also work with the HBCUs to recruit interns and employees at the brand.
Just when you thought Beyoncé was really going to slow things down in her career, the Virgo jumped out and gave us an at-home workout experience like none other.
Related: Has Blue Ivy Carter's Grammy Campaign Officially Begun?