Beyoncé in "Lemonade": A GIF-by-GIF Breakdown
On Saturday night, Beyoncé broke the Internet — and a whole lot of other things — with the release of Lemonade. Here are the highlights, GIF by GIF.
---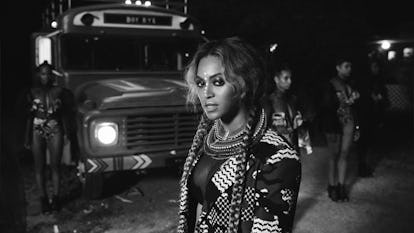 As if to just prove the length and breadth of her reach, Beyoncé not only broke HBO (and the rest of the Internet in the process — including, maybe especially, Tidal) and hijacked everyone's Saturday nights with Lemonade. Her new visual album release also recruited some of her closest, and not-so-close, friends and collaborators for everything from track-length interludes to the briefest of cameos. Zendaya, Amandla Stenberg, Serena Williams, James Blake, Kendrick Lamar, and The Weeknd (and Jack White?!) all show up in some form over the album's hour length. Still, Lemonade is all about Mrs. Carter, as she's listed in the credits despite the album's subtext about marital turmoil. It's alternately a revenge fantasy and a scathing hit on a cheating partner and an anthem to female independence. She even writes her own happy ending. Beyoncé's power isn't just in her command of a nation's Saturday night — it's also in how her music defies, and transgresses, genre boundaries and the very rules of the music industry. And it's also in her power to smash every car window in sight if she so pleases.
And yet: "GOD IS GOD AND I AM NOT," a title card flashes midway through Lemonade, a quote whose most popular iteration comes from a Christian motivational speaker named Steven Curtis Chapman. Isn't this a bit at odds with the rest of Lemonade, filled as it is with gravity- and death-defying feats, replete with safety hazards, and containing the occasional act of God? Beyoncé shoots down the Illuminati rumors in "Formation" ("Y'all haters corny with that Illuminati mess," she sings) — but who else but a supernatural being would set fire to the world in head-to-toe Gucci? Here, GIF-by-GIF, we take you through the most surreal, most supernatural, wildest moments of Beyoncé's Lemonade album.
Bey swans dives off a building, tumbling down towards the street — only to plunge into an ocean/pool/some kind of body of water.
But it turns out the body of water might just have been inside a grand mansion, because Beyoncé opens the doors and it's a literal floodgate. This proves a real challenge to the structural integrity of the building, but Lemonade is kind of filled with destruction.
Roberto Cavalli seems an appropriate choice of wardrobe to smash things. The cheery yellow adds a nice touch to the baseball bat.
When a baseball bat isn't enough, why not try a monster truck? Beyoncé takes the girl-with-a-baseball-bat country music cliché and supercharges it. (Good thing there's the country-inflected "Daddy Lessons" to follow.)
Pretty much everyone has worn this Gucci top (though fewer paired with the yellow brocade suit from the same collection) but we're guessing not quite as many of them have set a hallway ablaze while doing it.
Foregoing the baseball bat in favor of a ball and chain, Queen Bey just stands there swinging it around and around, totally menacingly.
God is God, and Beyoncé is Nefertiti.
If she's creating her own universe, she might as well recruit Serena Williams as her right-hand lady-slash-back-up dancer. Beyoncé's not sorry, Serena's not sorry, we're not sorry.
Come on, she's literally breathing underwater.
There's probably no better backdrop for a couture lace confection than a blazing corridor. It's very Mother of Dragons-meets-Southern Gothic. (A perfect nod to the Game of Thrones premiere from which Beyoncé stole the whole spotlight? We'd call it an apology, but Bey's already made it clear that she is not sorry.)
God she might not be, but Lemonade proves that it's still Beyoncé's world, and we just live in it. And there will be serious property damage if she's scorned.
Watch W's most popular videos here:
Every Time Beyoncé Slayed in Givenchy
Beyoncé in Givenchy at the 2015 Met Ball.
Photo by Sherly Rabbani and Josephine Solimene.
Jay Z and Beyonce in Givenchy at the 2014 Met Ball.
Photo by Sherly Rabbani and Josephine Solimene.
Beyoncé Knowles in Givenchy Haute Couture at the 2012 Met Ball.
Givenchy by Riccardo Tisci's silk satin bra and skirt, mink glasses, and necklace.

Photographer: Patrick Demarchelier Stylist: Alex White
Marc Jacobs's silk organza top; Givenchy by Riccardo Tisci's silk satin bra; Atsuko Kudo's latex briefs. Prabal Gurung gloves; Marc Jacobs headband; Ofira's 18k black gold, sapphire, and diamond earrings; Louis Vuitton belt, socks, and shoes; Wolford hosiery.

Beauty Note: Showstopping eyes are easily mastered with L'Oréal Paris Studio Secrets Professional Color Smokes Eye Shadow in Blackened Smokes.

Photographer: Patrick Demarchelier Stylist: Alex White
Givenchy by Riccardo Tisci's angora sweater, crinoline and wool skirt, cap, and shoes. Lorraine Schwartz's 18k white gold and emerald earrings, David Yurman's 18k yellow gold and diamond ring.

Beauty Note: Hair stays shiny and smooth with L'Oréal Paris EverSleek Humidity Defying Leave-In Crème.

Photographer: Patrick Demarchelier Stylist: Alex White
Beyoncé wears Louis Vuitton's silk top, cashmere shorts, hat, and mask; Givenchy by Riccardo Tisci's silk satin bra. Lorraine Schwartz's earrings, ­David Yurman's ring.
Marc Jacobs's cotton and silk lace blouse; Givenchy by Riccardo Tisci's silk satin bra; Louis Vuitton's leather and fur shorts. Marc Jacobs beret; David Yurman's silver, black rhodium, and diamond earrings; de Grisogono's 18k white gold and diamond cuff; Givenchy by Riccardo Tisci shoes.

Photographer: Patrick Demarchelier Stylist: Alex White
All GIFs courtesy Giphy.