'Lemonade' Hairstylist Kim Kimble Is Excited About the Natural Hair Movement
And thinks Beyoncé deserves a round of applause for making it look so cool.
---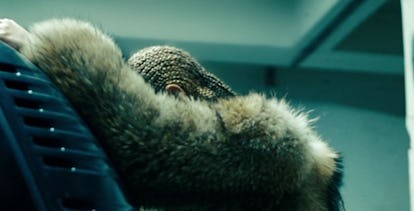 Beyoncé has always been adventurous with her hair. From a short, natural pixie cut to long braids and extensions–there isn't a look she hasn't tried. Many of these varied looks are thanks to her long-time hairstylist Kim Kimble. For "Lemonade," Beyoncé's hour-long visual album which was released Saturday night on HBO, Kimble came through again with an impressive range of hairstyles–including elegant updos and edgy cornrows. Here, Kimble reveals why these choices were so important to the overall story, and how she made it all happen.
What inspired you to create such a wide range of hairstyles for "Lemonade"? I listened to the music to get a sense of her ideas and the sound. I felt that she's trying to explain her feelings. We normally do glamorous hair but this time we wanted to show more natural hair. It's beautiful. The inspiration was that of Antebellum New Orleans, Victorian styles, and Creole. Back then, women of color didn't have relaxers or pressed hair. We wanted to show off beautiful textures, so there was a lot of texture in hair.
Beyoncé tapped into her Texas roots with the 'dookie braids,' a style where the braids hang loose. What other references did you have? There are many historically relevant styles like the Nefertiti crown, cornrows and Afros.
And the crimped hair! Why that style for the 'hot sauce' bat scene? That scene showed off natural texture, it wasn't crimped. We didn't use a lot of products so it looks crimped but it wasn't.
There were a few big hair moments, but the frizz seemed minimal. How did you create this volume? To achieve great volume with minimal frizz, I'd suggest starting with a hydrating shampoo that is sulfate-free or a co-wash and use styling products to maintain the curls.
You were on set with so many incredible women. Did you feel a sense of responsibility to accurately represent the diversity of their hair? Absolutely. I'm no stranger to running a hair department. I work in film and television so enjoy working with large groups. There's a challenge with making it diverse yet still cohesive. A lot of thought went into creating these styles. I hired people from all over — New York, Los Angeles, New Orleans, and Atlanta. I called on people that I could rely on and were comfortable working with that type. Being able to braid was also important.
To keep the looks cohesive you have to have tons of inspiration and a clear direction. You have to express to your team what you are looking for and make sure that you are all on the same page. I like to create vision boards and talk about them so they know what I'm looking for so that we're all on the same page. It's important that we're all creating the same image. I find that using visuals is the best way to get it out there.
What was your favorite scene? The one with all of the amazing women in the tree. That was great. It was beautiful to see so many beautiful women together. It was meaningful and different. I loved being able to elevate and create art from what she was imagining.
What is the message from "Lemonade" that you hope will resonate the most with women? I'm really excited about the natural hair movement. There was a time when curls and braids were considered a bad thing. I like the fact that women are embracing natural styles. Every race has curly hair – black, white, polynesian. Lemonade shows women who embrace natural hair textures with fashion and look very cool. That's what she achieved, she made it it look very cool and wore natural styles with confidence. I applaud her for that. That is the message that I hope people see so they accept what they have. I hope that women will see their texture is beautiful and different. It was an amazing project. I'm happy and grateful to have worked with her on it. I really love what she did and thought that it was very creative and artistic. I love that she's bold with it.
Watch W's most popular videos here:
Beyoncé's Most Iconic Beauty Moments of All Time
As a member of Destiny's Child in 1999, Beyoncé embraced a more natural look hair-wise — which made her purple eye shadow and shimmery lipgloss stand out all the more. Photo courtesy of Getty Images.

Getty Images
At the 2000 9th Annual MTV Movie Awards, Beyoncé wore her highlighted loose waves with a glossy, mauve lip. Photo courtesy of Getty Images.

Getty Images
Beyoncé 2001 MTV Movie Awards wears her highlighted blonde locks in tousled waves with a floral hairpiece and a golden smoky eye. Photo courtesy of Getty Images.

Getty Images
A look we wish she'd revive — Beyoncé appeared on TRL again in 2002 to promote Austin Powers in Goldmember, showing off the same hair style sported by her character Foxxy Cleopatra. Photo courtesy of Getty Images.

Getty Images
Beyoncé was glowing at the The Fighting Temptations film premiere in Hollywood in 2003 wearing a sleek, braided up do with a silver smoky eye. Photo courtesy of Getty Images.

Getty Images
Wearing a low, tousled pony with blunt bangs and a gunmetal smoky eye, Beyoncé attends the 2003 MTV Europe Music Awards. Photo courtesy of Getty Images.

Getty Images
Loose curls defined the look for all three ladies of Destiny's Child for their NFL performance before the Patriots vs. Colts game in Foxborough, Massachusetts in 2004. Photo courtesy of Getty Images.

Getty Images
Though she wasn't up for any awards in 2005, Beyoncé arrived at the 47th annual Grammy Awards looking like a winner, with a slick updo and a fresh glow. Photo courtesy of Getty Images.

Getty Images
Beyoncé shows off full, loose curls (much like her Foxxy Cleopatra look, minus the curly bangs) for a BET Awards performance alongside Jay-Z in 2006. Photo courtesy of Getty Images.

Getty Images
A winner all around in 2007: A more understated look allows the best accessory, a new Grammy to add to the collection, to speak for itself. Photo courtesy of Getty Images.

Getty Images
At the premiere of Cadillac Records in 2008, Beyoncé embraced a classy singer-actress look with another slick up do, this time with a loose pony behind it. Photo courtesy of Getty Images.

Getty Images
Beyoncé rocked brunette curls at the 2009 MTV Video Music Awards with a subtle grey smoky eye and and glossy nude lip. Photo courtesy of Getty Images.

Getty Images
Flat, ultra-highlighted hair pairs with a more exaggerated winged liner than Beyoncé's usual look, here at the 52nd annual Grammy Awards in 2010. Photo courtesy of Getty Images.

Getty Images
Beyoncé bleached her hair even further for the Grammys the following year, in 2011. Photo courtesy of Getty Images.

Getty Images
Beyoncé went back to bangs in 2012. She paired the look with matte pink lip. Photo courtesy of Getty Images.

Getty Images
Beyoncé showed off her super short pixie cut in 2013. Photo courtesy of Instagram.

Instagram
Every year brings another Grammy Awards, and with it, another stellar look from Beyoncé. She rocks yet another variation on the formal ponytail for the event in 2013. Photo courtesy of Getty Images.

Getty Images
Beachy, tousled waves paired with a taupe smoky eye was Beyoncé's stunning look at the Costume Institute Gala for the "PUNK: Chaos to Couture" in 2013. Photo courtesy of Getty Images.

Getty Images
The singer went short again with faded ombre ends and a vivid makeup look for the Grammys in 2014. Photo courtesy of Getty Images.

Getty Images
Beyonce's sultry evening look turned heads at the 2014 Costume Institute Gala as she paired her sleek up do with a maroon lip and an embellished veil. Photo courtesy of Getty Images.

Getty Images
Beyonce's sheer Givenchy gown might have been what attracted all the attention at the 2015 Met Gala, but her hair and makeup are equally worthy of attention. A towering, teetering ponytail amps it up, while her makeup stays neutral. Photo courtesy of Getty Images.

Getty Images
At the 2016 Super Bowl Halftime Show, Beyonce and her dancers stepped out in Black Panther-esque black catsuits — but her gorgeous ombre curls are equally commanding. Photo courtesy of Getty Images.

Getty Images
Proving once more that less is more, Beyoncé made a surprise appearance at 2016 58th Grammy Awards wearing a sleek, side-parted low bun with a taupe smoky eye. Photo courtesy of Getty Images.

Getty Images
Stunning in an adventurous latex Givenchy dress at the 2016 Costume Institute Gala, Beyoncé wore her long blonde locks sleek straight with an exaggerated jade green smoky cat eye. Photo courtesy of Getty Images.

Getty Images
The 22-time Grammy winning singer celebrates her latest additions for Best Music Video and Best Urban Contemporary Album wearing a copper smoky eye and matte nude lip. Photo courtesy of Getty Images.

Getty Images
Beyonce during the 60th Annual GRAMMY Awards at Madison Square Garden on January 28, 2018 in New York City. Photo courtesy of Getty Images.

Getty Images
Beyonce Knowles performs onstage during the 2018 Coachella Valley Music And Arts Festival at the Empire Polo Field on April 21, 2018 in Indio, California. Photo courtesy of Getty Images.

Getty Images
Beyonce attends the Premiere Of Disney's "The Lion King" at Dolby Theatre on July 09, 2019 in Hollywood, California. Photo courtesy of Getty Images.

Getty Images