Megan Thee Stallion and Beyoncé's "Savage" Hits Number One, Proving Karma Is Real
"Haters kept my name in they mouth, now they gaggin'."
---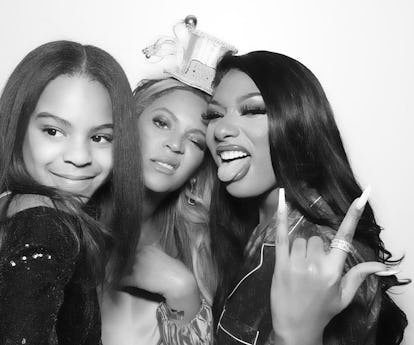 Photo courtesy of Megan Thee Stallion.
Karma is savage. After pop music stan Twitter was torn asunder by various nonsenses over the weekend, Billboard revealed that Megan Thee Stallion and Beyoncé's remix of "Savage" is now the number one song in the country and sits atop the Hot 100.
It's something of an unexpected event. Upon its release earlier this month, the "Savage" remix was originally locked in a chart battle with the Nicki Minaj-assisted remix of Doja Cat's "Say So." "Savage" originally settled for the number-two slot (making a lot of history along the way), but has proven to be more than just a stat-juicing novelty remix. The "Savage" remix, a complete reimagining of Megan's original track, has shown considerable staying power. It topped the digital sales chart, and was the number two most-streamed song in the country. It's also garnered wide support from radio, and proceeds from the song will benefit families affected by COVID-19 in Beyoncé and Megan's joint hometown of Houston, Texas.
Of course, it's hard not to view the song's coronation in light of recent controversies.
Beyoncé was name-checked in a now-infamous Instagram post from Baroque pop songstress Lana Del Rey on Friday. "Now that Doja Cat, Ariana, Camila, Cardi B, Kehlani and Nicki Minaj and Beyoncé have had number ones with songs about being sexy, wearing no clothes, f**king, cheating etc.—can I please go back to singing about being embodied, feeling beautiful by being in love even if the relationship is not perfect, or dancing for money," wrote Del Rey. The oft-flower crown-adorned singer was widely criticized for her framing of the issue, and has spent much of the holiday weekend doubling down on her original post.
(Megan was not mentioned in Del Rey's post. Perhaps because she did not have a number one song at the time, or perhaps because Del Rey heeded Megan's warning in her track "B.I.T.C.H.": "I be quiet, but you out here tellin' stories, one-sided / I ain't perfect and I try to fix the shit that ain't workin' / But it's 2020, I ain't finna argue 'bout twerkin'.")
Meanwhile, Doja Cat has also spent the weekend in damage-control mode after allegations arose that she used to hang in video chats with members of the alt-right, and had recorded a song making light of a racial slur. "I shouldn't have been on some of those chat room sites, but I personally have never been involved in any racist conversations," the rapper and singer wrote in response on Instagram. "I'm sorry to everyone I offended."
Megan, meanwhile, passed her time chilling in her backyard with her French Bulldog, Foe thee Frenchie, according to her Instagram.
"This is our first, but it damn sure won't be our last!" Megan has now written on Instagram in response to the chart placement news. "I love y'all so much."
Beyoncé has now joined Mariah Carey as the only artist to have number one hits as a solo artist in the '00s, '10s, and '20s so far. The song is now Beyoncé's seventh number one (not including her work with Destiny's Child).
The "Savage" remix is just the seventh collaboration between two female solo musicians to hit the number one spot in history, and 2020 is now the first year in which two such collaborations reached the peak.
For those playing along at home, Ariana Grande and Lady Gaga's mega-collaboration "Rain on Me" will not be eligible for the charts until next week. It's still early, but by all accounts the song has a strong chance of debuting at number one—meaning 2020's female duet chart history could be far from over.