In Addition to Her Pregnancy, Beyoncé Also Unveiled a New Ivy Park Campaign with Yara Shahidi
It was quite a Wednesday for the Knowles-Carter empire.
---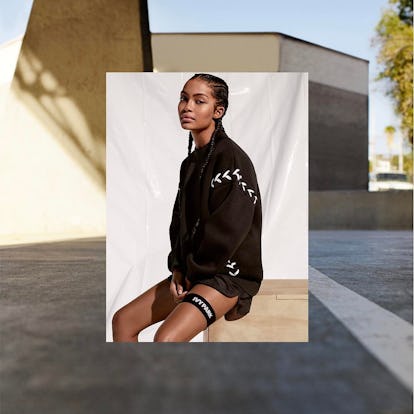 @yarashahidi
Beyoncé Pregnant. With twins. Also birthing a new campaign for Ivy Park, starring Yara Shahidi. Wednesday was a big day for Queen Bey.
Chastain, Jessica After a succession of heavy, harrowing roles, the actress wanted a break. So she asked her agent to look for movies with animals — and she ended up with The Zookeeper's Wife, a World War II drama set in a zoo in Warsaw, Poland. But then, Chastain has never shied away from playing tough, strong women.
Henson, Taraji P. The 46-year-old star of Empire and Hidden Figures is just as magnetic in real life as on screen — and she's been bending Hollywood to her will, with a son in tow, since her twenties.
Jenner, Kylie Now we know what she meant when she said her mom was her style icon in an interview last week. The youngest Jenner just announced a new t-shirt design for her brand, The Kylie Shop, on Instagram. On the front: an illustration of her dear mother, giving the finger.
Lopez, Jennifer According to the multifaceted, multi-hyphenate star, women only get more confident as they get older. So J.Lo, now 47, is going to keep taking risks.
Moss, Kate From her start in a Corinne Day shoot for The Face in 1990, at age 16, to today, at 42, Kate Moss has been fashion's reigning muse for nearly three decades.
Simons, Raf After he was named creative director of Calvin Klein, the Belgian designer and Dior alum relocated to New York, where he debuted Fall 2017 of his eponymous menswear line. It was, aptly, a love-letter to his new city, with reworked "I Heart New York" logos — so here, nine male models return the favor. Why do they love Raf so much?
Versace, Donatella The empress atop the Versace throne, and one of the five powerful women starring in our March 2017 issue, is having a feminist moment: "I cast different kinds of models on my catwalk because there is not just one kind of woman," she says. "You can't make a revolution for just one woman."