Beyoncé's Rep Blasts Website That Claimed the Pregnant Star Got Lip Injections
Beyoncé's publicist Yvette Noel-Schure fired back at MediaTakeOut in a statement: "You are the saddest individuals."
---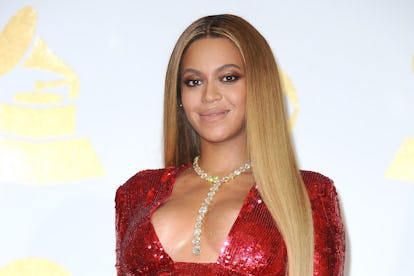 Jason LaVeris/FilmMagic/Getty Images
Having one's looks, body, and style picked apart in the media is, unfortunately, par for the course for female celebrities. But when one gossip site started to spread rumors about recent changes in Beyoncé's appearance, her publicist was not having it.
On Thursday, shortly after notoriously questionable website MediaTakeOut published a story speculating that Beyoncé is passing off "Kylie Jenner lip injections" as a natural effect of her pregnancy, the singer's rep Yvette Noel-Schure fired back with an powerful statement to Gossip Cop. It's notable as Bey's camp usually doesn't bother to address random internet gossip, but Noel-Schure makes it clear that she's standing up just as much for the singer as she is all pregnant women.
"What do you know about the effects of pregnancy on a woman's entire body? Please tell me. Did you know that in addition to weight gain there is often a dramatic change in the blood flow in the system and increased fluid, causing swelling? Do you know that often women's gums get swollen? Do you know that it sometimes affects our speech, our ability to chew intently and a host of other things?" Noel-Schure said in the statement, which was addressed to "MTO staffers."
She continued: "But the sacrifice to our faces, our feet, and our entire bodies is something we welcome because we bring beautiful humans into the world who will one day combat your hate and negativity. I stood silent during Beyoncé's first pregnancy when you thought it was OK to bully her like the cowards you are, when you accused her of never being pregnant, but I simply cannot this time."
In 2012 many gossip sites published conspiracy theories that Beyoncé was faking a pregnancy while using a surrogate. The singer was forced to respond to the ridiculous rumors several times, unfortunately having to insist that she was carrying Blue Ivy.
Noel-Schure ended her defense of the singer—and pregnant women everywhere—with this: "You are the saddest individuals and picking on a pregnant lady is tantamount to possessing the coldest, despicable heart. You need to find something else to do with your time and maybe stop by a store that has happiness on sale because you need to buy some." Beyoncé might be the queen of slaying, but her publicist is clearly a close second for today.
Related: Beyoncé's Date Night Outfit Was Head-to-Toe Gucci Worth $7,560
"Women's Rights Are Human Rights": 62 Fashion Insiders Speak Out in a Powerful Video for International Women's Day:
Beyoncé at the Met Gala: See the Star's Red Carpet Looks
Beyonce arrives wearing Armani Prive at the Metropolitan Museum of Art Costume Institute Gala, Superheroes: Fashion and Fantasy, held at the Metropolitan Museum of Art on May 5, 2008.

Getty
Beyonce arrives to the Metropolitan Museum of Art Costume Institute Gala, Superheroes: Fashion and Fantasy, held at the Metropolitan Museum of Art on May 5, 2008.

Getty
Beyonce, in Roberto Cavalli, attends the "Alexander McQueen: Savage Beauty" Costume Institute Gala at The Metropolitan Museum of Art on May 2, 2011

Getty
Beyonce attends the "Alexander McQueen: Savage Beauty" Costume Institute Gala at The Metropolitan Museum of Art on May 2, 2011.

Getty
Beyonce, in Givenchy, attends the "Schiaparelli And Prada: Impossible Conversations" Costume Institute Gala at the Metropolitan Museum of Art on May 7, 2012

Getty
Beyonce attends the "Schiaparelli And Prada: Impossible Conversations" Costume Institute Gala at the Metropolitan Museum of Art on May 7, 2012

Getty
Beyonce, in Givenchy, attends the Costume Institute Gala for the "PUNK: Chaos to Couture" exhibition at the Metropolitan Museum of Art on May 6, 2013.

Getty
Beyonce attends the Costume Institute Gala for the "PUNK: Chaos to Couture" exhibition at the Metropolitan Museum of Art on May 6, 2013.

Getty
Beyonce, in Givenchy, attends the "China: Through The Looking Glass" Costume Institute Benefit Gala at the Metropolitan Museum of Art on May 4, 2015

Getty
Beyonce attends the "China: Through The Looking Glass" Costume Institute Benefit Gala at the Metropolitan Museum of Art on May 4, 2015

Getty
Beyonce Knowles, in Givenchy, attends the 'Charles James: Beyond Fashion' Costume Institute Gala at the Metropolitan Museum of Art on May 5, 2014

Getty
Beyonce attends the 'Charles James: Beyond Fashion' Costume Institute Gala at the Metropolitan Museum of Art on May 5, 2014

Getty
Beyonce, in Givenchy, attends the "Manus x Machina: Fashion In An Age Of Technology" Costume Institute Gala at Metropolitan Museum of Art on May 2, 2016

Getty
Beyonce attends the "Manus x Machina: Fashion In An Age Of Technology" Costume Institute Gala at Metropolitan Museum of Art on May 2, 2016

Getty