Battle of Beyoncé and Rihanna's Flower Crowns Ends Happily in Calls for a Joint Album
Give us the R&B album please.
---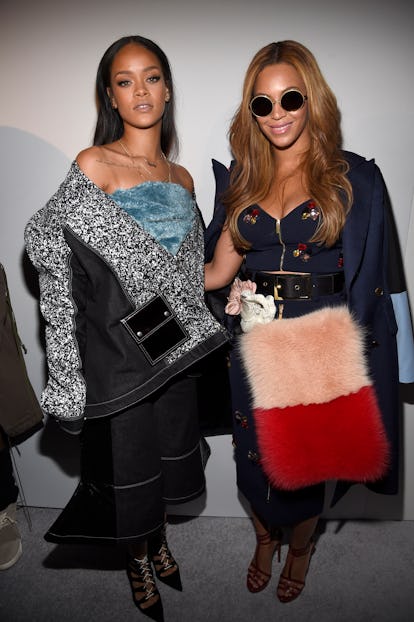 Kevin Mazur
Call it the September Issues Treaty?
After Beyoncé and Rihanna appeared on the September issue covers of two different editions of Vogue in flower crowns (or, if we're being more precise, flower bonnets), the fighters in the Internet's ongoing pop star battle known as the Stan Wars sprung into action.
For those who might need to (/*sips tea*/) look it up, the Stan Wars are essentially like a femme version of an MMORPG, except, instead of being an actual video game, the wars are spread across several social media platforms and message boards. Combatants pick their favorite pop diva, and do battle via Tweets, memes, and questionable math in an attempt to prove that their favored singer is truly iconic while everyone else is merely reductive.
The styling similarities between one of Rihanna's two British Vogue covers and one of Beyoncé's two American Vogue covers at first seemed like perfect fodder for a classic Stan Wars battle, and the Stan Warriors dug into it with all the shade they could muster.
Of course, fashion is all about trends, and it certainly wouldn't be the first time two covers in the same month shared a similar styling theme (for that matter, it is not completely unusual for the exact same dress to appear on two different celebrities on two different magazine covers at the same time). Besides, extravagant floral headpieces have dotted fashion runways and editorial for years, at least since Priscilla, Queen of the Desert featured drag queens in architectural floral wigs. Cooler heads know this.
Cooler heads also knew to put the pettiness aside and celebrate the historic nature of the moment. Beyoncé's American Vogue cover was the first shot by a black photographer in the magazine's long history. Likewise, not only is Rihanna British Vogue's first black September issue star, but the issue is also the first September issue under Edward Enninful, the magazine's first black editor in chief.
Many were quick to point out that this should be a moment of celebration, not competition.
In that spirit, a Tweet imagining potential collaborative albums between the queen of the Beyhive and admiral of the Rihanna Navy racked up more than a quarter of a million likes.
And why not? Beyoncé found time to record two duets with Lady Gaga, and Rihanna decided to jump on a Britney Spears remix—is it impossible to think the two could one day collaborate?
Maybe a full album is setting our hopes too high, but let's start with a duet? Or at least some for-charity rerelease of "Umbrella" with Bey taking over the rap verse duties from her husband? Something? Anything?
What better way to remind the Stans that the real enemies are not other singers and their fans, but, well, take your pick of about anything else on your Twitter timeline right now.
Until then, the closest we may get is Rihanna taking part in a Destiny's Child tribute alongside Teairra Mari and Amerie at a 2005 awards show while Beyoncé watches in the audience excitedly.