Beyoncé Pulls a Rihanna
In case you missed them, here are the top style stories from the week
---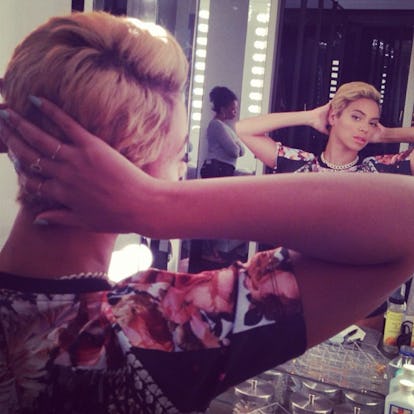 Beckham, Victoria Plans on opening a store in London; hopes to make it slightly easier to be Posh like her.
Beyoncé Gets a pixie cut; steals a page from the Rihanna playbook and debuts her new look on Instagram
Casiraghi, Charlotte The Gucci muse announced that she is pregnant with her first child. Anyone want to place bets on how long it will take for her offspring to land a campaign?
__Doillon, Lou__ Poses with a replica of herself in new Barneys ads; two Lous are better than one.
Dunn, Jourdan Makes her music video debut in Jessie J's "It's My Party." (Move over Cindy, Christie, Naomi, Linda and Tatjana.)
Edelman, Sam The shoe company is launching sportswear; no, dresses will not be patterned with footwear.
Hilfiger, Tommy Announced that he will no longer show his men's collection during New York Fashion Week; where will all the young studly actors hang out now?
Jacobs, Marc Continues his domination of New York's Bleecker Street with the opening of Marc Jacobs Beauty.
Keough, Riley Elvis's granddaughter poses in lingerie for Australian company, Bonds. Good genes.
Ke$ha Has designed a jewelry collection; inspired BuzzFeed to count down the most phallic items in the collection.
Macpherson, Elle Married her billionaire boyfriend in Fiji; what else do supermodels do over the summer?
Medine, Leandra The Man Repeller plans to continue to preach personal style with a new book, titled "Man Repeller: Seeking Love, Finding Overalls."
Moss, Kate Reportedly made $18 million last year. You go girl.
Olsen, Mary Kate and Ashley Announced a collaboration with Scandinavian retailer Bik Bok; gives us yet another reason to head off to Stockholm for the weekend.
Roitfeld, Carine Gives Diane von Furstenberg a sexy new look; the label, not the designer.
Spears, Britney Wore thigh-high boots to church. What else is new?