Beyonce's Life of Athleisure
In case you missed them, here are the top style news stories of the week.
---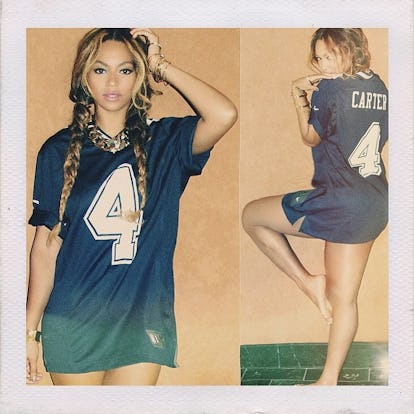 Beckham, Victoria Named the number 1 entrepreneur in Britain by Management Today. Has her new store—and some very expensive handbags—to thank.
Bergé, Pierre Will auction off his personal library. No word on how many copies of Yves Saint Laurent will be available.
Beyonce The pop star is designing an athleisure-inspired collection for Topshop. Forces us to use the word athleisure.
Benz, Chris The designer was named the new creative director at Bill Blass. It's about time.
Clooney, Amal Nominated to be one of the most stylish British women of the year. Not yet named one of the country's top entrepreneurs, but Victoria Beckham should still watch her back.
Courreges The legendary fashion house to make a comeback. Did you hear that, Lisa Perry?
Cyrus, Miley Will be the latest star to collaborate with MAC Cosmetics for its Viva Glam collection. Prepare yourself for the provocative Instagram promotions now.
Gosling, Ryan Growing a mustache—hopefully for Halloween, and not all of Movember.
Iman, Chanel May be back on the market after a recent break up with rapper A$AP Rocky.
Mirren, Helen The actress was named the new face of L'oreal Paris. Because she's worth it.
Moss, Lottie Kate's younger sister is taking on the modeling world with a new Valentino campaign.
Olsen, Mary Kate and Ashley Designed a line of affordable jewelry for Stylemint. To be worn with a $40,000 crocodile backpack.
Perry, Katy Dressed like a Cheeto for Halloween. Fortunately, no orange moustache was included.
Paul Poiret The French fashion house is up for sale, in case you're in the market.
Rihanna Went on a bidding spree at the amfAR Inspiration Gala to thank Tom Ford for lending her a dress for the evening.
Spears, Kendra The model princess announced that she's pregnant in true royal style—via a press release.
Testino, Mario Turned 60 with a Kylie Minogue-filled birthday cake. How else?
Von Furstenberg, Diane Is looking for an heir to her fashion house. But who could fill those brightly colored shoes?
Walmart Created a category called "Fat Girl Costumes" on their website. Forgot about the slightly more PC term Plus Size.
Waterhouse, Suki Started a rumor that she's going to be a Victoria's Secret Angel on Instagram. We're rooting for the possibility that she's actually going to be a Rockette instead.
West, Kanye Responsible for ruining yet another Hermes Birkin bag with paint. Blasphemous.