Beyoncé Is Going Vegan Until Coachella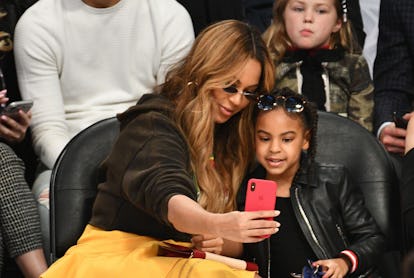 Photo by Allen Berezovsky/Getty Images
We don't know yet what songs Beyoncé will perform during her headlining set at Coachella this year, but we do know she'll be in great shape for it. The music superstar shared this morning on Instagram that, with 44 days to go before the festival, she's going vegan. Queen Bey captioned a pic of what can only be described as the Beyoncé of avocado toast, "44 days until Coachella!! Vegan Time!! Click the link in my bio to join me!"
She posted two other Instas (Bey always posts in groups of three to maintain her grid integrity, duh) with the same caption, directing followers to 22 Days Nutrition, a fun-ish website where you answer a bunch of questions about cooking and then make an account and then, it seems, it gives you recipes. Beyoncé and husband Jay-Z are, of course, featured on the main page advocating for plant-based diets.
Mrs. Knowles-Carter and her husband previously went vegan for a 22-day stint back in 2013 and again in early 2015 helped create, with Marco Borges the 22-day program for others to do the same. "I am so grateful that I took the challenge and credit Marco with leading by example. He is the most energetic person I know and it's all because of his decision to live a healthy lifestyle. He came up with a great program to get people motivated to make better nutritional choices. All you have to do is try," Beyoncé said in a statement to E! News, adding "If I can do it, anyone can."
Isn't half the appeal of Beyoncé that she does things (and makes them look easy, to boot) that most of us mere mortals could only hope of ever achieving. Then again, it seems Bey is doubling up on the diet by doing for a full 44 days this time, while she's only asking her fans to consider the 22 day challenge.
Those fans may remember that Bey was slated to perform at last year's Coachella but had to postpone due to being pregnant with twins Rumi and Sir. Her "Telephone" co-star Lady Gaga took over the slot, and also used the Indio, California festival to shoot concert scenes for her upcoming remake of A Star Is Born, directed by and co-starring Bradley Cooper. Things have a way of working out!
Related: Lost Footage of Beyoncé's Early Career Has Just Surfaced, and It's Up for Auction
Beyoncé, Rihanna, Kendall Jenner and More Celebrities Wearing High Heels at Basketball Games
Beyonce wore Gianvito Rossi boots with a Jacquemus skirt while attending The 67th NBA All-Star Game: Team LeBron Vs. Team Stephen at Staples Center on February 18, 2018 in Los Angeles, California with her daughter Blue Ivy and mother Tina Knowles.

Allen Berezovsky
Victoria Beckham's nickname is Posh for a reason. While attending a game between the Los Angeles Lakers and the Dallas Mavericks with her husband David Beckham, and their children, Cruz and Romeo, the singer-turned-fashion designer put her platform heels on display.

Kevork Djansezian
Wearing a simple tee and jeans, Beyonce looked surprisingly understated while attending a New Jersey Nets v New York Knicks game at Madison Square Garden with Jay Z… until you look at her feet. Those, ladies and gentleman, are Christian Louboutins. And they are anything but casual footwear.

James Devaney/Getty Images
Kate Upton's bright pink pumps stood out at a New Jersey Nets vs the New York Knicks game at Madison Square Garden. Fortunately, her seatmate also got the memo about fancy footwear.

James Devaney/Getty Images
Alicia Keys proved that her heels were made for walking, while attending the Miami Heat vs New York Knicks game at Madison Square Garden with Swizz Beatz.

James Devaney/Getty Images
At a game between the New York Knicks and the Chicago Bulls at Madison Square Garden, singer Taylor Swift looked sleek in an all-black ensemble, paired with Christian Louboutin booties.

Jim McIsaac/Getty Images
While Kanye West looked casual in a white button-down, jeans, and boots, Kim Kardashian was all glammed up in strappy sandals and a little black dress to watch the Los Angeles Lakers take on the Denver Nuggets in Game Seven of the Western Conference Quarterfinals in the 2012 NBA Playoffs.

Harry How/Getty Images
While they're wearing very different looks–Kendall Jenner went full Yeezy monochromatic, while Cara Delevingne channeled a British guard–both supermodels got the memo about heels: when you're courtside, they're a must.

Noel Vasquez
Kendall Jenner wore a somewhat more understated ensemble, with entirely more outrageous shoes, while attending a basketball game between the Houston Rockets and The Los Angeles Clippers with her sister Khloe Kardashian.

Noel Vasquez
Back at it, Jenner wore a pair of nude booties to a game between the Dallas Mavericks and the Los Angeles Lakers. Her companion, Bella Hadid, chose a pair of black Christian Louboutin pumps.

Noel Vasquez
In a "Dior Addict" graphic tee paired with vintage Levi's jeans — both from What Goes Around Comes Around — and Yeezy-inspired clear boots, Kendall Jenner channeled Rihanna a basketball game between the Memphis Grizzlies and the Los Angeles Lakers.

Noel Vasquez
While Jay Z and Blue Ivy wore coordinating sneakers, Beyoncé Knowles stood out wearing a pair of strappy sandals and some sort of unexplainable poncho at the 66th NBA All-Star Game in New Orleans, Louisiana.

Theo Wargo
Rihanna, eternal queen of courtside style, looked displeased but chic at Game 1 of the 2017 NBA Finals between the Golden State Warriors and the Cleveland Cavaliers.

Ezra Shaw