Italian Supermodel Bianca Balti On Why She Loves Cheap Lip Balms and Never Eats Anything Fried
The iconic face of Dolce & Gabbana's fragrances opens up about all things beauty.
---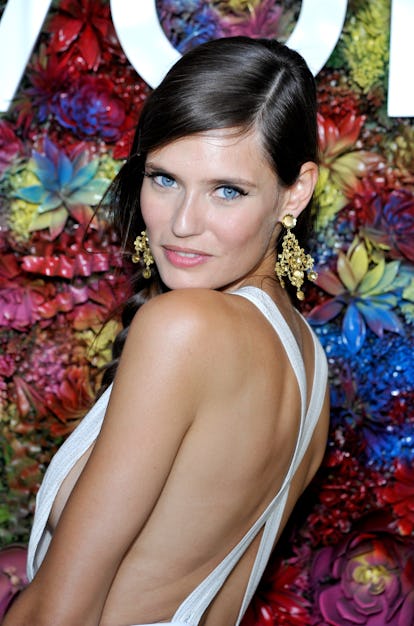 John Sciulli
Italian model Bianca Balti may be best known as the striking, blue-eyed beauty in ad campaigns for Dolce & Gabbana's fragrances, but she's also been a runway regular for over a decade. Needless to say, she's picked up a few beauty tricks over the years. Here, the supermodel reveals everything she's learned, from the best skincare products to her exercise obsessions.
Your look in three words:
Elegant, simple, comfortable.
Good skin starts with:
… With fresh and clean skin, always!
Best advice from your dermatologist:
Always keep my skin hydrated no matter what! And of course I drink a lot of water..
Best advice from your facialist:
Apply a mask at least once a week to kick off all the impurities and dirt of the week.
Makeup miracles:
L'Oréal Paris True Match Super Blendable Makeup. My shade is D3 and it is prefect my skin color. I always like to put a bit of foundation to cover up all the imperfections.
Most underrated product:
Cheap lip balms.
A good hair day starts with:
My L'Oréal Botanicals Fresh Care Coriander Strength Source. The Strength Potion is my favorite product. I apply a few drops on my hair strips to protect from daily stress that it goes through when I am working.
Nails must be:
They must be smooth and the cuticles taken care of, but not cut too much!!!
Beauty from the inside out:
Do not eat much meat, as well as fried food. I try to eat fresh foods, a lot of avocado and other vegetables and cook the food myself. That way I know what I am eating. I also only drink water or unsweetened cranberry juice.
Exercise obsession:
The TRX that I keep in my backyard. Who needs a gym and machines if you can use a TRX and your body weight.
Drink of choice:
Green juice, green tea, water and cranberry juice (I'm so boring!)
Product that you picked up from the pros:
The L'Oréal Paris Elnett Satin Hairspray is used by most famous hairstylists and it is in every backstage. It's affordable, you can buy it everywhere and it has the perfect size (75mL) to fit in my handbag!
A woman should smell like:
Light Blue Intenso by Dolce & Gabbana!!!
Spa-cation at:
At the beach. Stay out, let the hair breath, get some sun and dip in the sea water.. no better spa then that!
In-tub must-read:
Unfortunately nothing lately as I only have time to take a bath with my daughters.
Best advice from mom:
Keep your beauty routine simple.. It's better to spend the time with the kids.
Best-kept beauty secret:
Keep a red lipstick or a smoky eye for a special occasion. If you over use it then nobody will notice anymore and you'll run out of tricks.
Beauty myth you'd like to debunk:
People tend to say that the "more is better" but I disagree, we should all let our natural beauty shine, using makeup that enhances our natural glow and features is what is beautiful.
Definite doppelgänger:
Sophia Loren 🙂
Sophia Loren Has Always Looked "Fantastic," And She Knows It
The up-and-coming Italian actress showcased her amazing figure and long legs by wearing a silk corset bodice, short briefs, fishnet stockings paired and plenty of black eyeliner.

Getty Images
The Italian actress posed on a Venice balcony wearing a white halter sweetheart dress with an embroidered bodice that showed off her small waistline.

Getty Images
Loren's green dress accentuated her auburn-colored hair.

Getty Images
While starring in the 1960's film 'The Millionairess' as Epifania Parerga, Loren wore black lingerie, pearls, white gloves and a large sun hat. What else?

Getty Images
The actress coordinated with the floral wall behind her in a glamorous evening gown, a bold pink lip, and dark eyeliner.

Mondadori via Getty Images
Loren looked sultry in a classic pin-striped blouse and pencil skirt thanks to her big curls, pencil-thin eyebrow and full lashes.

Gamma-Keystone via Getty Images
In the early '70s, the 'Sunflower' actress totally embraced the era's trends in a graphic purple and black turtleneck with matching tights and sunglasses and hair that flipped up at the ends.

WireImage
Loren looked like a mega Hollywood star on the streets of New York City in a black silk and lace gown and a new shorter hairdo.

Getty Images
Loren attended the COTY Awards wearing silver frames as her standout accessory. Drawing more attention to her stunning eyes, she also wore dark purple eyeshadow, black eyeliner and tons of mascara for the elongated spiky look.

WireImage
Loren was minimalist perfection in this photo, where she is pictured posing outside her motorhome wearing a button-up blouse, cardigan and linen slacks.

The LIFE Picture Collection/Getty Images
The movie star made a appearance on 'Larry King Live' in a black trouser suit with signature tinted sunglasses. To top off the look, the actress wore her hair in big voluminous curls.

WireImage
At the Bami Media Award Ceremony, Loren looked youthful and elegant in an off-the-shoulder navy blue satin gown with tinted sunglasses.

Getty Images
The actress attended the 2010 'Nine' film premiere in Rome in a dramatic Giorgio Armani ensemble, complete with a yellow feathered coat, yellow and pink sunglasses, and a crystal chest piece.

Getty Images for Martini
At the 2014 Giorgio Armani Prive fashion show, jaws dropped when Loren arrived at the venue with Roberta Armani. The actress wore a fitted midi red sequin dress that showcased her amazing, 80-year-old figure.

WireImage