Bianca Brandolini d'Adda Rocks Out
The Brazilian It Girl collaborates with Amsterdam Sauer on a jewelry collection.
---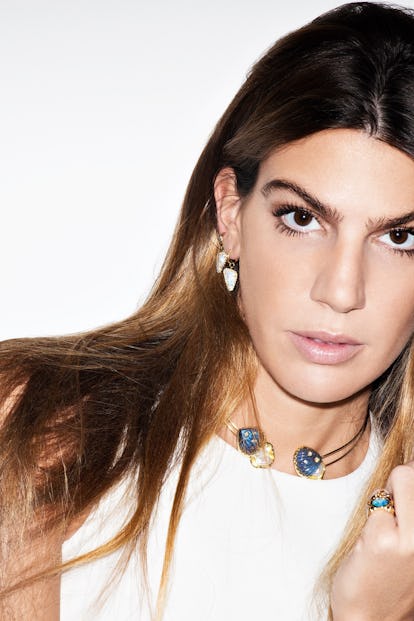 Photographs: Katja Rahlwes Stylist: Gianluca Longo
Professionally speaking, Bianca Brandolini d'Adda, 27, is the least single-minded of the group. She's a model, a trained actor, and a socialite who lives in Rio de Janeiro (her mother, Countess Georgina Brandolini d'Adda, who was Valentino's great muse for years, is Brazilian) and Paris (where she grew up on the same street as Niarchos, her oldest friend). Dolce & Gabbana signed her two years ago as the face of the brand; she's tight with Giambattista Valli; and she has co-designed a line of bathing suits for the Brazilian label Osklen. So it's amazing that she even found the time last year to work on a collaboration with Brazilian bauble behemoth Amsterdam Sauer. "When I went to see the archives, the connection was immediate," Brandolini d'Adda says. "They had so many opals. In Italy, they say that opals are bad luck, so they have been overlooked, but I was like, 'Are you crazy?' I used the sea as inspiration, and we addedpearls. My favorite is a ring with the pearl hidden inside." The collection was so successful that AmsterdamSauer has enlisted Brandolini d'Adda, to her surprise and amusement, for a second round. "Here I am with all these talented jewelers," she says, laughing. "I own a lot of pieces by all of them, and when I came up with my collection, I told them, 'Oh, guys, I did a capsule!' Thankfully, we're all different, with a different way of working, and we're all really good friends.
Hair by Mari Ohashi at LGA Management; makeup by Lucy Burt for Mac; manicures by Pebbles for Ciate. Digital technician: Rebecca Lievre. Photography assistant: Virgile Biechy.