How to Get the Biggest, Boldest Eyelashes Ever
The boldest beauty trend is right before your eyes, says Sandra Ballentine.
---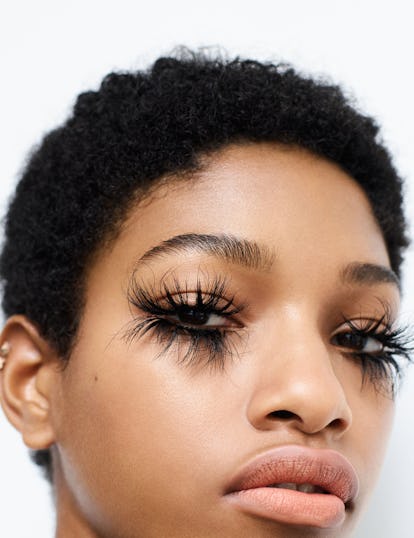 Photograph by Amy Troost; Styled by Max Ortega; Makeup by Hannah Murray . Hair by Tina Outen at Streeters; Manicure by Michina Koide for Essie at Art Department. Casting by Edward Kim. Model: Naomi Chin Wing at IMG Models.
"Super-exaggerated, fucked-up lashes that are intense but somehow delicate" is how the makeup artist Hannah Murray describes the look she created on the model Naomi Chin Wing. Inspired by epic beauty moments like Lady Gaga's five-inch gold-foil flutter peepers at this year's Met Gala (the performer's new beauty line, Haus Laboratories, just debuted on Amazon) and Pat McGrath's ethereal feather fringes at Valentino's spring 2019 couture show, Murray cut long mink lashes into small clusters and spaced them out along the model's top and bottom lash lines. She then pulled individual hairs from the leftover strip and let them fall over the lashes for a wispy, haphazard effect; skin and lips were kept fresh and natural. So how long is too long? "Your lashes should remain beneath the brow, and the lower ones should be slightly shorter to balance the eye," Murray says. "I went extreme on Naomi, but in real life, I would have taken a finger's width off the bottom."