Chloe Mackenzie is the Only Big Little Lies Character Who Knows Exactly Who She Is
Even if the internet can't quite comprehend the precocity of Chloe Mackenzie, she's certainly not worried about it.
---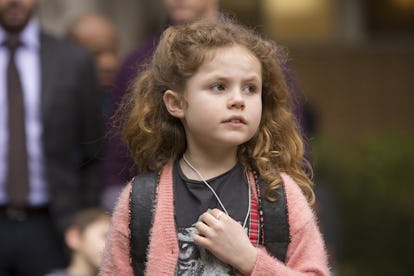 As we're constantly reminded throughout this show, the reason any of the women in Big Little Lies seem to live in Monterey is for the benefit of their children. It has great public schools (that is to say, private-school quality), a sense of security, and enough of a small-town feel that parents suspect their kids can't even ride seatbelt-less in a car without them finding out about it.
But there's irony in thinking that simply buying good real estate is the same as buying a ticket to good parenting. The first, of course, is that if you do raise that kid in a place that nice there's a good chance that they'll want to get out of there as quickly as possible.
Little Chloe Mackenzie (as played by Darby Camp), certainly the wisest and most world-weary of the show's first-graders (if not the show's entire cast of characters), seems to have this figured out as soon as we first meet her. Even though she's not old enough to sit in the front seat of a car, she already has ambitions that will drive her right out of her hometown. (She wants to run her own record label.) Yes, her assuredness that her dream is a foregone conclusion reflects the naivety and privilege of a child of her age and station, but she's already aware there's a wider world out there. She knows innately Monterey is little more than a place of incubating purgatory she'll endure until she's old enough to seize what lies beyond. She may as well be the queen bee while she's there, but for her it's no endgame.
In fact, while so many of the adult characters seem to have an underlying unease about their place in life and in this fishbowl town specifically, Chloe has a clear-eyed understanding of hers. She knows her parents live here for her benefit. She undoubtedly is aware, at least on an intuitive level, that for her mother in particular Chloe represents a second chance to get it right. She wields that word "woman" as if it's a way to remind Madeline who's really in charge. She's not shy about manipulating her parents in other ways, often for her benefit—an extended bedtime, say—but sometimes for their benefit as well. Her mixes and musical choices, like Leon Bridges's "River"—a redemptive song that reminds us all sins can be forgiven—is her favorite means to cut the tension in her famiy and draw them closer. (Though, when her attempt to pull the same trick with Amabella and Ziggy backfires, we are reminded that she is still six.) In fact, it's just another unwitting dynamic of the Monterey ecosystem: Kids bending that parental insecurity to their will.
There's also another darker irony in buying into the Monterey fantasy of child rearing. As much as you think you're sheltering your children and protecting them from the unknown, you'll soon find out that the flaws and complications of humanity, ugly and evil that they are sometimes, know all social classes and zip codes. Chloe's mom cheated on her dad (after one already failed marriage). Her older sister's trying to sell her virginity on the internet. She has playdates with one friend who is the product of a rape, and two more who reside under the same roof as an abusive marriage. Soon enough, her parents will find themselves ensnared in an actual murder, one way or another.
Young Chloe may be shielded from exposure to much of that for now, but the calamity of what we're promised in the final episode seems impossible to hide from her. It threatens to spill the underlying drama out into the open and into the innocent eyes of the children. Chloe and her friends will learn of some it immediately, while other pieces may either be revealed or realized while they grow up, but nevertheless it will continue to shape them long after that innocence is lost.
Chloe, however, seems equipped to deal with it. Some viewers seem to have trouble accepting the way she is portrayed as way too wise beyond her years. Yes, undoubtedly, she's a creation of television, and one written by David E. Kelley at that (remember Ally McBeal's precocious surprise daughter?), but there are real-life little girls gifted with emotional intelligence and intuition, if they don't express it as clearly as Chloe seems able to. We already know Chloe is more aware of her parent's marital problems than they realized, and who knows what else she's started to half-figure out. She'll process it, she'll deal with it better than most, she'll end up more determined to get out of town. And she'll know just the right song for any situation, for anybody.
Oh, and as for that beyond-her-years musical taste that's been much written about, it seems pretty clear that music is her way of bonding with her father. She certainly seems to take cues from his collection. And there is something called Spotify, which Chloe clearly has access to. While I haven't hung out with any six-year-olds lately to confirm, her music IQ doesn't seem too far beyond the realm of possibility these days, even if it's heightened for dramatic effect. Besides, what else is there for a sheltered youth in Monterey to do but go online. At least we know she won't be selling her virginity on the internet once she gets older. That's just not very Chloe, and she knows it.
Related: Big Little Lies' Madeline is Peak Reese Witherspoon
Related: How Nicole Kidman's Celeste on Big Little Lies Flipped Hollywood's Script on Domestic Violence
Reese Witherspoon's Style Evolution, From Election to Big Little Lies
Witherspoon attended the 1991 premiere of her debut movie, The Man In The Moon, sporting an adorable daisy top, black skirt, and cowboy boots.

Getty
Witherspoon embraced true 90's fashion at the Nowhere West Hollywood Premiere in clogs, choker, and an eclectic hairstyle in May1997.

Getty Images
The actress opted for a sheer, silver ensemble for a 1998 film premiere with complimenting bag and peep-toe pumps.

Getty Images
The actress tied together a pink maxi skirt and white top with a gold belt for the Cruel Intentions premiere in Los Angeles in 1999.

Getty Images
In true Elle Woods fashion, the actress attended the Legally Blonde premiere in a pink dress with tulle accents.

Getty Images
The actress stunned in a strapless, navy dress with gold accents at The Importance of Being Honest premiere in New York City.

Getty Images
Witherspoon toughens up a feathery, grey number with a velvet belt at the world premiere of Sweet Home Alabama in New York City.

Getty Images
A brunette Witherspoon opted for a pale blue Carolina Herrera number for the Venice Film Festival's Vanity Fair premiere in 2004.

Getty Images
Back to blonde, the actress went for an embellished, tea-length Monique Lhuillier dress for the Just Like Heaven premiere in Los Angeles in 2005.

Getty
The actress opted for a bright red Caroline Herrera frock with an oversized black bow belt for the NYC premiere of Walk the Line in November 2005.

Getty Images
The actress shined in a Chanel dress at the 63rd Annual Golden Globe Awards, where she won Best Performance by an Actress in a Motion Picture – Musical or Comedy for Walk the Line.

Getty Images
Witherspoon arrived at the 78th Annual Academy Awards in an embellished Christian Dior, later taking home her first Oscar that night for Walk the Line.

Getty Images
The actress opted for a yellow, strapless Nina Ricci dress with a contrasting red open-toed shoe for the 64th Annual Golden Globe Awards in January 2007.

Getty Images
Witherspoon dazzled with a futuristic, ruffled Rodarte frock with green accents– perfect for the Los Angeles premiere of Monsters vs. Aliens.

Getty Images
The actress wowed viewers in Zac Posen's pre-fall 2012 peony taffeta bustier gown at the 69th Annual Golden Globe Awards in 2012.

Getty Images
Witherspoon sparkled in a green and black sequin Louis Vuitton mini dress and Christian Louboutin pumps at the This Means War premiere in 2012.

Getty Images
Witherspoon posed with designer Stella McCartney, wearing her designs, at the Costume Institute Gala at the Metropolitan Museum of Art in May 2014.

Getty Images
The actress picked out a classic LBD with a twist at The May Fair Hotel Gala Screening of Wild during the 58th BFI London Film Festival.

Getty Images
The actress wore a Balenciaga frock (in pink, of course) with nude pumps at the premiere of Inherent Vice in December 2014.

Getty
Witherspoon channeled old-Hollywood glamour in a strapless, sparkling Calvin Klein gown at the 72nd Annual Golden Globes in January 2015.

Getty Images
The actress went glam in a sleek, black and white, off-the-shoulder Tom Ford gown at the 87th Annual Academy Awards.

Getty Images
The actress sparkled in a silver embellished dress by David Koma to the 50th Academy of Country Music Awards in 2015.

Getty Images
The actress stunned in a strapless, red Jason Wu gown at Metropolitan Museum of Art's Costume Institute Gala in 2015.

Getty Images
Witherspoon attended the opening of Draper James' Nashville store opening in a lace dress by the brand.

Getty Images
Witherspoon wore a floral, J. Mendel dress with Tiffany & Co. jewelry to one of the brand's Blue Book parties in 2016.

Getty Images
The actress was seen out and about in Los Angeles pairing a Draper James a-line skirt with pops of yellow and dainty jewelry in March 2016.

Getty Images
Witherspoon opted for a pink and silver off-the-shoulder dress with nude pumps to the Sing premiere at the 2016 Toronto International Film Festival.

Getty Images
The actress let this black, embellished Elie Saab number steal the show with simple black pumps and minimal accessories at the Los Angeles Sing premiere.

Getty Images
The actress-turned-producer optde for a silver sparkling Elie Saab number for the premiere of her most recent venture, HBO's Big Little Lies.

Getty Images
Witherspoon stunned at the Vanity Fair Oscar Party in a black, embellished, long-sleeved Michael Kors number with simple black pumps.

Getty Images