Why Shailene Woodley's Jane is the Soul of Big Little Lies
Without Jane, Big Little Lies would just be a riff on the Real Housewives of Monterey. But she brings the show back down to earth with a performance that's real and grounded.
---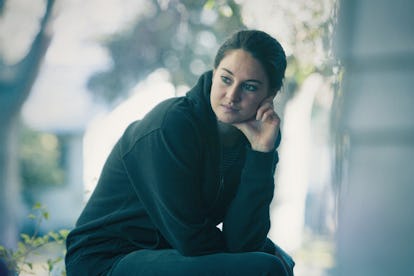 While the showier performances by Reese Witherspoon, Nicole Kidman and Laura Dern in Big Little Lies are dominating all the commentary and awards soothsaying around the show, it's Shailene Woodley's character Jane who is the soul of the series, the most relatable among a throng of super women.
Jane is the mysterious new mom at Otter Bay Elementary School in Monterey, the youngest of the moms—late 20s compared to their 40s— a Millennial to their Gen X. She's also the least well-off. In the first episode, she's mistaken for a nanny. "Jane is not a nanny, she's a mom! She's young. Like you used to be?" snaps Queen Bee Madeline (Witherspoon) when another blond goddess, Renata (Dern), makes the mistake.
Madeline had bonded with Jane just hours before, in a chance meeting when Madeline tripped on the way to dropping off their kids at school. Jane and her son Ziggy, at his urging, pulled over to see if she was alright. Madeline, who has a sixth sense for these things, instantly recognizes in Jane a kind person, an aberration from the other bully mommies in the playground. They form a bond that'll set in motion a series of dramas to come (though Renata would have you believe she was the show's leading catalyst). Or, as one of the police witnesses says ominously in the first episode, "It's possible that if she had not fallen nobody would have gotten killed."
That details of that initial accident raised all sorts of questions about Jane and Ziggy's characters: Who are they? Are they good people? Excruciatingly, it's a question that Jane has to even ask even of herself. Am I capable of being a good mother? Is my son a good person? This is all made more complicated by the fact that Ziggy is the product of a rape. Am I damaged? Jane seems to ask herself. Is my son like his father? Is it nature or nurture that will shape who he becomes?
The rape itself is cleverly depicted by director Jean-Marc Vallée in fragments, reality perhaps mixed with imagination, and Jane is shown watching herself from a distance. The editing is echoed by Woodley's performance, in which flashes in and out of haunted moments from a more grounded sense of care and connection with those around her. For Woodley, it's a career-best performance, self-consciously bridging the gap between the young prodigy in The Fault in Our Stars and the Divergent series and the adult actress clearly coming into her own.
A former child actress herself, Woodley is such a naturalistic and generous performer, that she brings out the best out of Ian Armitage, the preternaturally talented young actor who plays Ziggy. With the other actors, too, Woodley underplays to their bolder gestures—in the second to last episode, when she has a mea culpa moment with Renata, Dern turns down the volume of her Machiavellian performance. Jane also brings out a maternal tendency in Madeline more poignantly than Madeline's own kids do; she still seems like she needs some mothering herself.
It's a testament to the writing of the character that Jane seems to be figuring out how to be a young parent throughout the course of the show. "I think it's time we went home for dinner," Ziggy tells his mom at one point when they're at the beach. Woodley emits a laugh that's both charming and real, realizing the irony of this little man looking out for them, and the wisdom that is so beyond his years.
In her rumpled outfits and brown paper bag mornings, she is a total contrast to the other women in the show in their perfect Eileen Fisher outfits and sprawling kitchens that would be the envy of Nancy Meyers. Their houses and emotions and dramas are big while Jane's are small, tender, life-like.
Without her, the series would be a riff on Desperate Housewives of Monterey. It's Jane, and Woodley's performance, that brings the series back down to earth.
Related: Read All Our Coverage of __Big Little Lies.
Watch Big Little Lies' Shailene Woodley Reveals Her Cinematic Crush
Shailene Woodley's Style Evolution, from California Chic to Hollywood Glamour
The super adorable actress made her first red carpet appearance in 2006 at the American Girl Store Opening. She kept her look super cute and youthful in a cream quarter length cardigan, green multi-colored t-shirt, black cropped pants and golf metallic ballet flats.

Getty Images
At the 2008 Teen Choice Awards, Shailene debuted her new bohemian style opting for a simple white strapless maxi dress. She completed her looks with a pair of gold flat sandals and layered long beaded necklaces for a n extra touch on boho flair.

Getty Images
"The Secret Life of an American Teenager" star showed off her incredibly long stems at the 2009 Teen Choice Awards. Wearing a mutli-colored blouse, grey high waist shorts, red corset belt and black peep-toe sandals, she looked cool and playful.

Getty Images
While attending the 2010 MTV Movie Awards, Shailene kept her look simple and cute as she wore a classic LBD and metallic peep-toe pumps.

Getty Images
The young starlet attended the Teen Vogue 8th Annual Young Hollywood Party wearing a super sweet slik blush mini-dress. She accessorized her looks with a thin gold belt, ivory pumps and a small black clutch bag.

Getty Images
At the LA premiere of her breakout movie 'The Descendants', the actress opted for a floral strapless frock – featuring a strapless sweetheart neckline, cinched waist and mid-length ball skirt. She kept her accessories very minimal and paired her look with a black satin pump.

Getty Images
Shailene went for a more conservative chic look as she attended the 2011 Women in Entertainment Breakfast. The pairing of this black and white Prabal Gurnung dress with the black Rachel Zoe pumps was appropriately formal for the event.

Getty Images
The starlet looked stunning dressed in a strapless Marchesa gown on the red carpet of the 2012 Golden Globes. As she was up for the award for supporting actress that evening, it was only right that she arrived in a show stopping number like this.

Getty Images
Shailene arrived to the 2012 Oscar party looking flawlessly fresh faced dressed in a Proenza Schouler mini-dress. She paired her look with a pair of yellow suede peep-toe pumps that matched her perfectly.

Getty Images
The actress kept things fun and sassy at the 2013 MTV Awards. Her black crop top and multi-colored embellished mini-skirt paring was perfect for the eventful award show as well as any date night look.

Getty Images
At the Elle Celebrates 20th Annual Women in Hollywood Event, Shailene opted for a mature yet minimal look with a Calvin Klein original dress and black strappy sandals. She wore little to no accessories to compliment the simplicity of this look.

Getty Images
It was almost too easy for the startlet to standout amongst the stars at the 2014 Met Gala. Dressed in a gorgeous mixed-media Rodarte original, Shailene glowed and became one the evenings best dressed celebs as she posed on the red carpet.

Getty Images
At the 2014 GQ Men of the Year Party, Shailene dressed for the theme and donned a black velvet Gucci paint suit with leather peak lapels. She completed her look with black Ruthie Davis pumps and a simple gold necklace.

Getty Images
The Divergent star was the center of attention at the 22nd annual Elle Women in Hollywood Awards when she arrived dressed in a white and black Calvin Klein one-shoulder jumpsuit. While staying true to her minimal style she's the master of switching up her look.

Getty Images
At the NY premiere of 'Allegiant' Shailene looked fabulous as she donned yet another jumpsuit on the red carpet – this one being a bit more glamour than the last. This black Ellie Saab look featured flared pants legs and black embellishments on the full look.

Getty Images
Trying out a new look at the 2nd Annual Instyle Awards, the actress rocked a halter Sophiie Theallet dress, which featured a metallic gold peplum, sequined bodice and floral printed skirt. She accessorized this look with green strappy pumps, a simple gold bracelet and gold hoop earrings.

Getty Images