Breaking Down the Style of Big Little Lies with Costume Designer Alix Friedberg
Carolina Herrera for Madeline, The Row for Celeste, Gucci for Renata and the Gap for Jane. How the costumes for the hit series came together.
---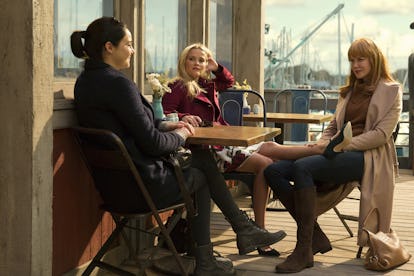 Though it may seem counterintuitive, first day of school outfits aren't just for the kids—moms and dads alike prefer to put their best sartorial foot forward, too. That much comes across loud and clear in HBO's new series, Big Little Lies, where drop-off time at Monterey's Otter Bay Elementary is a style battlefield to rival the streets of Paris, or, for that matter, those of Tribeca.
In the first episode titled, "Somebody's Dead," we meet Madeline, Celeste, Renata, Jane, and Bonnie, played by Reese Witherspoon, Nicole Kidman, Laura Dern, Shailene Woodley, and Zoë Kravitz, respectively. It's kindergarten orientation and Madeline shows up in a floral Dolce & Gabbana dress and heels, despite being a stay-at-home mom who is not headed to work after. Meanwhile, Renata, a Silicon Valley-type executive, wears a tweed blazer and silver choker, which is perhaps a signifier of her cutthroat nature.
And while these women may be all about appearances on the first day of school, their costumes throughout the show reflect their much more complex personalities (and personal lives). Celeste, for example, is a retired lawyer with an abusive husband, who is played by Alexander Skarsgård. As a result, we often find her covering her bruises with turtleneck sweaters.
The show's costume designer Alix Friedberg, whose previous work includes Modern Family and True Detective, looked to everyone from Audrey Hepburn to The Sartorialist for inspiration, also drawing from her own experiences as a mother to outfit the many children on the show.
How do you first approach designing for a new show?
I always start with a breakdown of the script, a map of where the character is heading emotionally, and then comes the research. I tend to make books consisting of images, color palette, and influences for the characters, then I have visual reference when discussing the look of each character with the director and the actors.
Tell me about some of the challenges you faced in designing the costumes for Big Little Lies.
Because of the caliber of the actors in our cast and their busy schedules, we got many of them very late. We fit Laura Dern the day before we started shooting. This leaves absolutely no margin for error.
Were you looking at any other films, or books or women for inspiration?
I always lean on photography books for inspiration. The Sartorialist series is a favorite, and the work of Garry Winogrand. For Celeste's character, the classic style of Grace Kelly, Catherine Deneuve, and Jane Fonda offered endless inspiration.
Did the actors offer any input or opinions about how their characters should dress?
I love the collaborative process and welcome input from the actors. If an actor doesn't feel comfortable walking in the character's shoes (both literally and metaphorically), then I haven't done my job. One of the most rewarding parts of being a costume designer is watching the actor transform into the character in the fitting room. My job is to give an actor the second skin they need to become another person.
If you had to describe each character with three brand names, what would they be?
Madeline: Carolina Herrera, Kate Spade, J.Crew
Celeste: Max Mara, The Row, Le Perla
Renata: Alaïa, Gucci, Chanel
Jane: Gap, Northface, Madewell
Bonnie: Free People, Zara, Anthropolgie
As a mother yourself, did you pull at all from our own experiences?
Absolutely! My kids and my brother's kids are the same ages as the kids in the show. It's such a wonderful age. Kids that age have a limited sense of embarrassment, so they can be uninhibited about what looks/feels good to them. I wanted Chloe [Madeline's daughter] to be both visually influenced by the music she loves, and an older sister she worships. She wears layers of bracelets and vintage cowboy boots à la Janis Joplin, and has the eclectic mix of old t-shirts, ponchos and black like big sis. She doesn't wear a lot of pink or floral prints. Jane puts all her efforts into Ziggy. She sleeps on the couch in order to give Ziggy the bedroom that she painstakingly decorated for him. Same goes for his wardrobe. She makes sure he is clean, tucked in, and has brand new shoes. She would never want her financial shortcomings to reflect on him.
Are there any particular looks that really stand out to you as favorites?
Episode 7! The Audrey Hepburn look that Renata wears; her chic take on Audrey's My Fair Lady iconic ascot dress.
Which character would you most want to run into at New York Fashion Week?
Probably Renata; she would have the best seats.
Related: What Back to School Looks Like For the Parents of Lower Manhattan
What Back to School Looks Like For the Parents of Lower Manhattan
Butterflies of Paris: How Street Style Stars Do Paris Fashion Week