Big Little Lies Will Introduce a Completely New Character in Season 2
Does this mean Alexander Skarsgård will be back?
---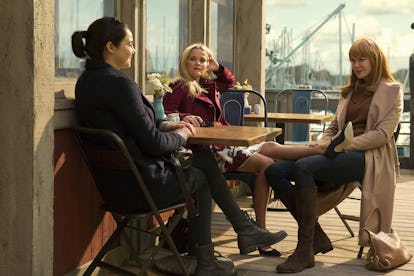 HBO
Fans of Alexander Skarsgård will be happy to know that he might return Big Little Lies, even if that means the return of his villainous character, Perry Wright, for the second season of the hit HBO show. Fans of the mini-series have been dying for any information about the next season, which films this year and will air in 2019. Well, first season director Jean-Marc Vallée, who will still serve as a producer, just spilled the first public details about season two.
"Well, there's a new character coming," Vallée teased in an interview with Entertainment Tonight on the Golden Globes red carpet Sunday night. "Perry's mother, that's all I can say."
Skarsgård's character was (spoiler alert) dramatically killed by Bonnie, played by Zoë Kravitz, in the finale of the first season. Little is known about his background or the beginnings of Perry and Celeste's relationship, though perhaps this new detail means season two will explore their past in depth. As to whether or not Perry's mom will be a heroine or a villain, who will play the character, or how many episodes she will appear in, only time will tell. Skarsgård's fate is also up in the air; there's been no confirmation that he will (or won't) appear in the upcoming season. While season one kept very closely to the story told in the book it was based on by Liane Moriarty, season two will strike new, untold narratives.
To top off the news, Nicole Kidman nabbed the Golden Globe Award for Best Actress in a Mini-Series or TV Movie for her role as Celeste Wright, a mother of twin boys whose husband, Perry, physically and mentally abuses her. Here's hoping for more powerful storylines—and powerhouse actresses—when Big Little Lies returns.
As for the possibility that the series writer David E. Kelly could recruit his wife Michelle Pfeiffer for a role, he jokes last night on the Golden Globes red carpet that she's just "too expensive." Pfeiffer herself said no one has asked.
Related: Nicole Kidman Says Keith Urban Was, Like You, "Shattered," "Hypnotized," and "Disturbed" By Her Racy 2017
Nicole Kidman Has Taken a Lot of Risks on the Red Carpet, and They Always Pay Off
Nicole Kidman (Photo by Barry King/WireImage)

Barry King/WireImage
Nicole Kidman and Tom Cruise at the Director's Guild of America in Hollywood, California.

Ron Galella/WireImage
Nicole Kidman (Photo by Barry King/WireImage)

Barry King/WireImage
Nicole Kidman (Photo by Barry King/WireImage)

Barry King/WireImage
Nicole Kidman and Tom Cruise during "Eyes Wide Shut" Los Angeles Premiere at Mann Village Theatre in Westwood, California, United States.

SGranitz/WireImage
Nicole Kidman during 9th Annual Screen Actors Guild Awards.

Jeff Kravitz/Getty Images
Nicole Kidman (Photo by Barry King/WireImage)

Barry King/WireImage
Nicole Kidman during 53rd Annual Golden Globe Awards at Beverly Hilton Hotel in Beverly Hills, California, United States.

Ron Galella/WireImage
Nicole Kidman and Tom Cruise (Photo by Kevin Mazur Archive/WireImage)

Kevin Mazur Archive/WireImage
Nicole Kidman in Tom Ford for Gucci. (Photo by Gregory Pace/FilmMagic)

Gregory Pace/FilmMagic
Nicole Kidman (Photo by Steve Granitz/WireImage)

S. Granitz/WireImage
Nicole Kidman at the The Kodak Theater in Hollywood, California (Photo by Jim Smeal/WireImage)

Jim Smeal/WireImage
Actress Nicole Kidman arrives for the 80th Annual Academy Awards at the Kodak Theater in Hollywood, California on February 24, 2008.

AFP/Getty Images
Nicole Kidman arrives at the Golden Globe Awards at the Beverly Hilton January 20, 2002 in Beverly Hills, California.

Gregg DeGuire/WireImage
Nicole Kidman during The 76th Annual Academy Awards – Arrivals at The Kodak Theater in Hollywood, California, United States.

SGranitz/WireImage
Nicole Kidman during The 62nd Annual Golden Globe Awards – Arrivals at Beverly Hilton Hotel in Los Angeles, California, United States.

SGranitz/WireImage
Actress Nicole Kidman arrives on the red carpet for the 68th annual Golden Globe awards at the Beverly Hilton Hotel in Beverly Hills, California, on January 16, 2011.

AFP
Actress Nicole Kidman arrives at the 17th Annual Screen Actors Guild Awards at The Shrine Auditorium on January 30, 2011 in Los Angeles, California.

Barry King/FilmMagic
Nicole Kidman arrives at the 83rd Annual Academy Awards held at the Kodak Theatre on February 27, 2011 in Hollywood, California.

Jason Merritt/Getty Images
Nicole Kidman arrives at The 53rd Annual GRAMMY Awards held at Staples Center on February 13, 2011 in Los Angeles, California.

Steve Granitz/WireImage
Actress Nicole Kidman arrives at the 45th annual CMA Awards at the Bridgestone Arena on November 9, 2011 in Nashville, Tennessee.

Jon Kopaloff/FilmMagic
Nicole Kidman arrives at the 69th Annual Golden Globe Awards at The Beverly Hilton hotel on January 15, 2012 in Beverly Hills, California.

George Pimentel/GettyImages
Nicole Kidman attends the "The Paperboy" premiere during the 65th Annual Cannes Film Festival at Palais des Festivals on May 24, 2012 in Cannes, France.

Vittorio Zunino Celotto/Getty Images
Nicole Kidman arrives at the 70th Annual Golden Globe Awards held at The Beverly Hilton Hotel on January 13, 2013 in Beverly Hills, California.

Jason Merritt/Getty Images
Nicole Kidman attends the 55th Annual GRAMMY Awards at STAPLES Center on February 10, 2013 in Los Angeles, California.

Larry Busacca/WireImage
Nicole Kidman attends the World Premiere of "Paddington" at Odeon Leicester Square on November 23, 2014 in London, England.

Karwai Tang/WireImage
Nicole Kidman arrives at the 87th Annual Academy Awards at Hollywood & Highland Center on February 22, 2015 in Hollywood, California.

Jeffrey Mayer/WireImage
Nicole Kidman arrives at Women In Film 2015 Crystal + Lucy Awards at the Hyatt Regency Century Plaza on June 16, 2015 in Los Angeles, California.

Jon Kopaloff/FilmMagic
Nicole Kidman attends the opening ceremony and "Grace of Monaco" premiere at the 67th Annual Cannes Film Festival on May 14, 2014 in Cannes, France.

Tony Barson/Getty Images