Nicole Kidman Teases More Big Little Lies
Apparently Liane Moriarty has "a really good idea," and Reese Witherspoon, Laura Dern, and Zoë Kravitz are already in.
---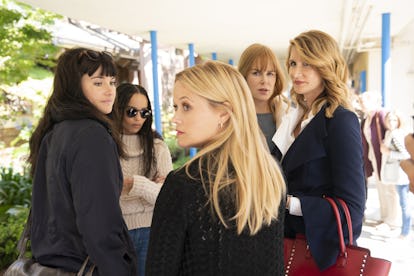 Jennifer Clasen/HBO
Big Little Lies, which HBO premiered in 2017, was originally supposed to be a seven-episode miniseries. And that was in large part what made it so acclaimed: The show was packed to the brim with drama, and still managed to perfectly tie it all up in a knot. Even Nicole Kidman as readily acknowledged that its second season was against many fans' advice. "I had a lot of people say to me, 'No, no, no, that's it. You did only one. It was fantastic as one season,'" she said ahead of its premiere last June. And yet, according to Kidman, they're already planning a season 3.
Season 2 of Big Little Lies wasn't a complete disaster. It came with an occasionally delightful Meryl Streep performance, which was at least worth it for the meme of her screaming. As for Laura Dern, her delivery of the line "I will not not be rich" is arguably a highlight of her career. But even though it "pumped into existence a thousand memes and a million GIFs," Doreen St. Felix wrote for the New Yorker, "the currents were not strong enough to distract us from the weak plot of this encore season, which probably should not have been made, or, rather, recycled from the first." To many, it wasn't just that season 2 was underwhelming; it was just that it was unnecessary.
Still, according to Kidman's new interview with Australian Marie Claire, the core cast and crew are once again gearing up for more. The actress has "become really good friends" with Liane Moriarty, who wrote the novel upon which Big Little Lies is based, and still "really close" with her costar Reese Witherspoon. In fact, Witherspoon and Kidman "talk or text" weekly—including about prolonging the life of the series. According to Kidman, Moriarty and show runner David E. Kelley have "a really good idea," and their costars are already ready to reassemble. "I texted Zoë [Kravitz] and Laura [Dern] and they're in," Kidman said. "Watch this space!"
If they do indeed go on to make things official, it doesn't sound like Kidman will be about to squeeze it into her schedule any time soon. Another Moriarty adaptation, Nine Perfect Strangers, has had her staying up past midnight and working 14-hour days. Her role as producer has made things even more labor-intensive, looping her into tasks like figuring out the logistics of moving the miniseries' 1,400 cast and crew members from L.A. to Byron Bay. And then there's her own production company, Blossom Films, which requires Zoom meetings and visits to far-off sets. Let's just hope her upcoming movie with Björk doesn't get put on the back burner.
Related: Nicole Kidman Is a Little Embarrassed About These Keith Urban Lyrics