Unpublished Bill Cunningham Photos Surface; Blood Orange Gets Busy
Plus, "cool" is cool again, and Charlotte Rampling's Renaissance continues.
---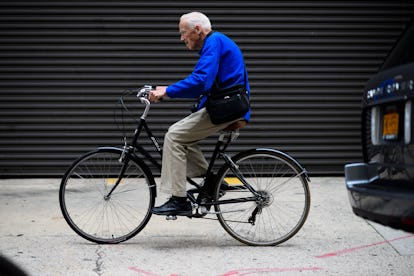 Cunningham, Bill The death of street style photographer Bill Cunningham cut particularly deep in a year when it seems like many cultural icons were struck down — here, his alma-newspaper releases a few of his favorite shots that never quite made the cut for his column.
Formichetti, Nicola Mastering piano sonatas while he waits for the next season of Stranger Things.
Gvasalia, Demna With Gvasalia's ascent to the helm of Balenciaga, the success of the rebranded Gucci, the rising popularity of street casting, and Gosha Rubchinskiy's acclaim, it seems cool is cool again.
Night, Day For The winter music festival in Houston, Texas, that makes the best case (sorry, The Meadows festival) that festival season doesn't end with the last days of August.
Orange, Blood Just before he touched down in Houston for Day for Night, Dev Hynes's solo project debuted his latest music video for the Carly Rae Jepsen collaboration "Better Than Me," starring Jepsen and wunderkind Bryndon Cook of Starchild & the New Romantic.
Rampling, Charlotte The 70-year-old actress is having a Renaissance — and that includes modeling for Jonathan Anderson's Loewe.
Records, Awful The Atlanta-based collective led by Father and with members including Tommy Genesis and Abra is growing up — but that doesn't mean they're not still having fun doing it.
See W's most popular videos: