Bill Cunningham Tribute: Fashion Week Photographers Don Blue Smocks
In honor of the late photographer, blue jackets are everywhere at New York Fashion Week.
---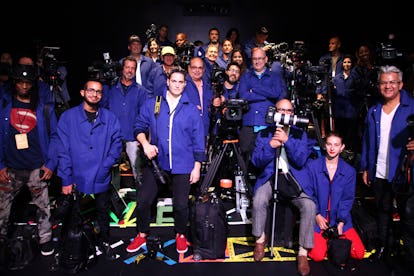 Getty Images
For the first time in decades, New York Fashion Week will be without one of its most beloved front row denizens. Bill Cunningham, the photographer who pioneered street style photography and brought his own unique view to capturing runway shows through his work for WWD, Details and The New York Times, passed away this June.
He was for years one of the most important New York photographers, capturing images at the most photographed events in the world.
Today, his fellow fashion show photographers paid tribute by donning a version of his trademark blue smock.
While Cunningham had a love for capturing high fashion, his own personal style was nothing but downright utilitarian. He started wearing French workman's jacket after scouting them in a Paris hardware store during Couture week. The four pockets were perfect storage for his extra film. The original price tag was just $20.
This morning every photographer at The Shows inside The Dock, Skylight at Moynihan Station was handed their very own version of Cunningham's sartorial trademark. Though, this particular version was created by show sponsors IMG in collaboration with Villency Design Group.
"Though he's no longer with us, Bill Cunningham's legacy lives on. We see his influence every day on the streets of New York, and we miss him," said Catherine Bennett, managing director of IMG Fashion, in a statement. "As New York Fashion Week kicks off, we acknowledge this incredible man through the individuals who will carry on his passion for life and love of fashion."
The show of lensmen solidarity is not the only tribute to Cunningham in New York during the week.
50 bistro chairs at Bryant Park have been laid out in the shape of a 35mm camera in tribute, as per Page Six. To symbolize his front row status, each chair's back was covered in a material similar to that famous blue jacket. A picture of Cunningham at work is attached.
The corner of 57th Street and Fifth Avenue in Manhattan was also renamed "Bill Cunningham Corner" after his death. The intersection was one of the photographer's favorite to shoot street style. Though the honoring naming was only meant to be temporary, there's an effort underway to make the honor permanent.