Bill Withers Had a Short Career, But His Influence on Black Culture Endures
Celebrities and musicians mourned the passing of soul legend Bill Withers, who passed away at the age of 81 from heart complications.
---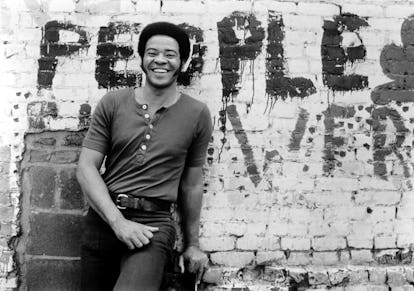 Photo courtesy of Getty Images.
Bill Withers, a musical legend of the soul genre, died at 81 years old.
It was confirmed by his family that he died on Monday of heart complications. "We are devastated by the loss of our beloved, devoted husband and father. A solitary man with a heart driven to connect to the world at large, with his poetry and music, he spoke honestly to people and connected them to each other," his family said in an official statement.
Known for '70s soul hits like "Ain't No Sunshine," "Grandma's Hands," "Use Me," "Lean on Me," "Lovely Day," and "Just the Two of Us," the singer-songwriter took a step back from his music career about 10 years after it started, but his best-known singles have remained, soundtracking commercials, parties and weddings seemingly everywhere.
Barack Obama played "Lean on Me" at his inauguration, and the song had recently become something of a social distancing anthem, played and sung by quarantined residents of various cities on lockdown during the coronavirus pandemic, promoting togetherness in a time of crisis.
Withers was the subject of 2009 documentary Still Bill and profiled by Rolling Stone in 2015. "What few songs I wrote during my brief career, there ain't a genre that somebody didn't record them in. I'm not a virtuoso, but I was able to write songs that people could identify with. I don't think I've done bad for a guy from Slab Fork, West Virginia," Withers said, shortly after hearing the news of his induction into the Rock and Roll Hall of Fame.
Despite only having a decade-long music career, Withers maintained a massive influence and presence in black culture. In that same Rolling Stone interview, Questlove sang the praises of his simple, timeless instrumentation: "Bill Withers is the closest thing black people have to a Bruce Springsteen."
After the singer's family confirmed his death, an outpouring of mourning came through on social media from musicians, composers, and celebrities like John Legend, Flying Lotus, and Jeffrey Wright.
Alicia Keys shared a video of herself singing "Lean On Me" accompanied by her son on the piano, while many shared clips of the singer in old studio sessions or stage performances.
Related: Lenny Kravitz Got Into a Very Fancy Fight about Chocolate at a Paris Opera