Billie Eilish Will Get Rid of Her Green Roots, But Doesn't Care What You Think, Really
"[T]his is the longest [I]'ve had the same hair color since [I] was 13."
---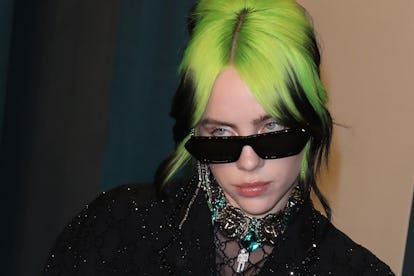 Photo by Toni Anne Barson/WireImage
When we were first introduced to Billie Eilish back in 2017, the singer had dusty blonde, almost gray hair. The music sensation didn't sport her now-signature slime green roots until February of 2019, and even then they weren't a permanent part of her look. It took her until that summer to adapt them full time, and she's mostly maintained the signature hairstyle ever since. Those slime green roots were with her when she rose beyond YouTube notoriety into real fame, and when she dominated last year's Grammy awards. Casual observers likely don't recognize Eilish any other way.
Well, the 19 year-old has now announced that she plans to ditch the green roots soon, though she's in no hurry and certainly doesn't care what the public thinks about the matter.
"I'm changing it after the doc comes out," she said in an Instagram story, according to BuzzFeed. "It'll be the end of an era, I'ma give you a new era…I have announcements to make, I got some shit to put out."
Eilish is referring to her Apple TV+ documentary The World's A Little Blurry which is scheduled for a February 2021 release. The doc will chronicle Eilish's rise to fame. Full of rare footage and unseen home videos, it should also serve to remind many that Eilish wasn't actually born with those green roots.
Though, Eilish will not welcome the announcement as an opportunity for public feedback on her hair choices.
"Fuck you guys. Stop making fun of me, oh my god!" she said. "I'm fucking making you an album! I will not put it out if you keep making fun of my hair. Shut up!"
"[T]his is the longest [I]'ve had the same hair color since [I] was 13 and that's on mental stability and growth," she wrote in an IG comment. "Leave me alone."
Eilish will not be the first singer to rise to superstardom with a decidedly signature 'do, only to ditch it. The singer Pink's career actually only got better after she got rid of her matching pink hair (and honestly, no one could have predicted she would have such staying power based on her first album). Justin Bieber's career has remained strong, with or without bangs. Hayley Williams's fans have stuck with her well beyond the days of her fire orange locks.
Eilish, we assume, will be fine. In fact, as anyone who has had to do constant root touchup with even a normal color can attest, she might be glad to move on.
Related: Billie Eilish Wears a Tank Top, Dares You to Judge
Billie Eilish, Gen-Z Icon, Wore A Suit Covered In the Powerpuff Girls
Billie Eilish arrives at the 36th Annual ASCAP Pop Music Awards at The Beverly Hilton Hotel on May 16, 2019 in Beverly Hills, California.

Morgan Lieberman
Kendall Jenner attends Longchamp celebrates the launch of Longchamp LGP in Paris, France.

Francois Goize
Sienna Miller and Lucas Zwirner c
Tilda Swinton attends the Tiepolo Ball presented by Dior in Venice, Italy.

ALFONSO CATALANO
Karlie Kloss attends the Tiepolo Ball presented by Dior in Venice, Italy.
Naomi Watts attends the Tod's Library opening in New York.

David X Prutting/BFA.com
Carolyn Murphy and Grace Elizabeth attend the Hot Pink Party hosted by the Breast Cancer Research Foundation at Park Avenue Armory on May 15, 2019 in New York City.

Dimitrios Kambouris
Christina Zeller and Olivia Palermo attend Delvaux and the Magritte Foundation Co-Host an Exclusive Vernissage of Rare, Inedited Works by Rene Magritte in New York.

Madison Voelkel/BFA.com
Troye Sivan attends Gucci's celebration of the Release of Paige Powell In LA on May 16, 2019 in Beverly Hills, California.

John Sciulli
Helena Christensen poses for a photo during Helena Christensen and Marcus Wainwright celebrate A Damn Good T-Shirt with rag & boneon on May 16, 2019 in New York City.

Craig Barritt
Rita Ora attends the 10th Annual Filmmakers Dinner hosted by Charles Finch, Edward Enninful and Michael Kors at the Hotel du Cap-Eden-Roc on May 17, 2019 in Cap d'Antibes, France.

David M. Benett
Shailene Woodley attends the 10th Annual Filmmakers Dinner hosted by Charles Finch, Edward Enninful and Michael Kors at the Hotel du Cap-Eden-Roc on May 17, 2019 in Cap d'Antibes, France.

David M. Benett
Amber Heard attends the 10th Annual Filmmakers Dinner hosted by Charles Finch, Edward Enninful and Michael Kors at the Hotel du Cap-Eden-Roc on May 17, 2019 in Cap d'Antibes, France.

David M. Benett