Billie Eilish Reinvents the Mall Video for Our Haunted, Lonely 2020
Sorry Tiffany, Billie Eilish really is alone now.
---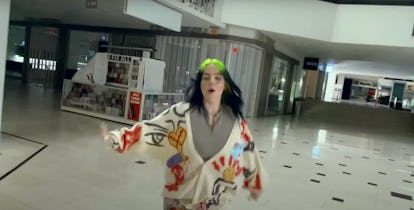 One would not expect Billie Eilish to make an entry into the storied canon of music videos shots in malls. It seems a little too teeny bopper 101 for an artist who has proven to be anything but that. Then again, we certainly aren't in normal times, and malls don't mean quite what they used to anymore. Already the victim of changing consumer habits, malls are even more empty this year as shoppers aren't so keen to congregate in crowded indoor spaces. Leave it to Eilish, then, to take advantage of that dynamic to put a creepy take on the mall-shot music video with her new clip for "There I Am." We've certainly come a long way since the early days of MTV.
Of course, one can't talk about mall music videos without talking about Tiffany. Long before teens went viral on TikTok or YouTube, the 1980s pop idol gained notoriety by literally playing in malls across the country—a fact she paid tribute to with the video for her biggest single "I Think We're Alone Now," shot across various shopping plazas in Utah during one of her famed mall tours. The clip was good, old-fashioned teen fun. Later in that decade, Tom Petty set his rather melancholy hit "Free Fallin'" to images of typical teen life, including numerous shots at LA's Westside Pavilion.
In the 1990s, New Radicals, a one-hit wonder band that was, actually, really, really, good set their "You Get What You Give" video at New York's Staten Island mall with hijinks in tow. Avril Lavigne followed suit by featuring numerous mall misadventures in her breakthrough "Complicated" video, burnishing her image as some sort of suburban bad girl. The trend has even found its way into K-pop. The video for Girls' Generation's "Gee," one of the defining songs of the genre, was set in a mall boutique. More recently, Taylor Swift used the notoriously abandoned Hawthorne Plaza Mall in California for scenes in her "…Ready for It?" video, though the vibe there was more general dystopia and less comment on mall culture.
Eilish's take proves, however, that you don't need to channel futuristic sci-fi to present dystopia. We're already living it.
Shot to look like it was filmed all within a single take (though, you'll notice a few editing points) at the Glendale Galleria, Eilish gallivants around the monument to capitalism late at night (is this what they mean when they say "late capitalism"?). The stores are closed, but Eilish does help herself to some leftovers from food court mainstays (suddenly, we want an Auntie Anne's pretzel). Eventually, she gets chased off by a disembodied voice, but she seems to have had fun.
If we put the pandemic implications of the video aside and put on our "thinking about this way harder than it needs to be" cap, we'd compare and contrast Eilish's video to Tiffany's as a comment on the changing social life of American teenagers. Tiffany came up in actual shopping malls, where teens congregated with their friends. Eilish came up through YouTube, which teens tend to watch alone. It's only fitting that Eilish's equivalent of a mall tour could only be viewed digitally. Unlike Tiffany, Eilish doesn't have to think about it. She's definitely alone now.