Billie Piper Is the Talk of New York Theater With Her Bruising Performance in Yerma
Meet the London TV star storming the New York stage in one of the most talked about performances in years.
---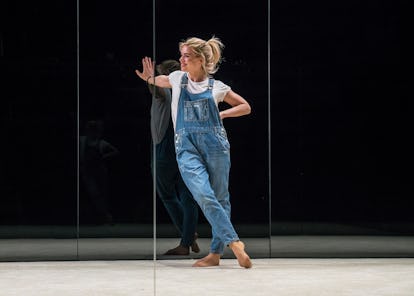 © Stephanie Berger
As Her, the beating heart of Simon Stone's Yerma, now onstage at New York's Park Avenue Armory, the British actress Billie Piper is slaying critics and audiences with her harrowing portrait of a brash London editor undone by her inability to conceive a child. Piper is giving the performance of the theater season in her New York stage debut, reprising the role that won her a record number of British acting awards when the play was staged in London in 2016. (The New York Times called it "one of those performances that leave you bruised, breathless, and grateful for an experience you wouldn't have missed for the world.")
When Piper signed on to do Yerma (which means "barren" in Spanish), she assumed it was for Federico García Lorca's original 1934 tragedy about a farmer's wife in a rural Spanish village. Instead, Stone had the cast talk about their lives and wrote new pages nightly based on the conversations. "I was secretly pleased when they said that it would be updated and I wouldn't be singing about the oxen," quipped Piper.
The actress has pretty much grown up in the limelight. Though best known to American television audiences for her roles in Doctor Who, Penny Dreadful, and the new Netflix series Collateral, Piper, a former teen pop star, had her first hit record at 15. She's been a fixture of the British tabloids ever since—now dating rocker Johnny Lloyd, the former frontman of the band Tribes, she wound up in the Daily Mail the other day for taking a stroll with Lloyd in New York.
Last Friday, shortly after Yerma's opening night, Piper, 35, sat on a couch sipping tea in the downtown loft she's borrowed for the play's run. Candid and effusive, she wore denim overalls and a white T-shirt, her stark blonde bob accentuating the expressive dark brows that frame her face. She was awaiting the arrival of her two young sons from London and acknowledged that juggling a grueling play about maternal longing with daytime parenting was taxing, though nourishing. Piper noted that Yerma—at the center of which is the idea that our life plans will almost never line up neatly, in happy equilibrium, but that few of us fail to try have it all, nonetheless—"is super zeitgeisty. The topic of family versus work, getting a mortgage, men versus women—it's dominated every dinner party I've been to for the past five years."
Here, Piper talks female empowerment, oversharing, and the pitfalls of being oversexualized as a teen star.
At the beginning of the play, your character, Her, is a plucky, feminist editor of a national newspaper who has just bought a house in a hip rising neighborhood in London with her longtime partner. But increasingly, infertility turns Her desperate and tortured. How did you see the character? I find it really stressful, this feeling that it's our time so we can have everything because we're women and we're the best and we're f—ing great and all this stuff. And actually I can't cope. I feel like I have to be so grateful for everything and that's exhausting. The fact is you cannot have it all. Something will fall. You'll drop a plate. I would like us to be more honest about that instead of going, "I'm spinning plates and I'm doing fucking great." I just feel there's not always an honest conversation about that, the nuances of what it is. And I think what's great about the character is that she comes into the play going, "I am about to fucking have everything I want. I've got my house. I've got my man. I've got a great job. I dress chic. Like, I've got it." And there's this one thing that she cannot control and it sends her mad.
Do you think it sends her mad because she can't have something she expected that she could, or because she feels a genuine biological urge to have a child? I think it's probably a combination of both, if I'm really honest. I think there is a lot of frustration in not being able to get what she wants because she's been told she can. That powers her quest. When you want something so much and you can't quite achieve it, you start looking at why. And the first place you go is your parents. When you come out of your 20s, which are just chaos and sort of like being in a coma—a really fun coma—you're like, "What was that?" And now it's my 30s and I'm so much more awake, but I'm also really feeling very reflective and I want to look at patterns of my behavior—at, yeah, the shit that's gone down. And the first place I want to go is to my mum and dad. [Laughs.] So what she does in the play is go, "I can't have a kid. I can't get pregnant. And it's because my mum was a cold, neglectful mother and maybe I'm going to be that and maybe that's why I haven't been blessed with a child." It's like it can't be enough that it's just not happening. There has to be a reason for all of this stuff. That's something we all really struggle with, I think.
Your performance is all raw nerve endings and flayed emotion. As a mother yourself, how do you find your way into Her's experience? Because I've been blessed with two beautiful kids, the thought of not having had them is what makes me really feel very fucked up. It's where the sadness and madness comes from when I do the play. I could totally see myself becoming that person if I didn't have them. I mean, it's pretty hysterical what happens, though the play is not just about a woman not being able to get pregnant, it's about a relationship burning out like a star. So there's a lot about love in there. I've seen a lot of it happen to friends of mine. It's never got as bad as it does in the play, but it's been emotionally trying on a relationship.
While you were performing the play in London last year, you went through a divorce from the father of your kids [the actor Laurence Fox]. How did that impact the way you played the role? I suppose what happens for me is I end up choosing roles that I feel emotionally bound to at certain moments in my life. And so it's that. I think that has been the reason I've chosen every role I've ever done. But otherwise, I'm not sure how it all merges, really. It's like somehow it all sort of feeds into your emotional interests, I guess.
As your character begins to unravel, she blogs about her travails in intimate detail. Do you think we overshare our experiences on social media in an effort to seem more authentic or find comfort? I wonder if there's some sort of subconscious thing where women think, "If I'm at work all the time, I'm going to have to turn my life into some enormous experiment because I spend so much of my time pursuing my ambitions, having this quest beyond having a family. So maybe it has to feel like something greater has to come out of that than just being at work to earn your place in the working world. So this oversharing is, I think, a new thing isn't it? I really struggle with it myself. I have to be really careful around it in the public world because 70 percent of me thinks it's really irresponsible—the sharing of a moment with loads, thousands of people. It creeps me out too much. But I want to. That's the truth. [Laughter.] Every time I see my kids do something I want to tell everyone.
At 15, you became the youngest British singer to debut at number one with your 1998 single "Because We Want to." You've talked about being oversexualized as a teen and the eating disorder you developed as a result. When I was turning 13­—before I became really famous—I was wanting to be a bit sexy. Obviously, you get all these features and you become aware of boys and so there is an energy around that. The problem with being famous at that age with those feelings emerging is that there is an enormous platform for you to fully invest in that. So that means that you can be in Loaded [a former U.K. men's magazine] in a version of underwear at 16. I just feel like there was a big audience for it, you know what I mean? And no one was reining it in. And me probably being quite provocative—I was obsessed by Madonna, and it was incredibly sexual, her career. So I think I was just mimicking her on some level. But she was older, and I was a teenager. And they would give you awards for being the sexiest pop star, which seems insane to me now. I don't know that it has changed that much.
Do you think that younger women are embracing a more expansive view of beauty and the female form? A lot of social media is about women looking really oversexed. That doesn't feel like feminism to me. I get very confused about if this whole thing is a celebration of the female form or if it's just continuing to perpetuate the idea that we have to be sexy to get what we want in the world. It's like, what is emancipation and what is disturbia?
What are some of the more unusual responses you've seen to Yerma? I had one friend who went home after seeing the play and had sex with no contraception for the first time. But then the next day, she took the morning-after pill. [Laughs.] She was so moved by the story. But then I guess she thought, "I've got three contracts to honor…" So it's quite funny. And sad.