When an Oscar de la Renta Dress Becomes a Metaphor For Finding Yourself
William "Billy" Norwich on the gown that inspired his second novel, My Mrs. Brown, and real women dressing for real life.
---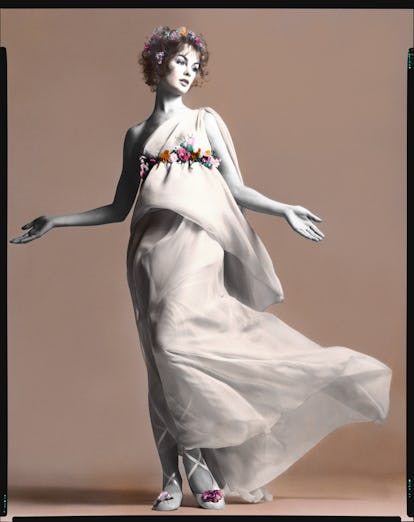 As a fashion journalist, William Norwich – Billy to his friends – knows a thing or two about celebrities getting dressed. But it was the anti-celebrity who inspired him to write his second novel, My Mrs. Brown, out today.
"To me, the red carpet is just propaganda, it's capitalist propaganda—you have to look like this, you have to be this skinny and have that cheekbone and that hair and that dress," he said recently.
There's something about real women getting dressed for real life, though, that piqued his interest. Several years ago, he found himself working on stories for Vogue about "women of a certain age" and their personal style and he was struck by the responses he was getting from his subjects.
"I started to get feedback from the women who are not in the economy to go shop, shop, shop. And women who dared live past the age of 40," he recalled. "That sensitivity informed the book, and it's how the character took off."
The character in question is Emilia Brown, an older woman who works as a cleaning lady in Ashville, Rhode Island. When she comes across an Oscar de la Renta dress in a client's closet, Brown journeys to New York to buy a dress of her own, which in Norwich's telling becomes a metaphor for finding herself.
"I love to write about the anthropology of style," he said. "Growing up, my father died when I was nine, and my mother when I was 20 after a very long illness. And fashion – a new dress, a lipstick, a cologne – was an intervention. I grew up seeing [fashion] not initially as appreciation for design and craft, but as the lift in spirit it would provide."
His fixation on a dress in particular stemmed from reading Paul Gallico's short novel Mrs. 'Arris Goes to Paris, published in 1958. It's a similar Cinderella story, involving a Christian Dior dress, and prompted Norwich to wonder: "If that story were to happen now, in America, what would that dress be?"
For that, he looked to a few of the most powerful women in America, the first ladies, a subject he intimately understands from his earlier incarnation working as a gossip columnist in the '80s in New York, initially helping the legendary Eugenia Sheppard with her column in the New York Post and later writing his own eponymous column. Eventually, he graduated to writing about society and is now an editor at Phaidon Press. When Nancy Reagan died, he recalled a time when she was the ruling matriarch of Park Avenue society.
"The first ladies, going back to Mrs. Kennedy, they all have a suit. It's a suit they wear to funerals, or very important meetings. And Oscar tends to make those suits," Norwich explained. "Plus, all the people I know who have a good suit and it's an Oscar suit."
My Mrs. Brown is Norwich's second novel and its publication is being greeted with a series of events that might turn Norwich himself into the subject of a few party stories. Alex Bolen, de la Renta's son-in-law and the chief executive of the label, is throwing Norwich a party on Thursday at the de la Renta flagship on Madison Avenue, and Derek Blasberg, whom some might describe as Norwich's modern-day doppelgänger, is co-hosting a luncheon in his honor at Casa Lever on Monday.
This will be his followup and something of a departure from his first novel, Learning to Drive, which was published exactly two decades ago.
"I didn't know how to drive legally. And so I had to go through the process of getting a license and it became the basis of a book," he said. "It was autobiographical in a sense—this one is not. I have not gone searching for a dress, yet. Perhaps I should."
[#gallery: /galleries/58530bccc7188f9b26c90c89]||||||