Birkins Are Not Just for Women Anymore
Thanks to online consignment shops where they can shop in private, guys are buying Birkins too.
---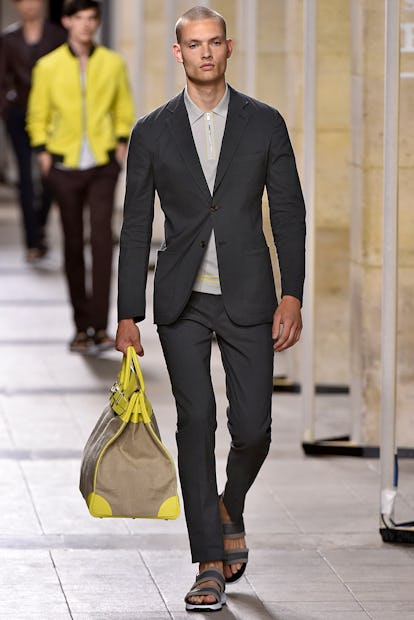 Getty Images
Men like Kanye West and Marc Jacobs have been known to tote large Hermès Birkin bags of their own, but it wasn't a trend that ever hit the masses, especially not for men. This makes sense, considering that it's one of the hardest bags in the world to get your hands on. But the consignment site TheRealReal reports Birkin sales have skyrocketed 40 percent just this year, and it's all thanks to its gentlemen shoppers.
Named after the style icon Jane Birkin, the bag has been a symbol of high social standing since its conception in the '80s by Hermès' Jean-Louis Dumas. To preserve its exclusivity, only a small number of Birkin bags are produced each year and delivered to stores on an unpredictable schedule. Of course, there's a waitlist, but it's been reported that the wait can be up to six years. And if you're lucky enough to ever get your hands on one, the cost can range anywhere from $11,550 to $150,000, depending on its level of bedazzlement. In 2013, a diamond-encrusted, crocodile Birkin with 18,000 gold fittings sold for $203,150 at an auction in Dallas, Texas.
In the past, TheRealReal only listed Birkin bags in the women's section, but everything changed when one day a male customer sent in an Hermes Birkin HAC (Haut a Courroies) and insisted they list it only as men's."We saw this as an opportunity," said Men's Category Director Mayola Martinez. "It sold within a few days to another male customer." Prices for a Birkin on the site range from around $9,000 to $12,000, which a nice break from the regular price tag.
TheRealReal has noticed men gravitating to the HAC style Birkin both in the 40 and 50 size. Neutral colors are also a top seller. But more telling is the fact that men's travel bags and luggage saw a 60 percent growth on the site since start of the year, with Louis Vuitton and Hermes being the top mens travel brands.
"We continue to see the value in listing specific Birkins in men's to give our travel-focused male customer quicker access to these bags," Martinez continued. "Birkins retain and have a high re-sale value, so for the savvy mens consumer he knows he can reconsign."
In sum, men are buying more Birkin bags simply because the advent of online luxury consignment shops like TheRealReal has allowed them, and to do so discreetly. They can purchase in private, prices are cheaper, and they're in greater supply. But men are also buying more Birkin bags because men are traveling more — a trend that we've seen this season on and off the runway.
The Birkin bag's large size is the perfect companion for a male jet-setter. If he wants to put it on the seat next to him, however, he might need to buy another ticket.
Watch W's most popular videos here: