Bjarne Melgaard: Brink of Hysteria
With his first fashion collection, Bjarne Melgaard puts his art on your sleeve.
---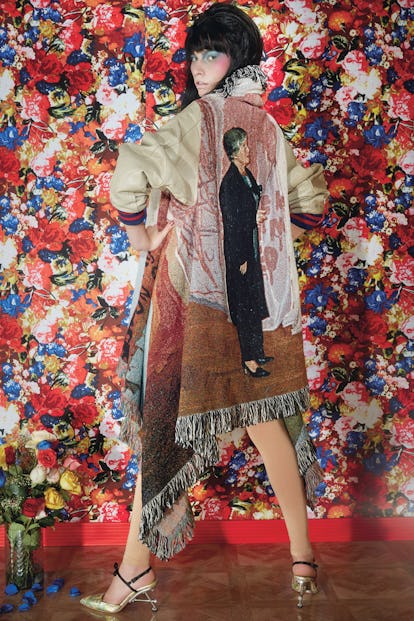 Photographer: Roe Ethridge Stylist: Avena Gallagher
Bjarne Melgaard goes wherever his curiosity takes him, taboos and niceties be damned. For the 2014 Whitney Biennial, he contributed a room-size loungepopulated with sex dolls and furnished with sofas alongside sculptures of deranged faces; YouTube videos of fighting bears and dogs flickered on the wall. "Ignorant Transparencies," the artist's 2013 exhibition at Gavin Brown's Enterprise in New York, put the darkest corners of his mind on display—from the 12-foot-tall Pink Panther smoking a meth pipe to the dystopian dollhouse teemingwith handmade figures getting high, having sex, and contemplating suicide. Polymorphously prolific, Melgaard has written novels and put on exhibitions that he calls "novels," though they don't feature any books. In 2012, he included two live caged tiger cubs in his show at the Lower East Side gallery Ramiken Crucible.
Long obsessed with fashion and the emotional states ittriggers, Melgaard regularly collaborates with designers.Proenza Schouler created clothes based on his paintings for a 2012 installation at New York's Luxembourg & Dayan gallery, and garments by the avant-garde duo Eckhaus Lattahung below deliriously painted faces on assemblages that the artist included in his aforementioned show at Gavin Brown. Now, Melgaard has hatched a fashion collection.
The project came about after he saw a trailer for the director Catherine Breillat's 2013 film Abuse of Weakness. Based on Breillat's true-life experiences, the movie explores power and sex through the story of a filmmaker who suffers a debilitating stroke but is determined to make a movie about a con man she first sees on a TV talk show. The two meet, and the director inexplicably falls for the scam artist's charms—even as he bilks her out of more than a half-million dollars.
Melgaard was moved by the story and the parallels he recognized from his own relationships and, without having seen the actual film, sat down and began drawing. What resulted were 100 illustrations of human/animal hybrids wearing outfits that express their feelings. Alongside each, he scribbled notes about the emotions embedded in the clothes, describing one shirt, for example, as an "I Have No Talent tee."
"I was thinking about creating clothes that are about themental state you're in and the faults you feel you have," he tells me on a late summer day in his vast studio in Bushwick, Brooklyn. "And rather than do that in sculpture, I wanted to try it with a commercial fashion line." This foray does not mark a departure from his art-making; it's just another forum for it, he says. "I'm not really interested in building a big fashion house. I'm more interested in the brink of hysteria that brings clothes into people's lives."
To turn his illustrations into garments, Melgaard teamed with Babak Radboy, the creative director of Bidoun magazine and cofounder and president of Shanzhai Biennial, an art collective that joyfully subverts the tenets of luxury branding.Their first collection is titled "the casual pleasure of disappointment," but it's really more of a motto; the Bjarne Melgaard brand is, essentially, "streetwear for people who don't like streetwear," Radboy says. "We wanted it to seem kind of cheap and disappointing."
Melgaard himself has an aversion to rap and street culture, though he is wearing track pants and paint-splotched Adidas sneakers. A bearlike man with a chiseled jaw and intense blue eyes, he is shy and soft-spoken and goes in for dulcet tunes by the Carpenters and Todd Rundgren, whose "Hello, It's Me" is his favorite song.
Biographical references to Melgaard and Breillat runthrough the collection's sweatsuits, hoodies, and tunics. The print on a slinky silk sheath is a copy of a bank check that Melgaard wrote to a past boyfriend. An angry scatologicaltext message he sent to another covers a T-shirt. The words abuse and weakness appear across the back of a tracksuit bedazzled with acid-green sequins and beads. "I'm fascinated by how this financial negotiation of emotions in relationships functions," Melgaard says. "I think it's a situation that people find themselves in—though maybe not to the extreme that Catherine did."
The letdown that follows a purchase is another of the collection's motifs. Melgaard admits he's gone on many spending sprees and sometimes buys the entire collection of one designer; what he doesn't wear often finds a place in hiswork. "There's this existential disappointment that I think most people feel," he notes. "You're very excited when you first buy something, but after you wear it the first time, it's never the same."
The Bjarne Melgaard brand is divided into six different lines. There's a Housewife collection of black and white separates and a grouping called Dinosex, based on imagesfrom an online community "that's into dinosaurs havingsex withtigers," Radboy explains. He initially thought the line would have one logo, but after sending 18 options to Melgaardwith the question "Which one do you like?" the artist replied simply"Yes." It has also produced dozens of websites geared to buyers' outlooks and moods, among them, Imafashiondesignernow.com and Nomoreyouthculture.com.
Technically, it's a men's wear line, sized to fit Melgaard's hulking frame, but the ideal customer is an older woman: The artist's 84-year-old mom is his muse, and her image appears on one of his standout pieces, a combination jacket and carpet. "There is something about the dignity of age that I like, when you can see a person's life in their face," he says.
Often referred to as Norway's most famous artist after Edvard Munch, Melgaard will go head to head with the master this January (through April 12, 2015) in "Munch/Melgaard," the first in a series of six exhibitions at Oslo's Munch Museum that pair works by its namesake with those of another artist. ("Munch really defined a lot of the ways we read emotional states," says Melgaard, who grew up in Oslo and represented Norway at the 2011 Venice Biennale.) One gallery will be devoted to a new installation by Melgaard of paintings with cloth dolls and a sculptural suite of rats on skateboards. He's also preparing paintings for his solo show in January at Thaddaeus Ropac gallery in Paris, and in December, at Art Basel Miami Beach, he'll unveil drawings from a collaboration with the Norwegian architecture firm Snøhetta.
As the artist Roe Ethridge photographs the collection for this story on a set reminiscent of a suburban '70skitchen, Melgaard watches his ideas bloom on a model. Herecalls how Catherine Breillat happened to learn only bychance that she had inspired him. At Art Basel in Switzerland this past June, she spotted his fashion illustrations hanging in Gavin Brown's booth and inquired about them. Soon the director and artist were in contact, though Melgaard still hadn't seen Abuse of Weakness. She was eager to become some sort of spokesmodel for his project, she told him. As for her film, she wrote to Melgaard, "I hope it doesn't disappoint you."
Hair by Recine for Recine Luxe Hair oil by Rodin; makeup by Frank B. at the Wall Group; manicure by Alicia Torello at the Wall Group using Chanel. Model: Aline Weber at Next Management. Set design by Matt Jackson at Brydges Mackinney. Lighting design by Christopher Bisagni for Christopher Bisagni Studio. Digital technician: Jonathan Nesteruk. Lighting assistants: Max Bernetz, Brent Lee. Photography assistant: Will Englehardt. Fashion assistants: Bryn Taubensee, Carmel Snow. Hair assistant: Shingo Shibata. Makeup assistant: Yuko Suyama.