These Little Piggies Went to Bjarne Melgaard's Art Opening
A literal litter served as models for Melgaard's latest fashion foray, a jewelry collaboration with the Norwegian brand BJØRG, at Gavin Brown's gallery.
---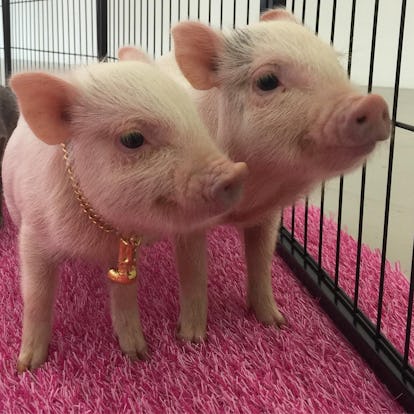 Courtesy of @bjarnebjorg
The Norwegian artist Bjarne Melgaard has been steadily worming his way into the fashion industry over the last few years, from working with labels like Eckhaus Latta and Proenza Schouler to taking over the VFiles store and even producing his own line, which kicked off with pieces like a "Fat Girl Sweatsuit" and a bathrobe trench printed with Melgaard's drawings of "depressed mice" smoking crack in 2014. This season, he even managed to work his way into the scrum around New York Fashion Week—not just once, but twice.
He also featured a different animal: miniature pigs, who served as models for Melgaard's jewelry collaboration with BJØRG, a company run by fellow Norwegian Bjørg Nordli-Mathisen. The pigs walked at Gavin Brown's downtown gallery this past Saturday night, and did their best to distract from the installations of the jewelry they were meant to model, which flanked the sidelines in egg foam crates. Fortunately for those whispering about animal cruelty, though, the pigs were present for that one night only. The rest of the exhibition remains up until the February 19 as a "jewelry department" companion to the multilevel department store Melgaard is opening later this week at Red Bull Arts New York.
See W's most popular videos: