Artist Bjarne Melgaard Just Disrupted New York Fashion Week By Giving Away "I Hate Rihanna" T-Shirts at His Dystopic, Dyspeptic "Department Store"
The Norwegian artist's latest provocation, an installation at Red Bull Arts New York, includes streetwear and a $500,000 designer giveaway.
---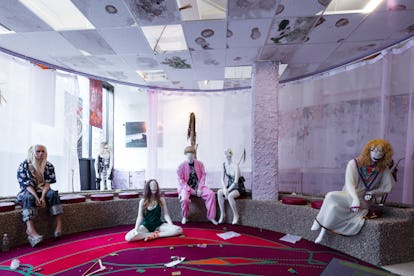 Photography by Andre Herrero. Courtesy of Red Bull Arts New York
It's not exactly breaking news when installations of art exhibitions run behind schedule, but for his show opening today at Red Bull Arts New York, the Norwegian artist Bjarne Melgaard and his team were running especially late. That could be because just two days ago, they opened up the partially finished space to the public—and effectively loosed them upon the exhibition like wild animals.
"It was terrifying," Babak Radboy, Melgaard's right-hand man when it comes to his fashion-oriented projects, said of the havoc wreaked at "The Purge," a free-for-all giveaway of a reported $500,000 worth of designer clothes from Melgaard's closet, as well as some unisex streetwear of the artist's own design. Meant to last three hours, the alleged stash of free Issey Miyake and Margiela—even if much of it was actually, say, H&M sweaters—ran dry after just 20 minutes when the demand caused the groups of 100 let inside at a time to practically lose their minds, while the line of those pushing outside stretched all the way around the block. "We basically had to start telling security about our friends," Radboy said of the ensuing hysteria.
It was not what the pair expected. But, "in a way that's what we created, you know?" Radboy said at the moment a mannequin in a magenta puffer coat and near-floor-length t-shirt dress near us tumbled to the floor at the scene of the pandemonium: the "psychopathological department store" installation that is Melgaard's exhibition, "The Casual Pleasure of Disappointment."
The title is a nod to a concept Melgaard has been playing with since 2014, when he first took a break from his art practice (paintings and the like) and dipped into fashion with his own line, having already worked with labels as prominent as Proenza Schouler and Eckhaus Latta. He felt motivated by the discrepancy between the promise of a new piece of clothing in the store, and the let-down at home. "It's similar to people in relationships who get addicted to being disappointed and finding people who don't fit with them, but they just compulsively need them and their disappointment," Melgaard said.
Bearlike but soft spoken, Melgaard was surrounded by the dozens of mannequins in his expansive Bushwick, Brooklyn studio two weeks ago, sorting through boxes of his latest designs that had just been shipped from China, which he will unveil at Red Bull. If fashion—which Melgaard makes sure to point out he thinks is "just stupid, just nothing to aspire to"—seems relatively chaste compared to the artist's typical work, don't get the wrong idea: his streetwear is infused with just as much flagrant provocation and prickly language as the rest of his work. One of the pieces—a gray sweatshirt emblazoned with the phrase "KILL A CHILD"—was already on his back. (His clothing line launched in 2014, the same year he drew vitriol for his work Chair, a piece of furniture commenting on a similar work by the British artist Allen Jones that was made out of a black woman's body, which the white billionaire Dasha Zhukova was pictured seated atop of in Buro 24/7. Twitter outrage quickly ensued.)
"I don't see it differently, working on a piece of clothing rather than a painting," Melgaard said in his studio. "I just see all my work as one big piece, as a gesamtkunstwerk." Which is how he ended up with apparel that ranges from the obviously inflammatory (bright red baseball caps that say "F—") to the rather ingeniously provocative, like neon orange hoodies emblazoned with phrases like "NOT YOUR GAY FRIEND" and "THIS FAGGOT KILLS FASCISTS," and a reversible tee that says: "See a child and puke." There's also a pair of sweatpants with the word "RELAPSE" stretching up the leg, and a pale pink tee that says, perhaps most daringly, "I hate Rihanna."
That unpopular opinion is part of Melgaard's "Bad Dad" collection, one of his six lines, and which looks critically at youth culture and, Melgaard explained, "takes into consideration the economics of some daddy relationships and the exploitation of youth." Not that that's entirely negative. "Just imagine if you're with a younger guy for years and are just sick of hearing Rihanna all the time—you just want to listen to the Carpenters and Dolly Parton and Diana Ross," Radboy said with a laugh.
A First Look at Bjarne Melgaard's Latest Streetwear
Another line is an imagined collaboration between Supreme and the independent publisher Semiotext(e)—"Suprem(e)," naturally. There are playful varsity jackets for stars of academia like Andrea Dworkin and Kathy Acker. But "Bad Dad" is not the only one of Melgaard's collections that touches on abuse. There's also one focused on Narcotics Anonymous and its "12-step dictatorship"; Melgaard, who is open about his past with both the program and drugs like crystal meth, made sweatshirts printed with a definition of "amphetamine" and a one-off smock-like skirt emblazoned with an Awareness Wheel, with sections like "thoughts" and "feelings." (On the mannequin in the installation, it's styled with an open varsity jacket whose sleeves read "PLEASE F— ME.")
Melgaard's personal favorite, though, is the "Bash Back" line, which was inspired by the queer anarchist movement of the same name in the aughts, whose protest signs are the source of some of the more daring lines, like "THIS FAGGOT KILLS FASCISTS." It's this radical, militant type of provocation that most seems to capture the implications of Melgaard's explicit messaging. "I really miss looking at or feeling aggression from gay men about their own situations and life situations that are so poor," Melgaard said. "And now they're going to get even poorer, because of the political climate here. So I was researching that kind of lost aggression—kind of dropping the white flags and taking out the gun instead."
With the election of Donald Trump, Melgaard, no stranger to despair, is now swimming in it. "I feel very disappointed by America, by Americans who could select a fascist," said Melgaard, who's lived in New York for years but was born in Sydney and raised in Oslo. Though he'd started working on the exhibition before the Trump administration seemed like a real possibility, Melgaard is the first to acknowledge that the show's dystopia and takedown of consumerism could not be more timely than under an administration looking to hawk its wares for personal profit. The essence of the show is at its center: an "escalator going nowhere," Melgaard said, just like the world. (It actually does lead from the ground to the lower floor; at its center is a sign with an image of a gay flag on fire, draped with an actual burnt flag.)
The exhibition also features floor-to-ceiling red carpeting, stained and missing ceiling tiles, a suburban food court-like center, bathrooms converted into "sex booths" with dildo-adorned mirrors, a playroom full of muppets, a shrine to the serial killer Andrew Cunanan (Gianni Versace's murderer), and a giant sign that reads "DEPRESSED." It's eerily populated by mannequins wearing one-off garments created from scraps of Melgaard's own clothing that he pardoned from "The Purge," like a blanket coat made of actual duvets and a gray hoodie paneled together from a variety of jersey sweatshirts. The streetwear items, though, were all outsourced to factories in China, marking Melgaard's first experiment with mass production—which he says is not the turn to materialism you may think it is. Mostly, he just wanted to make the line affordable for young people.
Still, Melgaard insisted he's not turning his back on art, and not even looking to start an actual brand, even if the evidence—new collaborators like the stylist Avena Gallagher to his intentional scheduling in the middle of New York Fashion Week—indicates otherwise. He got into fashion, he said, "to make it less stupid, and to make it on my own terms," not to throw traditional runway shows. (Though he did unveil the "jewelry department" of his "psychopathological" store a few days earlier at Gavin's Brown enterprise, an accessories collaboration with the Norwegian brand BJØRG, on a set of real-life models that also happened to be miniature pigs.)
After all, Melgaard has already been there and done that. When he and Radboy first got started on the line, they had samples made by pattern-makers who worked with Alexander McQueen. Then, Radboy left for a trip, and "when I got back to Bjarne's studio, he'd taken all the first samples and just nailed them to paintings, so that was the end of that," he recalled with a laugh.
From there, "we started working much more provisionally and instinctively," Radboy said. The process is very unlike Radboy's experiences with, say, his noted collaborator Telfar. "It's really different because, in a way, you're reverse shopping in Bjarne's dreams. He's not really designing the clothes—you talk about the general idea and then you start making sketches and they're eventually going on his body. Everything's made in his size."
In fact, the line actually has only two sizes: "My size and his size," Radboy said with a laugh. "Because that'll look good on pretty much everybody. We're not trying to make, like, a tight shirt."
See Melgaard's first-ever collection from 2014, shot by the photographer Roe Ethridge: