Björk and Nicole Kidman Are Making a Movie Together
Sorry Reese, Nicole has a new co-star now.
---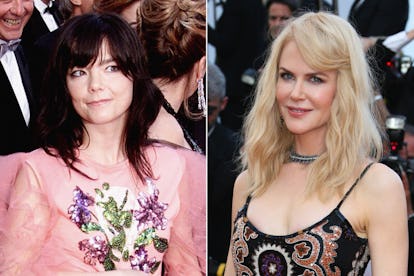 Björk and Nicole Kidman. Courtesy of Getty Images.
Björk and Nicole Kidman have a lot more in common than you'd think. They've both won awards at the Cannes Film Festival, been nominated for Oscars, appeared on the cover of W as shot by Tim Walker, and have a long history of working with some of the most exciting and audacious filmmakers the globe has to offer (albeit Björk usually does so in the music video format). So the idea that they're making a movie together may not be as bizarre as it seems at first thought. Especially considering that film will be directed by Robert Eggers.
Following his success with the Robert Pattinson and Willem Dafoe-starring The Lighthouse, Eggers announced this his next film would be a Viking revenge story set around the 10th century in Iceland, called The Northman. Kidman was one of the first cast members announced, keeping with her traditions of working with emerging auteurs. She'll play Queen Gudrun, which seems about right.
When filming began this week after a long COVID-19-related delay, it was confirmed that Björk had joined the cast as "The Slav Witch."
Notably, after winning the award for Best Actress at Cannes back in 2000 for the film Dancer in the Dark, Björk claimed that she'd never act in a traditional film again, citing the intense experience. Years later, she accused director Lars Von Trier of on-set sexual harassment. Interestingly, it was Kidman who starred in Von Trier's follow-up film Dogville. The project was originally supposed to be the first of a trilogy, but despite successful reviews Kidman opted out of the remaining two films. Tellingly, during the press for Dogville, Kidman openly talked about quitting acting at some point (something she's yet to do). Perhaps Von Trier just has that effect on the actresses who have endured his direction. Von Trier denied Björk's allegations, but didn't deny rumors he stripped naked in front of Kidman on set. But let's not allow Von Trier to sully the news.
Specifically, not when Robert Eggers is involved.
The director broke through with his 2015 supernatural horror film The Witch and cemented his status as an exciting new talent with The Lighthouse.
The Northman will be his most ambitious project to date. Eggers co-wrote the film with the Icelandic poet Sjón, a longtime Björk collaborator. Both Alexander and Bill Skarsgård will appear in the film, and previous Eggers collaborators Dafoe and Anya-Taylor Joy will return. Ethan Hawke is also attached (interestingly, it will be his first time appearing in a film with Kidman).
No release date is set, but we assume we'll have to wait until at least 2021 for this one.
Related: What Do You Wear to a Björk Show? Eight Björk Fans Answer the Immortal Question