Björk VR vs. Björk IRL: Who Is More Björk?
"Björk Digital" and Björk at Iceland's national concert hall are just two sides of one Björk.
---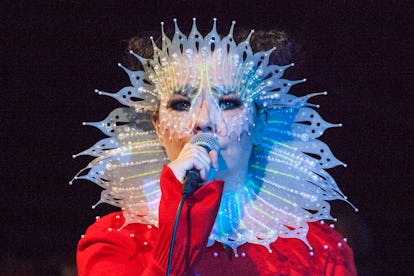 Santiago Felipe
Iceland's own experimental pop goddess Björk wasn't going to play Iceland Airwaves this year. Sure, she's played the festival in the past — nearly every major Icelandic band has played the five-day fall festival, from Sigur Rós to Of Monsters and Men, and some international acts in between — but it wasn't until late September that she announced she would play a special, separately ticketed event on the festival schedule. And then, that she would do it again: She played a second set at the national concert hall Harpa Tuesday night, two days after Airwaves had come to a close. Björk, it seems, will always do her own thing.
Björk's physical performance in Reykjavik this week might not have been a given, but her virtual presence had been planned for. Her virtual reality exhibition, "Björk Digital," has migrated from London to Montreal to Sydney and Tokyo and finally to her hometown of Reykjavik.
On Saturday afternoon, I decided to spend four hours with Björk in all her realities. It seemed a reasonable proposition: First, meet virtual Björk; then, experience her IRL — all in the same afternoon.
"Björk Digital" is a collage of immersive music videos, starting with a recreation of her MoMA installation for "Black Lake" and continuing to the devastating "Stonemilker." The virtual reality components gradually grow more complex: first, it's just a chair and a VR headset; then, you're standing with the VR, able to walk around a little bit, tethered by the roof of your headset; and finally, you receive a pair of remote controls, one for each hand. Inside your virtual reality view screen, the remotes show up as cyborg hands, slightly transparent, with which you can reach out and touch the virtual Björk with whom — which? — you find yourself face to face.
The virtual reality is claustrophobically, anatomically close. There's one, aptly for the song "Mouth Mantra," in which you're plunged straight into Björk's mouth, her teeth gleaming and tongue flicking as she howls out the lyrics. She's right there in front of you, close enough to touch, sometimes just one and sometimes in multiples. She's a petite woman, but in digital form she looms large, towering over you.
I saw Björk's live show, on the other hand, from the nosebleeds. She's all energy, flitting around the center of the stage in a bright red David Ferreira dress and platform shoes, her face shrouded in an ethereal translucent mask. She played a two-hour concert backed by the Iceland Symphony Orchestra, divided into two acts: In the first, she worked her way through Vulnicura, her melancholy, difficult 2015 album focused on her split from husband Matthew Barney. In the second, she stepped onto the stage in a periwinkle Emanuel Ungaro ensemble, her head shrouded in a buoyant Gucci headpiece, to play the hits — or the hits, as Björk writes them. At one point, she requested the audience sing along to "Jóga," prompting sighs of pleasure but also more than a few bemused looks. Björk has never really been one for the singalong.
Virtual reality Björk is more naturally interactive. Even when you, the viewer, are just along for the ride — as in "Notget," where the singer takes the form of a Princess Mononoke-like celestial being and the VR user swirls untethered through her imagined world — you still maintain a sense of autonomy within Björk's controlled environment.
But in the end, it's totally controlled. You're interacting with Björk in a circumscribed environment. As she's proved time and time again over the course of her career, from the whimsical swan dress to the bared heartbreak of Vulnicura, it's that Björk can't be contained. Virtual reality is Björk at her Björkiest. It permits her to create in three dimensions the universe I imagine she's constructed in her head through music, fashion, and art over the past three decades. Digital Björk is Björk in her most natural state.