Brooklyn's Black Flamingo Arrives on the Party Circuit
Part vegetarian taqueria, part cocktail lounge, part underground rave cave, Brooklyn's Black Flamingo arrives on the party circuit.
---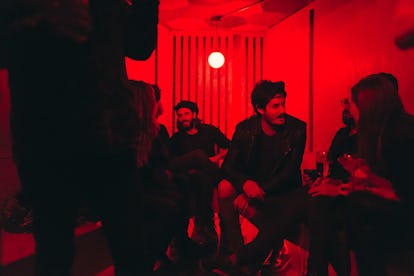 At 1 a.m. on Friday, a club in Williamsburg was just beginning to fill up with a mix of hipsters, fashion plates, and Wall Street-types. One part vegetarian taqueria, one part cocktail lounge, and one part underground rave cave, this was the Black Flamingo on a casual night.
In no time, the restaurant and bar has quickly become the outer borough's go-to, all-in-one haunt, popular with the likes of Zoë Kravitz and Donald Glover as well as DJs like Pat Mahoney and Juan McLean. Located in an off the beaten part of Williamsburg – some might say East Williamsburg – its only calling card is the iridescent, neon sign of its namesake outside.
"There wasn't a place where you could get a fancy cocktail upstairs, then flip the script and get a mixed drink and party with a cool, focused community downstairs," said Bryce David.
With restaurateurs David Shapiro and Etan Fraiman – the duo behind Brooklyn's laidback Caribbean eatery, Battery Harris – and a clutch of electronic DJs – Eli Goldstein (Soul Clap), Philipp Jung (M.A.N.D.Y), and Gadi Mizrahi (Wolf + Lamb) – David opened Black Flamingo last June. He focused the menu on vegetarian options – miso tofu tacos and drinks like the 'Beez', a gin concoction that's topped with yuzu honey – that would feel light enough for the crowd to then head downstairs to dance.
"We wanted to serve food that didn't weigh you down," he said. "We all have party lifestyles but we live health forward lives."
Good times are in the group's DNA – Mizrahi, for example, has a reputation that precedes him from his days helming the notorious Marcy Hotel parties, which he sporadically threw between 2010 to 2014. (For that window of time, the grungy, three-story factory space held Brooklyn's hottest electronic party). The Marcy parties were a callback to the no-holds-barred kind of fun that ran rampant in the pre-Giuliani era – fun that started at 12 a.m. and ended at 12 p.m., with no breaks in between. The boys are trying to recreate that vibe with Black Flamingo, albeit in a way that fits in with the neighborhood. Their focus is on music that's hard to find and that people, apparently, are dying to hear.
The founders maintain a staunch anti-techno stance, prioritizing the nostalgic sounds of house, disco, and classic dance, inviting friends such as Mahoney (of LCD Soundsystem, playing later this month), McClean, Eli Escobar, and Jacques Renault to man the decks. "We want DJs who understand the history of house and disco, and can weave something twenty years old with something twenty days old and have it sound amazing," said David, who prefers local talent over the commercial DJs found at mega clubs like Verboten or Space Ibiza.
While they currently run a democratic door, they plan to initiate a membership program this spring as part of their strategy to fine-tune and curate the ever-growing crowd. "The Brooklyn underground scene has really grown in the past few years, so it's hard keeping the quality of the crowd," explained Mizrahi.
"We tried to take some of the spirit of Marcy and bring it into the space," said David, noting they went so far as to repurpose the wood from the original Marcy. "Clubs used to be really safe spaces, where you could go and unwind, and I think New York lost a bit of that – so we want to bring that back."
Calling Card The neon purple flamingo sign outside.
The Door Democratic for now, though perhaps not when they launch a membership program later this spring. Best Night: Friday.
Tribes Fashion assistants, house music enthusiasts, "consultants."
VIPs Zoë Kravitz, Donald Glover, Juan McLean.
Music House, disco, and classic dance from DJs like Pat Mahoney (of LCD Soundsystem).
The Basics Black Flamingo, 168 Borinquen Place, Brooklyn, NY, 11211. Prices: Two tacos for $9, cocktails $11-$14. Hours: Sunday – Thursday: Kitchen Open 6 p.m. – 12 p.m., Friday – Sat: Kitchen Open 6 p.m. – 11 p.m., Tuesday – Fri: Happy Hour 6 p.m.-8 p.m. Bar open late.
Photos: Brooklyn's Black Flamingo Arrives on the Party Circuit