Black Mirror Won't Return Until Life Gets Less Bleak
"I don't know what stomach there would be for stories about societies falling apart," its creator said.
---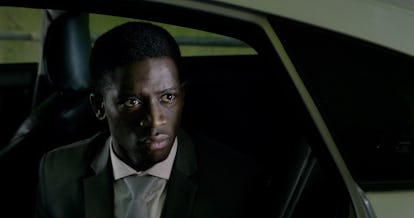 Netflix
Charlie Brooker and Annabel Jones, both showrunners of the Netflix series Black Mirror, are right up there with Margaret Atwood when it comes too envisioning all-too-real versions of dystopia. But when it came time for season 4, they were stymied: In the midst of the American presidential election, dystopia was starting to seem like our new reality.
"If you're living in a dystopia, you don't necessarily want to look at another one," Brooker said when the season premiered. "I genuinely thought, I don't know what state the world's going to be in by the time these [episodes] appear, and I don't know how much appetite there will be for nothing but bleak nihilism."
Four years later, it's only gotten worse. Between the continued chaos of American politics and the pandemic, Brooker has concluded that our current reality is too bleak to surmount. "At the moment, I don't know what stomach there would be for stories about societies falling apart," he said in an interview with Radio Times earlier this week. "So I'm not working away on [another season]."
He may be concerned for the public, but Brooker himself is doing just fine. "I've not been going through quite the level of psychological adjustment as some other people because I've really always expected something like this to come along," he continued. "If you've spent years anticipating the worst, oddly, when the worst happens, you can stop worrying about that possibly happening because it has. So I'm dealing with this on a personal level far better than I would have anticipated."
When Black Mirror does return, there's a good chance its next season won't follow a traditional TV format. Two of the series's five seasons were just three episodes. (Unfortunately for fans, that meant there was all too little of Ashley O, the pop star portrayed by Miley Cyrus in season 5.) In 2018, Brooker and Jones unexpectedly dropped an interactive, "choose your own adventure" film, titled Black Mirror: Bandersnatch.
Brooker is still busy, but in quite a different way: "I'm sort of keen to revisit my comic skill set, so I've been writing scripts aimed at making myself laugh." He's also doing reviving his TV review series, Antiviral Wipe, for a 30-minute special airing on BBC Two next week.
Related: How Kirsten Dunst Ended Up Making That Two-Second Black Mirror Cameo You Probably Missed