THE KIDS ARE READY TO EAT
Put These Black-Owned Restaurants Into Your Permanent Culinary Rotation
This list is not meant as a solution to an industry-wide problem, but rather an index to return to again and again.
---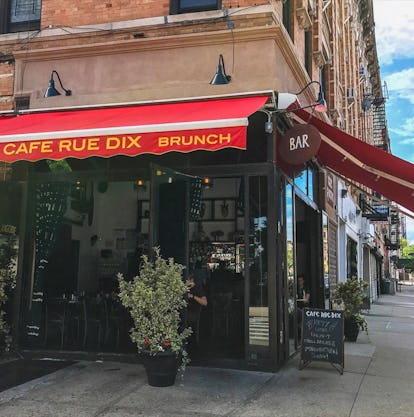 Photo courtesy of @caferuedix.
As some restaurants that closed their doors because of the coronavirus pandemic begin to reopen—most of them still eschewing sit-in for takeout and delivery—they find themselves traversing new terrain. Coupled with continuing social distancing guidelines, there are now curfews in place that threaten some delivery people: Just look at New York City, where one Caviar deliverer was detained by police on Thursday, even though such workers were deemed essential and therefore allowed to be out past the 8 p.m. curfew.
The protests that sprung up last week after the death of George Floyd, a black man killed by white former Minneapolis police officer Derek Chauvin, have created an entire movement that will, at best, alter society. But with things still chaotic and uncertain, now is the time to amplify businesses owned by black restaurateurs and chefs in all regions of the United States.
We've assembled a list of great restaurants nationwide, along with some more detailed spreadsheets and lengthier social media posts that are making the rounds on the internet. This list is not meant to be perceived as a solution to the many problems faced by black chefs in the industry, who are often cut out from larger culinary conversations and only recognized when they're backed by white investors, publications giving them press solely during Black History Month. Think of this as an index of restaurants we love, ones that you should visit again and again to experience their scrumptious offerings long after the summer turns into fall, fall into winter, and beyond.
West Coast
An outstanding family-owned barbecue joint whose original location burned down in 2017, but reopened a year later and is still going strong.
The best vegan food in Oakland. You heard it here, first.
For Southern comfort food in the Bay Area, look no further than Brown Sugar Kitchen.
A co-op offering baked goods, pizza, and coffee.
A staple of the Temescal neighborhood, located on the border of Oakland and Berkeley.
Serving handmade pies and mouthwatering diner food, Lois the Pie Queen offers takeout and delivery starting June 5.
For more black-owned restaurants in the Bay Area, click here.
Soul food meets Mexican at this vegan and vegetarian-friendly spot.
Genuine New Orleans cooking in Inglewood.
The L.A. classic is open for delivery and takeout.
Along with a cup of coffee, try this Echo Park café's range of toasts and egg sandwiches.
Order this Compton-based restaurant's take on West Coast Tex-Mex through Yelp.
For more black-owned restaurants in Los Angeles, click here, or here.
One of the most beloved vegan restaurants in the Capitol Hill neighborhood.
Fish Box has a concise menu of fish, served freshly fried in a sandwich or with French fries.
Order lunch or dinner from this Latin restaurant in the Greenlake neighborhood.
For more black-owned restaurants in the Seattle area, click here.
Midwest
Traditional Cambodian food meets Americanized-Chinese favorites.
This café still isn't operating at full speed after closing due to COVID-19, but is selling snacks and drinks to go.
Former Top Chef constestant Justin Sutherland's restaurant offers contemporary Southern dishes.
A food truck in the Milwaukee area serving vegan and plant-based food.
For more black-owned restaurants in Milwaukee, click here.
A gastropub in Downtown Detroit.
If you can't order from their menu of pho, ramen, and udon offerings, donate to the staff impacted by COVID-19 layoffs.
In lieu of an order, consider purchasing a gift card for another meal at a later date.
A range of specialty French toast and more.
This event space doubles as a pop-up restaurant with a full menu.
For more black-owned restaurants in Chicago, click here.
Come here for ice cream, coffee and lighter fare for breakfast and lunch.
This delicious seafood spot also has a location in Lexington.
The South
Gastropub food with a Creole twist. Catering's available, too.
Takeout is available at this Ethiopian restaurant in the Touro neighborhood.
Caribbean eats in Gretna.
Maryland isn't the only state delivering top-notch crab cakes.
For more black-owned New Orleans restaurants, click here.
Salads, wraps, and juices.
Phone in an order, or go straight to the website to make an order online. Ray's is also available on DoorDash and GrubHub.
For more black-owned restaurants in Houston, click here.
A family-operated restaurant in the historic Jackson Ward neighborhood.
This restaurant and bar owned by Lamarr Johnson and Lamont Hawkins serves North Carolina-style barbecue.
For more black-owned restaurants in Virginia, click here.
Soups, light fare, and baked goods with an emphasis on vegan and vegetarian options.
What began as a food truck is now a brick-and-mortar restaurant serving all styles of pizza.
For more black-owned restaurants in Atlanta, click here.
Caribbean-style Chinese food, available for takeout.
Authentic Bahamian eats, including Boil Fish and Johnny Cake. Call to order.
This family-run vegan and vegetarian restaurant is posting a rotating daily menu on its Facebook page, linked above.
For more black-owned restaurants in south Florida, click here.
East Coast and Northeast
While you're ordering from the standout Senegalese menu, consider checking out their concept lifestyle shop Marché Rue Dix, too.
Order now from this Bed-Stuy classic.
Although this incredible Caribbean restaurant is temporarily closed, you can donate to their GoFundMe, linked above, to help them reopen.
Order from a huge menu of juices, smoothies, and boosts on Seamless.
West African meals done at the highest home-style level.
Bites, juices, and cocktails to go in the Lower East Side.
This Harlem restaurant is now open for takeout.
For more black-owned restaurants in New York City, click here, or click here.
A quaint French bakery and café—order by phone.
For more black-owned restaurants in Jersey City, click here.
For 30 years, this comfort food restaurant has served the Spring Garden neighborhood of Philly.
Call to order a cake, and pick it up in store.
Choose from one, three, or five days's worth vegan meals and desserts from this Philadelphia-based service, which drops food off right at your door.
For more black-owned restaurants in Philadelphia, click here.
A Washington, D.C. institution.
Plant-based soul food in the DMV.
Now, about those crab cakes we mentioned earlier…get that Maryland specialty and a lot more by ordering online.
This recently opened café is giving free coffee to Maine Medical Center workers until June 12.
Wear a mask and be sure to observe the customer limit when you're buying goods in-store at Scotts'.
Great Jamaican food and drinks in Boston's Dorchester neighborhood.
For more black-owned restaurants in Boston and throughout New England, click here.
Related: Uplifting Black Culture Goes Beyond Shopping Black-Owned Brands, But Here's a Place to Start