Blake Lively Wants You to Know Her Life Isn't Perfect
"What you see in the media is not real life."
---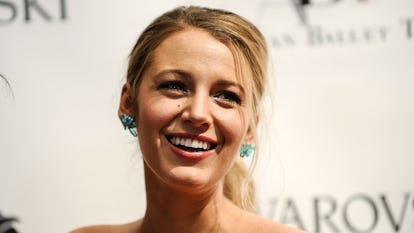 Daniel Zuchnik/WireImage/Getty Images
Blake Lively doesn't have the flawless life you think she has.
In a cover interview for the September issue of Glamour, the former Gossip Girl star opens up about why she hates it when people claim she has a "perfect" life.
"It's nonsense. It simplifies people," she says of the rainbows-and-sunshine-filled lifestyle she's often portrayed by the media to have. "Not all men, but a subsection of men, have a desire to understand and control women. To do that, you have to paint them into this thing you can wrap your head around. But women are complex. It also is [a reminder] that what you see in the media is not real life."
The issue of understanding women as complex people isn't just limited to Lively IRL. She also told Glamour that characters in Hollywood are most often two-dimensional, but having women take the reins to produce their projects—as with breakout blockbuster Wonder Woman—is a step in the right direction.
Still, in how she portrays herself to the public, this pressure for perfection has caused Lively significant stress. "The night before an interview, I have complete anxiety: How is this person going to spin me?" she tells Glamour. "So when you read, 'Oh, she's got a perfect life,' or 'Her life is crumbling'—they pick narratives for everyone. And the narratives stick."
One way Lively tries to avoid these misleading descriptors ascribed to her? She admits that she's careful to qualify how much she loves her husband for fear that people will once again assume that they're the perfect couple. Lively says, "I said, 'Most of the time,' because if I say, 'I'm so in love with him all the time,' then you get that eye-rolling, 'Oh, her life is so great, she's so perfect.' So it's, like, my defense mechanism."
In somewhat related news, Lively posted this photo on her Instagram yesterday.
RELATED: Blake Lively Is Going to Play an MMA Fighter in Her Most Intense Role Yet
See What's Trending in W Video: