Blithe Spirit: Loulou de la Falaise
Fashion rebel, aristo party girl, and Yves Saint Laurent muse Loulou de la Falaise had flair to spare. Joan Juliet Buck remembers the wild child of style.
---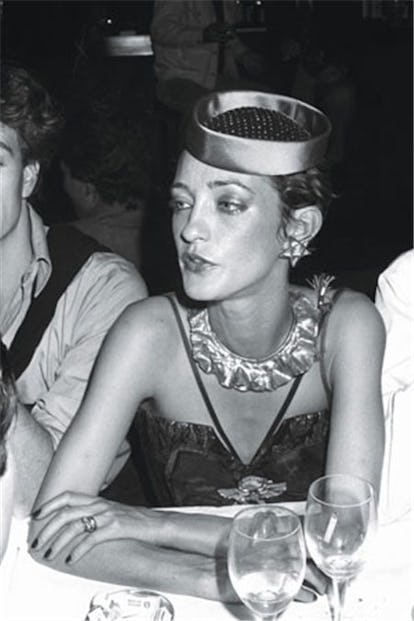 I met her in New York. Loulou de la Falaise arrived late at a dinner in a brownstone on East 79th Street one night in 1969, wearing Indian scarves tied around her head. When she came in with Fernando Sánchez, the supremely cool designer of lingerie and inside-out mink coats, the little roomful of people sprang to attention. Sánchez's taste was perfect, his judgment unerring, and it was said that Yves Saint Laurent considered him a sage. Loulou had a gravelly giggle as she whispered on the white sofas and bummed cigarettes.
I was an awed 19-year-old fashion assistant. I focused on how she had wrapped her head. Indian scarves were as common in 1969 as earbuds are today—we girls in fashion hid our hair, possibly in retaliation to the mainstream success of the musical Hair, and to the fact that boys were busy growing their own. I had spent my first summer at Glamour folding Indian scarves into triangles that ended in annoying points, but Loulou had simply folded four or five scarves as squares and tied them around her head so that their blunt edges opened out like petals on a rosette.
Damn, she's good, I thought. And her life as a muse hadn't even started.
Loulou de la Falaise, whose name began with a comic diminutive and ended with stern French that translates as "of the Cliff," made an art of being careless and reckless but always with perfect manners. At the Lycée Français in London I had sat next to her brother, Alexis, who told me dramatic tales from their childhood. Their grandfather was the famous British painter Sir Oswald Birley; their mother was an eccentric fashion icon named Maxime who had dumped the Count de la Falaise for a bohemian life in which she posed for Elsa Schiaparelli and cooked medieval food for Andy Warhol. Their uncle, Mark Birley, owned the grandest nightclub in London: Annabel's, where you went on dates with boys your parents approved of—or with their fathers.
When I was 17, I had carefully cut the notice of Loulou's wedding to the mysteriously named Knight of Glin out of the Daily Telegraph.
Much as her mother had left the count, Loulou the teenage bride soon left the knight in his Irish castle and moved to New York, where, a divorcée at 21, she shared a place on Second Avenue with Berry Berenson. Sánchez, smitten with her, took Loulou everywhere.
She already had her look—Boy Scout Elf in a Turban, or perhaps a pillbox, hung with necklaces, wrists thick with silver Turkoman bracelets. There wasn't a piece of fabric she couldn't knot, drape, wind, fling, or turn into a sash with an ease that implied childhood access to the attics of grand British houses, where trunks were full of embroidered swag, stoles, and saris from India, or robes from the Far East. But whatever her costume, it was saved from clueless masquerade by a disciplined eye that skewed more toward Little Drummer Boy than Christmas Tree Fairy. It was an androgynous sexiness all her own.
Loulou de la Falaise: The Legend
Photo by Jean-Pierre Masclet.
Loulou de la Falaise with headscarf photographed by Guy Marineau.

Guy Marineau
Yves Saint Laurent and Loulou de la Falaise photographed by Pierre Boulat.
LouLou de la Falaise in red coat in garden photographed by Jean-Francois Jaussaud.

Jean-Francois Jaussaud
Photo by Jean Charles de Ravenel.
Loulou met Yves Saint Laurent and Pierre Bergé in 1968 at Sánchez's Paris apartment and was instantly pulled into the clan. She seemed to cheer up and unshackle Saint Laurent; a few years before, he had created a comic book called La Vilaine Lulu, starring a stubby uniformed schoolgirl who was his criminal id run wild. Loulou, who was no criminal, served as his Lulu.
In 1972, Loulou was perhaps the first person ever hired as a muse, when Bergé brought her in to work alongside Saint Laurent. She clocked in at the couture house every day and watched as Saint Laurent designed. She reacted, added, and decorated: Together they conspired to make fashion. Saint Laurent had already found his own harmonic secret to proportions, one that he would repeat in endless subtle variations for the next 40 years. Loulou added the spice and the fun, but she was also attentive, subservient, and cautious: a wild girl behaving in class. Her ebullience was the opposite of Saint Laurent's tortured, guilt-ridden introversion, but when it came to the potent thrill of colors and shapes, hashish and champagne, they were in agreement. Pink, orange, purple, turquoise: "The colors of Algeria," said the fashion critics. Necklaces with stones as big as armchairs or hung with entire coral reefs, bracelets up to the shoulders, monster cuffs at the wrists, turbans, boaters, sashes. "Accessories," said the fashion critics. All of these things were noise makers, confetti, and streamers—applied to the most calibrated and measured tailoring ever devised.
I remember Loulou in full, radiant bloom at a party given by the interior designer John Stefanidis in London in 1972. She was staying with him and came down the stairs laughing in a mint green taffeta dress with a ruffle. She crackled with happiness, and it wasn't only because of the strict, tart cocktail she'd invented, grapefruit juice and champagne. "Smile, laugh, and say nice things about people. It brings good luck," she said that night. Once she was in a room, it felt like an intoxicating party that would leave no hangover.
Along with her taste, Loulou's gift was légèreté, a refusal to accept gravity or to take anything seriously, which is something that dour Parisians desperately need to lighten the burden of their rule-bound lives. Her eyes crinkled up when she laughed—and she laughed a lot. She had insouciance, a blindness to consequences that makes evenings more fun, and nonchalance, which doesn't mean carelessness or casual sloppiness but a deep tolerance of foibles, failings, and sins—­including one's own.
Betty, Loulou, Catherine, and Iman: Meet Yves Saint Laurent's Squad
One of the original blonde bombshells was undeniably Betty Catroux. Photo by Getty Images.

Getty Images
Marisa Bereson posed for the Spring 1972 Couture Collection. Lengthy lashes would be great for this fresh start. Photo by Getty Images.
Loulou de la Falaise made the world fall in love with the soft shag. We hope this trend stays strong. Photo by Getty Images.

Condé Nast/Getty Images
Catherine Deneuve's careful coif kept her hair down without being top of mind. More elegant takes on showing the face are our faves. Photo by Getty Images.
Raquel Welch's bold bronze made healthy, sexy. If Vaccarello's gals follow suit, we will too. Photo by Getty Images.
Bianca Jagger's current curls are just that, current. More polished, natural textures, please! Photo by Getty Images.
Iman's patent pucker gave us glam without trying too hard. Up next, this youthful joie. Photo by Getty Images.
Mounia's sleek slick showed that serving face (and a smile) was the look to envy. We'd like to see this sophisticated look come back. Photo by Getty Images.
Francoise Hardy's side swept fringe showed that not trimming your bangs could be cool. We're begging for bangs that don't hide the eyes, or skirt the hairline. Photo by Getty Images.
Laetitia Casta gave meaning to the term perfect pout. Rosy cheeks and lips and always a runway winner. Photo by Getty Images.
The court around Saint Laurent, presided over by the brilliant and explosive Pierre Bergé, was the most exquisite center of the most exquisite world. While Saint Laurent sketched and suffered, Bergé imposed the laws; Clara Saint, Saint Laurent's powerful press relations officer, herded the right people together; and an architect's wife named Charlotte Aillaud gave dinner parties that gathered culture, youth, and Rothschilds around a bar made by François-Xavier Lalanne in the shape of a cat.
Loulou danced into the dawn in the basement of Le Sept, Fabrice Emaer's nightclub, where gay boys and straight girls simulated sex to endless disco and Motown on the tiny dance floor. Loulou's boyfriends were as varied as the banker Eric de Rothschild, the actor Hiram Keller, and the Spanish architect Ricardo Bofill, who was designing a postmodern city on the edge of Paris—and she caroused an awful lot with the designer Kenzo Takada.
In May 1977, a telegram announced Loulou's marriage to Thadée Klossowski, the son of the painter Balthus, who as far as anyone knew was the boyfriend of Clara Saint. For the wedding, Loulou wore a high white turban with a brooch and feathers; a white Zouave costume festooned with ropes of pearls, a red sash, and a white silk cord; white stockings; and silver court shoes. It was as formal as the uniform of an Indian prince taking up his duties, as playful as a costume out of an attic trunk, as precise as couture. The ball to celebrate the wedding took place on an island in Paris's Bois de Boulogne. Loulou was done up as the Queen of the Night, in draped blue fabric with stars and with a big crescent moon perched on her head, and we all danced till dawn.
Their daughter, Anna Baladine, was born in early 1986 and christened at the Church of Saint-Sulpice. Loulou and Thadée lived in a double-height-ceiling apartment in Montparnasse, their bed a Venetian affair that sat in the middle of the main room under a chandelier that held hundreds of real candles.
It felt as if that world was going to last forever. The clan survived friends' deaths to AIDS and feuds and splits; it survived the sale of Yves Saint Laurent Rive Gauche to Gucci Group in 1999. But after Yves retired from couture in 2002, things were no longer the same. Loulou started her own company, making clothes she sold in two boutiques in Paris. When those closed in 2007, she and Ariel de Ravenel, a bohemian aristo who had worked for YSL Beauté, went on the road selling Loulou's extravagant accessories to stores and on the Home Shopping Network. Loulou and Thadée gave up the apartment for a house in the country, an hour from Paris. Loulou the Tinkerbell muse became an obsessive gardener.
The leaves fell off the branches of the trees. Fernando Sánchez died in 2006; Yves Saint Laurent died in 2008. Loulou de la Falaise died unexpectedly last November, after a well-concealed illness, at her home.
In the exquisite center of an exquisite universe, only the senior members survive into their 80s: Pierre Bergé, Charlotte Aillaud. The grown-ups are still around; the radiant children left first.