Inside The Blonds' Ten Year Anniversary​ Show
The Blonds have dressed everyone from Madonna to Beyoncé for the stage. Now they want to conquer​ the red carpet.
---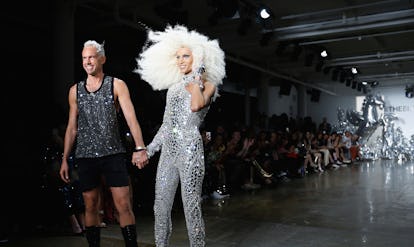 WireImage
Tens years on and something like a moderately-sized swimming pool's worth of Swarovski crystals later, The Blonds have successfully outfitted just about every pop star under the sun. Their glittery creations are almost de facto attire when it comes to VMA performances, worldwide tours,​ and music videos. When the list of clients starts with Beyoncé and Madonna, why even bother to go on? Oh, right, maybe Barbie deserves a mention.
Over those ten years, Phillipe and David Blond have also turned their fashion show into one of New York's favorite party shows, all without having a traditional ready-to-wear line to tout.
"It's the only way to show a well-rounded representation of what you're inspired by," said David backstage on the brand's theory of fashion shows. "And now it's becoming sort of like performance art. It's always been that way for us anyway, but each season we ways try to do more, to build more, to make it more fun."
"It's amazing, too, with social media," interjected Phillipe. "People who can not come here can totally view it live and check out our Instagram."
In that spirit, a purple selfie stick was left as a gift on every guest's seat.
Notable purple selfie stick recipients include a host of this fashions week's seemingly everywhere It Girls (Bebe Rexha? Check. Teyana Taylor? Of course. Kelly Osbourne's dog Poppy? Duh.) and musicians (Christina Milian, Missy Elliot-protegee Sharaya J). Of course, it wouldn't be a Blondes show without the sort of nightlife denizens and club kids who show up in outfits that vie for attention with the clothes in the show.
There was the original Queen of the Night Diane Brill, the woman who was "famous for being famous" before that phrase was even famous, Amanda Lepore, RuPual's Drag Race alums Carmen Carrera and Violet Chachki, and a host of club kids.
Though, no one seemed to be having as much fun as Dasha Polanco. The Orange is the New Black star showed up in a daring body suit and a pink coat, designed by the Blonds, natch, with a glittery image of the Virgin of Guadalupe on the back. Later on, as per her Instagram she'd join Taylor in a spur of the moment recreation of "that video."
But backstage, the Blonds were thinking about what's next for their brand. There's only so many pop star stadium tours a year, after all.
"We really wanted to show a different side to the Blonds," said David. "We're going to maintain what we do for our current clients, but we want to do new offerings. Stuff like red carpet, special occasion, things that are a different twist."
"A little more mass," added Phillipe. "A little more wearable. I shouldn't say mass."
"We'd love to see Cate Blanchett in something. We'd love to see Zendaya," said David, or dream clients. "Or someone like Grimes, who is amazing."
The Blonds Celebrate 10 Years
David and Phillipe Blond. (Photo by John Lamparski/WireImage)

WireImage
Actress Dascha Polanco at the Blonds anniversary party.

Patrick McMullan via Getty Image
Kelly Osbourne, and dog Polly, get into the social media spirit. (Photo by John Lamparski/WireImage)

WireImage
Diane Brill remains the eternal queen of the night. (Photo by John Lamparski/WireImage)

WireImage
A guest goes exclusively red. (Photo by John Lamparski/WireImage)

WireImage
Amanda Lepore, a perennial Blonds front row fixture. (Photo by John Lamparski/WireImage)

WireImage
Violet Chachki is star. (Photo by John Lamparski/WireImage)

WireImage
The show's wigs arranged back stage. (Photo by John Lamparski/WireImage)

WireImage
Jenne Lombardo and Fashion Week's It Girl Teyana Taylor. (Photo by Paul Bruinooge/Patrick McMullan via Getty Images)

Patrick McMullan via Getty Image
Silver pegasus guarded the backstage. (Photo by John Lamparski/WireImage)

WireImage
(Photo by Brian Ach/Getty Images)

Getty Images
(Photo by Brian Ach/Getty Images)

Getty Images
(Photo by Brian Ach/Getty Images)

Getty Images
(Photo by Brian Ach/Getty Images)

Getty Images