Blue Ivy Carter at Age Four Steals the 2016 MTV VMAs
The daughter of Beyoncé and Jay Z is an American princess in the making, and stepped out in an outfit last night that cost over $11,000.
---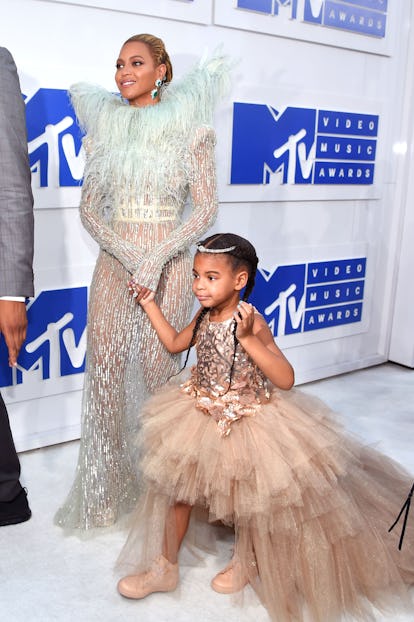 Getty Images for MTV
On Sunday night, the four-year-old Blue Ivy Carter, daughter of Beyoncé and Jay Z, (and America's Prince George), stepped out at the 2016 MTV Video Music awards in a Mischka Aoki dress that matched (rivaled?) her mother's feathery Francesco Scognamiglio number.
Carter's custom tutu dress reportedly cost a cool $10,950, and like all of Aoki's creations, no doubt took hours to construct. On the designer's website, similar fantastical childrens' styles can be found with names like, "The Fairy Queen," "Ice Queen," and "Your Gracious Queen." So clearly, Carter is the ideal customer.
She also paired her dress with "Millennial pink" (although I guess we have to call this "Gen Z pink") high top sneakers by Giuseppe Zanotti Junior, which cost an additional $565, as well as a tiara to top it all of. Because every good princess knows her look isn't complete without a crown.
Carter's show-stopping red carpet appearance came as no surprise, however, as she's been photographed lately in head-to-toe Gucci, and even has her own beauty routine. It would be insulting to call her looks, "Mommy-and-me." Blue Ivy Carter's got her own thing going.
Your move, North West.
Below, the best looks from the literal Gucci baby.
She also dabbles as a makeup artist, and is clearly way ahead of the cat eye trend.
She understands the importance of a good pedicure.
And mom is teaching her how to strike a pose.
She's a diva in training and we love it.
Watch W's most popular videos here: