Has Blue Ivy Carter's Grammy Campaign Officially Begun?
After contributing her vocals to Matthew Cherry's Hair Love, Blue Ivy Carter can now add audiobook narrator to her impressively stacked résumé.
---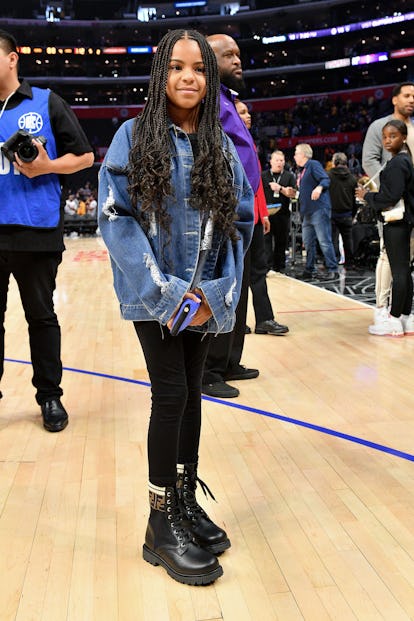 Getty Images.
In less than a decade on this planet, Blue Ivy Carter has already done more than your average eight-year-old: she made it to the Billboard Hot 100 chart with her contributions to "Brown Skin Girl," bid on thousands of dollars of art, and now, she can add audiobook narrator to her stacked résumé.
She's been tapped to be the narrator of Matthew Cherry's Hair Love, a book adaptation of his Oscar-winning animated short film, about a Black father trying to do his daughter's hair for the first time. The film version of the story illustrated by Vashti Harrison featured Issa Rae as the voice of the young girl's mother.
Last year in his Oscars acceptance speech, Cherry explained his support of the Crown Act, a bill passed in California with a national version recently passed in the House that would protect Black people in all 50 states from facing discrimination just because of how they wear their hair, and how it inspired Hair Love. "Representation in animation was really important to us," he said. "When something like this comes about where you can actually have the petition to create a real change…I'm so glad we were actually able to shout that out on the stage because I think it's important."
Cherry shared the news of Carter's involvement by releasing a clip of her narration on Twitter.
Thanks to her narration of Hair Love, it is possible that Carter could be nominated next year for Best Spoken Word Or Non-musical Album at the Grammy Awards (Most recently, the award was won by Michelle Obama for narrating her memoir, Becoming.) And if she were to win, she would be the youngest Grammy winner of all time (beating out LeAnn Rimes who holds the record, as she was the youngest Grammy winner at 14 years old in 1997).
Would we expect anything less than excellence from the daughter of Beyoncé and Jay-Z?
Related: Blue Ivy, 7, Has Landed On the Billboard Hot 100 Chart