How To Go From Busy Executive to Evening Chic in Two Minutes
Bluemercury's co-founder and CEO Marla Malcolm Beck tells you how.
---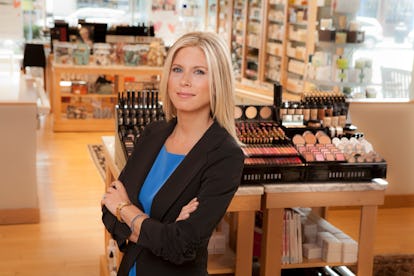 As the head of luxury beauty boutique and spa chain (and recent Macy's acquisition) Bluemercury, few are as knowledgeable about beauty products as Marla Malcolm Beck. In addition to stocking cult-favorite brands like La Mer, Oribe, and Diptyque in her stores, the powerhouse also runs M-61 Laboratories, which produces the cosmeceutical skincare brand M-61 and a brand-new line of mainly gluten free and vegan makeup products called Lune + Aster. Between running her rapidly-growing beauty empire and launching her latest line, we asked the Harvard-trained mogul to share her beauty secrets.
What is your first beauty memory? My first beauty memory is seeing my grandmother's fragrances set out beautifully on an elegant silver tray on her dresser in her bedroom. All of the bottles were so gorgeous and treated like precious jewels. My second is my mom's medicine cabinet that was full of magnificent samples from La Prairie, Lancôme, Clinique and Chanel. She loved trying new things which likely contributed to my desire to discover and try new beauty products as well as my appreciation for spectacular packaging.
What was your worst beauty blunder? I wore a lot of mascara and blue eyeliner as a freshman in high school. It is memorialized in my school picture that my kids pasted to a bulletin board in our house! They think it is hilarious.
What beauty products are always in your purse? I always keep a day time and evening lip liner, lipstick and lip gloss. The perfect lip is a great accessory day or night. I also keep little Jo Malone fragrance samples and the NARS Multiple in Orgasm. Between the lips, a spritz of fragrance and a dab of cheek color, I can transform from busy executive to evening chic in about two minutes.
What is your 5-minute morning beauty routine? I am so fast in the morning. I have to get the kids to school and then race to the office or airport. First, I use M-61 PowerGlow Peel to prep my skin followed by Lune+Aster Realglow Primer for sheer luminosity. Then, I line my eyes with Trish McEvoy powder shadow in Arabian nights using a point eyeliner brush from Laura Mercier, swipe on mascara, add CC cream and a dash of bronzer. For the finishing touch, I do my lips in the car at a stop light or in the back of my Uber.
If you had an extra 10-15 minutes in the morning, how would you spend it? I would definitely do a mask—you get instant gratification and targeted treatment in minimal time. There are so many great masks—La Mer revitalizing mask plumps your skin in the morning, I also love the new Bobbi Brown Hawaiian Sea Water and White Clay Mask and the new Kiehl's Coriander Mask.
What is your beauty pet peeve? Skin that doesn't look exfoliated. You can see in an instant dry skin that is sitting on top of new skin. When you teach someone how to properly exfoliate, it is life and skin changing!
What are you currently obsessed with? Veluxe—it is the Uber of at home services for Washington D.C., where I live. You can have a yoga instructor or a mani-pedi right in your home when you want, on demand. I am also obsessed with virtual reality apps using Google Cardboard virtual reality glasses. You can walk through Paris and under the Eiffel Tower right in your living room. It is unbelievable and the implications of virtual reality for the future will be completely disruptive and energizing.