Bob Dylan Did Accept His Nobel Prize After All, With a Bit of Help from Patti Smith
Plus, Madonna's own moving acceptance speech for Billboard Woman of the Year, and some new breaks in the Oscars race.
---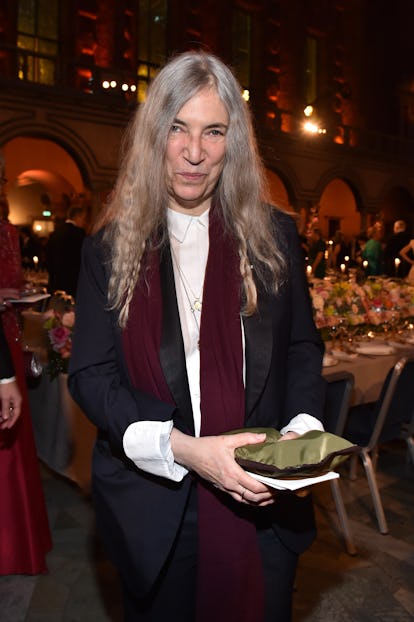 Getty Images
Awards, Critics' Choice It wouldn't be awards season without red carpet appearances by a radiant Emma Stone, Nicole Kidman, and more. See the best of the Critics' Choice Awards red carpet, here.
Dior The National Gallery of Victoria in Australia will continue its enduring fascination with Dior — and the French house's ties to Australia — with a 2017 exhibition "The House of Dior: Seventy Years of Haute Couture," featuring pieces dating back to 1947.
Dylan, Bob Did end up accepting his Nobel Prize for Literature — just not in the flesh. He sent along a brilliant speech read by the US Ambassador to Sweden; Patti Smith played a cover of "A Hard Rain's A-Gonna Fall."
Garten, Ina Very big Taylor Swift fan.
Globes, Golden The weird sister of awards season just announced its nominees, and it lives up to its reputation as the outlier among the various ceremonies and prizes. For example, Deadpool — the raunchy Ryan Reynolds superhero movie — earned a nomination for Best Motion Picture, Musical or Comedy…
Madonna After the pop star's scathing, powerful speech at the Billboard Women in Music Awards last week, two Times critics discuss the parallels between Madonna and another feminist icon-slash-renegade: Hillary Clinton.
Malone, Jo The master perfumer discusses beating breast cancer, her five-year hiatus, and her new fragrance line Jo Loves.
Olsen, Ashley, and Olsen, Mary-Kate The former Full House child stars, current award-winning womenswear designers, discuss their foray into curating vintage jewelry for The Row.
Plein, Philipp There's drama brewing between Dolce & Gabbana and Philipp Plein — the former accused the latter of stealing showroom employees, sending a letter from their lawyers to Plein, who proceeded to post the whole thing on his Instagram.
Toulin, Eléonore The Chanel model, who was discovered on Facebook by Simon Porte Jacquemus, is also a proficient photographer. She took her camera behind the scenes at Chanel's Métiers D'Art show; here's the result.
See W's most popular videos: