Meet Designer Bonnie Young, the Donna Karan Alum Breaking Out on Her Own
With BY. Bonnie Young, the designer has created her own collection of Victorian era-meets-the Seventies pieces.
---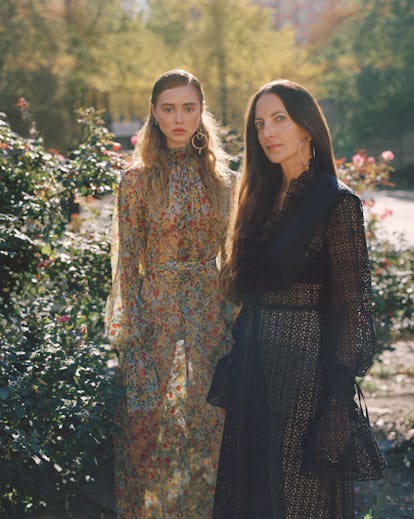 Photographs by Robert Nethery, Styled by Marina Munoz; Hair by Jordan M. for Bumble and Bumble; Makeup by Junko Kioka for Chanel at Joe Management; photography assistant: Juan Carlos Zorrilla; fashion assistant: Ellen Purtill; Model: Aliyah Galiautdinova at Women Management.
Bonnie Young has been in the fashion game long enough to know what women want. "It's to look glamorous, but in an easy, throw-on way," she says, her eyes big and blue as if peering from a Margaret Keane painting. She is seated in her airy downtown New York loft, which doubles as her home and atelier, dressed in a pair of ultra-wide trousers and an untied bow blouse of her own design. "Women want to turn heads, without thinking too much."
After 16 years of working for Donna Karan—half of that time as the brand's creative director—followed by years of designing a children's line, Young launched BY. Bonnie Young this past fall. "It started off for my friends," she says, referring to the likes of Yvonne Force Villareal, Jeanne Greenberg Rohatyn, Aimee Mullins, and Diandra Douglas. "They're artistic and independent, amazing mothers and businesswomen." Indeed, the collection, with its ­allusions to both the Victorian era and the 1970s, speaks to the nature of women today. "That dichotomous notion of feeling constricted and free," she says. "And—oh, my god—in this climate, it's even more pronounced!" For spring, she's done a high-ruffle-neck "poet" dress in sheer, flowery organza, and a pleated sundress in sturdy burlap. An ethereal white gown assumes some attitude when paired with a leopard pony-skin blazer. The fact that the model for this story, a 21-year-old Russian with a tattoo across her neck, loved the pieces only affirms Young's confident design philosophy: "It's clothing for strong women who are not afraid to express themselves."
Perhaps more significantly, it's also clothing with a social mission. As with her ­children's line, BY. Bonnie Young will align with a variety of causes and charities. "For me, the most important thing—and I learned this from Donna—is to use your talents to create your voice. It doesn't work for me to just design clothing. What works for me is helping others."
Watch W's most popular videos here: