On the 15th Anniversary of Botox, an Appreciation of How It's Changed Everyone
Wednesday marked 15 years since Botox was approved by the FDA.
---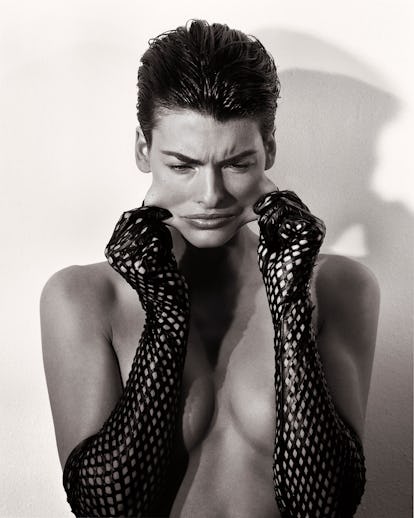 There's a beautiful irony to the fact that botox's creation can be attributed to the German medical officer and romantic poet Justinus Kerner, who did early experiments using blood sausage. But that was back in 1820, when botox was primarily referred to as "botulinum toxin," and not the miracle glue of celebrities ranging from Joan Rivers to Kim Kardashian. It wasn't until 2002 that the cosmetic procedure was approved by the FDA, and this week marked the 15th anniversary of this occasion.
In a world where we're always searching for the next best beauty products and procedures, botox's lasting power and steady increase in popularity is a rare one. Of course, there have always been physical, emotional, and political cons to sticking needles in your face for cosmetic reasons. And yet even today, we're still finding new seemingly-positive uses for botox, from alleviating depression to keeping your armpits from sweating.
As with most things these days, Millennials are also catching the botox bug at higher numbers each year. Some say its because of selfies, and others like dermatologist Paul Jarrod Frank—who is reportedly responsible for none other than Madonna's face—say there are real, preventative benefits for twenty-somethings to try it. However, don't start until you see a problem, which if you take care of your skin should not be that early in life.
But Frank also reminds us that botox is not the end-all-be-all: "You can't botox a smile, you can't botox weight loss, you can't botox people taking care of themselves." However, according to the most recent news, you can botox your balls. Yep.
Below, a timeline of how we got here:
2002
The American Food and Drug Administration (FDA) approves Botox Cosmetic, or botulinum toxin, for the use of "improving the appearance of moderate-to-severe glabellar lines." In other words, wrinkles.
2003
Sharon Osborne interviews her plastic surgeon on television, saying Botox is "one of the best things that's ever been created for cosmetics." She then proceeds to get the procedure done on camera to a live (and visibly horrified) studio audience.
2004
The FDA approves the use of botox for "severe underarm sweating."
2005
The American Society of Plastic Surgeons reports that 4 million people received botox in 2005, with minimally invasive cosmetic procedures increasing by 53 percent since 2000.
2006
Botox sales pass the $1 billion mark, with cosmetic uses making up approximately half of sales.
2007
Ashlee Simpson is accused of getting botox "once a month" by InTouch Weekly, which would make her one of the youngest celebrities to use the cosmetic procedure at the age of 23.
2008
In Joan Rivers' book titled, Men Are Stupid . . . And They Like Big Boobs: A Woman's Guide to Beauty Through Plastic Surgery, she dedicates an entire chapter to botox ("Botox, Baby!") and its benefits, calling it a "miracle in a needle."
2010
In a "Nightline" interview, Kim Kardashian admits that she's "tried" botox before, but that as far as plastic surgery, it's "the only thing that [she's] done."
This same year, botox is also approved by the FDA to treat migraine headaches.
2013
This is a big year for celebrities coming out about botox, and it's also the year that it becomes the most common cosmetic operation. John Mayer reveals that he used it to help paralyze and heal his vocal chords, which were threatened by a throat condition. Nicole Kidman admits to trying it, but has since stopped so that she can "move her face again." Even Secretary of State John Kerry is speculated to have had some work done. Perhaps the most surprising admission though came from natural beauty and now-Goop guru Gwyneth Paltrow, who told Harper's Bazaar that in addition to smoking a cigarette "once a week," she also tried botox, but will never go back. "I looked crazy," she said. "I looked like Joan Rivers!"
2014
Allergan (AGN), the leading brand behind botox, is acquired by pharmaceutical giant Actavis (ACT) for $66 billion, which at the time was the biggest deal of the year.
2015
Millennials start coming of age, and thus begin to fight it altogether. Out of a reported 1.2 million botox injections, 18 percent were performed on patients in their 30s, according to the American Society of Plastic Surgeons. More than 100,000 injections were for patients in their 20s, and 19,604 for teenagers — a two percent increase from 2014 to 2015.
2017
Today, botox has dozens of uses, ranging from alleviating depression to most recently, men using it cosmetically, er, down there. (It's apparently a "European thing.") Botox's influence is now global though, with South Korea currently boasting the world's highest rate of cosmetic plastic surgery. In sum, it's gone from something we hide to a common lunch break procedure. And for better or worse, it's not going anywhere: Some say that selfies and social media are to blame for the ever-increasing in Millennial usage. Although, we're also headed for a future where image-editing apps give you the look of botox, minus the needles.
Related: Botox Saved My Marriage
[#gallery: /galleries/58e7fd42be685e48a5c00144]||||||
Hugh Grant Auditions for Joan Crawford's Role in 'Mommie Dearest," with Seriously Scary Results
[#cneembed: script/video/57a8f638b57ac3137d000002.js?autoplay=1&muted=1]|||Hugh Grant Auditions for Joan Crawford's Role in 'Mommie Dearest," with Seriously Scary Results|||
__