Why Would Bottega Veneta Delete All of Its Social Media?
Bottega Veneta started 2021 with a complete social media cleanse.
---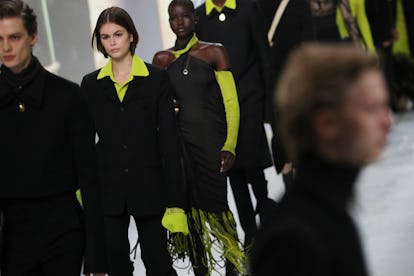 Photo by Vittorio Zunino Celotto/Getty Images
The fifty-five year-old Italian fashion house Bottega Veneta woke up this morning and apparently decided it had had enough of social media. The brand's Instagram account, which boasted 2.5 million followers, has been completely deleted. Same for the brand's Twitter account. Its official Facebook page still remains online, but all content, including every photo and post, has been completely scrubbed. Only the profile photo remains. The house, currently helmed by creative director Daniel Lee, has released no official explanation.
Suddenly, after years of talking and gossiping about what is on Instagram, the entire fashion world is caught up in what isn't.
The mysterious move comes as the brand has never been more buzzy. Since taking over in 2018, Lee has turned out hit after hit. Numerous silhouettes, including the BV Jodie, the Pouch, and the Cassette, have reached It bag status. Its chunky Tire boots are a staple of fashion insiders and Instagram influencers. As if cementing the brand's current status, every single member of BTS wore head-to-toe Bottega Veneta at last year's Grammy awards.
Though, fashion brands increasingly have come to rely on social media, particularly Instagram, to generate buzz and relationships with users (whether through their own channels, or in partnership with influencers and celebrities). The French fashion house, while under the creative directorship of Phoebe Philo, was, for years, one of the few notable holdouts to purposely stay off of Instagram. The brand only joined the social platform in February 2017, about nine months before Philo stepped down. It has since embraced social media fullheartedly under her replacement, Hedi Slimane, and ever since then. The brand even casted a TikTok star in one of its campaigns.
So why would Bottega delete?
Well, the label could be taking a page out of the celebrity handbook. Major musicians have frequently wiped their entire Instagram grids in the past, only to update with the announcement of a new album a few days later. Blake Lively once did the same thing before dropping the trailer for her film A Simple Favor on the 'gram. Perhaps Bottega is trying to drum up buzz before unveiling its spring summer 2021 advertising campaign (it is that time of year, after all).
Though, staying off social media for the long term does make a certain amount of sense for Bottega Veneta in particular. Discretion is baked right into the house's code. Flashiness and thirst for relevancy has never been its style. It is one of the few fashion labels that would never dream of printing its name or logo on the outside of its bags. Celebrities, meanwhile, don't front its campaigns; that's reserved for actual models only. Instead, it relies on a few "if you know, you know" recurring motifs—most famously, it's Intrecciato woven leather—to distinguish itself. Vogue once coined the term "stealth wealth" to describe the brand's appeal. In other words, the brand's clientele is traditionally not the type to flaunt it all on Instagram.
Though, even without official accounts, it is unlikely the brand's relevancy on social platforms will wane. Bottega Veneta has several popular Instagram accounts, including @NewBottega, which boasts over 350,000 followers on its own.
Related: How Daniel Lee Is Transforming the House of Bottega Veneta