Bouchra Jarrar Goes Vintage in Her First Lanvin Campaign, Starring Stella Tennant
Plus, no, Washington, D.C.'s dressmakers aren't sold out, and everyone's still talking about the Golden Globes.
---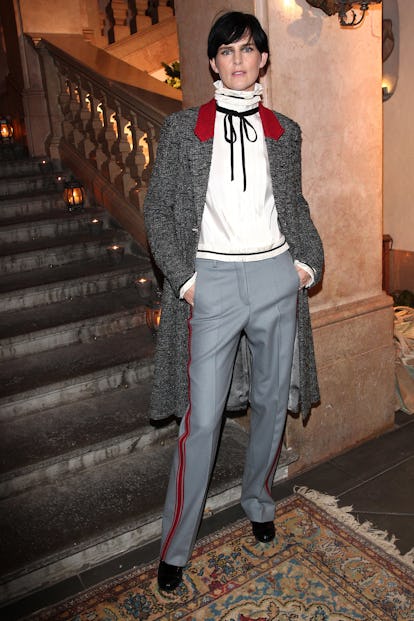 Affleck, Casey Reading way too far into the Golden Globe-winner's sartorial non-choices.
Dresses Not sold out.
Hardy, Tom Still playing the dark and brooding antihero. Still also with a cracked sense of humor.
Homme, Dior Now fronted by Boy George and Rami Malek (who's done his share of Dior red carpetry throughout awards season) in addition to longtime Dior Homme favorite A$AP Rocky.
Margiela, Martin Next year, the Belgian designer's work at the helm of Hermès will go on display in Antwerp. In 2018, he plans to keep a corner of the spotlight with a retrospective of his work for his eponymous label at Paris's Palais Galliera.
Pine, Chris Hollywood's favorite leading man-turned-Serious Actor once recorded a duet with Barbra Streisand. And he thought she wanted to make a whole album together.
Streep, Meryl After her measured, yet impassioned critique of the outcome of the 2016 presidential election, Meryl Streep saw sudden backlash from the president-elect himself. Naturally, via Twitter. But "President-Elect Feuding with Meryl Streep" is not a headline anyone should have to write.
Tennant, Stella Star of Bouchra Jarrar's first campaign for Lanvin, photographed by Paolo Roversi, who has worked with the brand since the '90s. Vintage all around.
Trump, Ivanka And husband Kushner, Jared. Both are eyeing positions in the Trump administration, because nepotism, and they're reportedly stepping down from their respective fashion brand and media empire ahead of the inauguration.
See W's most popular videos: