The Boys In the Band Trailer Serves Up a Birthday Party From Hell
Ryan Murphy's interpretation of the classic play will debut on Netflix this month.
---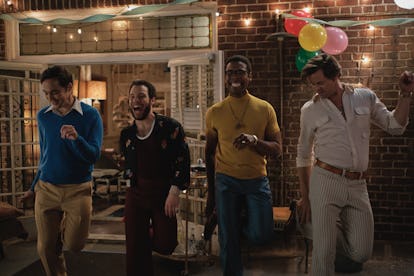 Image courtesy of Netflix.
Between the release of Hollywood and season two of The Politician this spring and the upcoming releases of Ratched and The Prom, it could be said that Netflix is essentially the Ryan Murphy channel at this point. The latest from the Murphyverse to get a trailer and release date, however, is The Boys in the Band.
The Boys in the Band is not new material, and though the title may suggest that it is a musical, that would actually be a miscalculation. Originally conceived as a play in 1968 by Mart Crowley, the piece debuted Off-Broadway that same year. A film based on the play was released in 1970, and it was later revived for Broadway in 2018 for its 50th anniversary.
Centering around the lives of five gay men, the play and film were groundbreaking at the time of their original releases.
For Murphy's iteration of the classic, the cast of the 2018 Broadway revival reunited for the screen. Directed by Joe Mantello, Jim Parsons, Zachary Quinto, Tuc Watkins, Andrew Rannells, Matt Bomer, Michael Benjamin Washington, Robin de Jesús and Charlie Carver star in the film version of The Boys in the Band, reprising their roles from the play. The 2018 revival of the play was also notable for the fact that each actor playing a gay character is also openly gay in real life.
The story of The Boys in the Band follows Michael (Parsons), who throws a party for Harold (Quinto), whose present is a "Cowboy" (Carver). Throughout the evening, their friends attend the party, and one of Michael's former best friends, a presumably straight man named Alan, arrives at the last minute. The entire play takes place during the party at Michael's, as they all get increasingly more drunk and increasingly more honest about deep-seated anxieties within themselves. Depending on the perspective of the individual characters, it can be seen as the birthday party from heaven or the birthday party from hell.
It is too late for The Boys in the Band to be tossed into the ring for this year's Emmy Awards, but last year, the Broadway production did win the Tony for Best Revival of a Play, so it could be a contender for next year's Emmys. On September 30, you can watch it on Netflix and decide for yourself.