One Week: Brad & Angelina
How Brad Pitt's portfolio of Angelina Jolie, "One Week," came to be.
---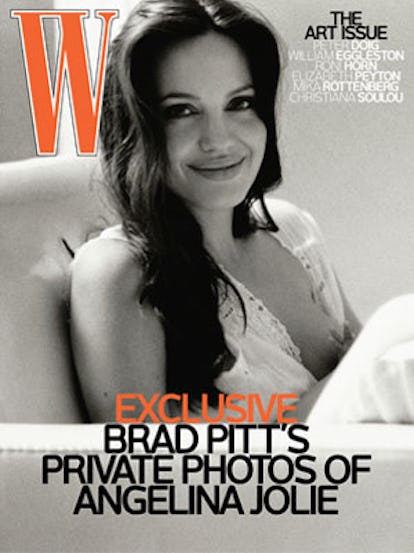 Brad Pitt's project for W actually sprang from a conversation W's Creative Director Dennis Freedman had with another photographer, Bruce Weber. Freedman had been mulling over how to show anything new about one of the most photographed women in the world and Weber pointed out that, in his opinion, the best pictures of Elizabeth Taylor were taken by her third husband, Mike Todd.
"I was surprised that Brad accepted the challenge," says Freedman of Pitt's enthusiastic response. "Last time we collaborated, I was struck by his sensitivity to the subtleties of photography. I knew that he possessed a highly tuned critical eye and would be very demanding of himself. Still, I wasn't prepared for the beauty and intimacy of the images he made of Angelina and the children."
For a hobbyist, Pitt certainly knew what he wanted. He was determined to shoot Jolie with Kodak Tech Pan film, which hasn't been manufactured for four years. Photo Editor Nadia Vellam located 40 rolls of the stuff on eBay, which a courier then hand-carried to Pitt in Provence, France, where the couple have been hiding out since June. A week later Pitt called; he needed more film. Vellam's first source was tapped out. She finally tracked down a guy who offered her 30 rolls—in Israel. She then had mere hours to find someone in Tel Aviv who could get on a plane to France with the film that very day. Pitt also wanted to try a specialized film used in World War II–era movies. That was a no-go. One of Vellam's sources instead recommended Ilford to achieve the same romantic, grainy quality. Assistant Bookings Editor Will Higdon-Sudow hopped a flight with it and made the handoff in a hotel lobby. The results speak for themselves.
All photos © Potter Inc.