Brad Pitt Joined Angelina Jolie and Their Children on Several Recent Trips to Cambodia
The kids split their time between their parents.
---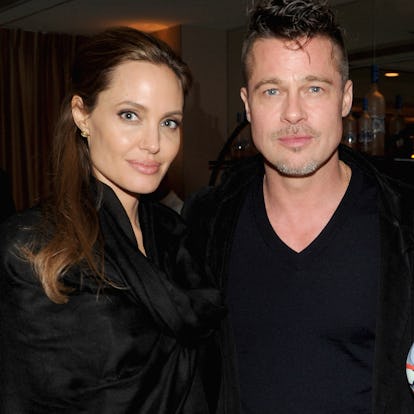 Jamie McCarthy/Getty Images
Further proof that Brad Pitt and Angelina Jolie are beginning to mend fences following the September announcement of their divorce and the messy rumors of discord that followed: E! News reports that Pitt recently took several trips to Cambodia with Jolie and their six children while the actress was filming and promoting her new Netflix project First They Killed My Father in the country.
One source told E! that Pitt visited Cambodia often, except when his shooting schedule conflicted. A second source said the former couple's kids spent time there with Pitt, in addition to "some or all" of the brood traveling back to Los Angeles to be with their dad.
"All through production and filming, and on her most recent press trip, Brad came to Cambodia in secret to spend time with the kids," said the source. "They were with Angelina for probably 75 percent of the time when Brad was in the country and they'd go back and forth between her and Brad. …He wasn't in Cambodia the entire time they filmed, but he made multiple trips there to spend time with the kids."
Jolie has been an activist in Cambodia for years, and she adopted her first child, Maddox, from an orphanage in the nation in 2002. First They Killed My Father, which centers on the struggles of Cambodia under the government of the Cambodian Communist Party, the Khmer Rouge, in the 1970s, will also reportedly be Maddox's first producer credit.
See, their divorce is now as near perfect as a divorce can be. The hiring of a private judge to handle the divorce proceedings has reportedly relieved much of the tension between the pair and helped keep unsavory details of the split private.
Meanwhile, the couple have also recently taken time to hone their individual passions. In addition to returning to the screen (this time, the small kind) in the Netflix film War Machine, Pitt has taken up sculpture, according to the Daily Mail. Jolie is planning her triumphant return to film in front of the camera, while also taking time to enrich young minds as a lecturer at the London School of Economics.
Brad Pitt takes W's Screen Test:
Brad Pitt and Angelina Jolie's 15 Best Red Carpet Moments
Angelina Jolie, in Reem Acra, and Brad Pitt at the premiere of The Good Shepherd in New York, New York, December 2006.

Getty Images
Angelina Jolie, in Emanuel Ungaro couture, and Brad Pitt at the premiere of Ocean's 13 in Cannes, France, May 2007.

AFP/Getty Images
Angelina Jolie, in a vintage crushed velvet dress from Wasteland in Los Angeles, and Brad Pitt at the premiere of A Mighty Heart in New York, New York, June 2007.

FilmMagic
Angelina Jolie, in Atelier Versace, and Brad Pitt at the Golden Globe awards in Beverly Hills, California, January 2009.

Getty Images
Angelina Jolie, in Versace, and Brad Pitt at the premiere of Inglourious Basterds in Cannes, France, May 2009.

WireImage
Angelina Jolie, in Emporio Armani, and Brad Pitt at the premiere of Salt in Hollywood, California, July 2010.

FilmMagic
Angelina Jolie, in Atelier Versace, and Brad Pitt at the Golden Globe awards in Beverly Hills, California, January 2011.

WireImage
Angelina Jolie, in Atelier Versace, and Brad Pitt at the premiere of The Tree of Life in Cannes, France, May 2011.

FilmMagic
Angelina Jolie, in Atelier Versace, and Brad Pitt at the Golden Globe awards in Beverly Hills, California, January 2012.

WireImage
Angelina Jolie, in Jenny Packham, and Brad Pitt at the Screen Actors' Guild awards in Los Angeles, California, January 2012.

WireImage
Angelina Jolie, in Atelier Versace, and Brad Pitt at the Oscars in Hollywood, California, February 2012.

WireImage
Angelina Jolie, in Ralph & Russo, and Brad Pitt at the premiere of World War Z in Berlin, Germany, June 2013.

ullstein bild via Getty Images
Angelina Jolie, in Elie Saab couture, and Brad Pitt at the Oscars in Los Angeles, California, March 2014.

WireImage
Angelina Jolie, in Versace, and Brad Pitt at the premiere of Maleficent in Hollywood, California, May 2014.

FilmMagic
Angelina Jolie, in Versace, and Brad Pitt at the premiere of By the Sea in Hollywood, California, November 2015.

FilmMagic