Leonardo DiCaprio Shares First Look at His and Brad Pitt's Once Upon a Time in Hollywood Characters
Another reason to get excited for one of the year's most anticipated films.
---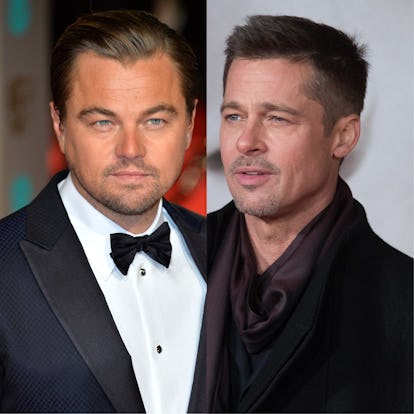 Getty Images/Luca Teuchmann/Anthony Harvey
Once Upon a Time in Hollywood doesn't hit theaters until August 2019, but the hype behind it is already in full swing. Starring everyone from Leonardo DiCaprio and Brad Pitt, to Margot Robbie, Burt Reynolds, Emile Hirsch, and Dakota Fanning—to name just a few—the film has all of the makings of an Oscar contender. Today, DiCaprio sent out a reminder of that when he shared the first look at his and Pitt's characters in the Quentin Tarantino–helmed movie.
"First look. #OnceUponATimeInHollywood," DiCaprio captioned the photo. In it, he and Pitt are almost unrecognizable in their 1969 attire. In a double-denim look, Pitt could be mistaken for a young Robert Redford—which wouldn't be the first time. Meanwhile, DiCaprio puts his spin on the color palette of the time with a pair of brown slacks, a saddle-leather blazer, and a mustard turtleneck.
It makes sense that Pitt and DiCaprio are pictured together—without the rest of the cast—as the pair's relationship is central to the film. In it, DiCaprio suits up as a washed-up Western TV show star named Rick Dalton who lives next door to Sharon Tate, played by Robbie. Pitt plays his sidekick, Cliff Booth, who worked as Dalton's stunt double. "Both are struggling to make it in a Hollywood they don't recognize anymore," as the director told Variety back in February. "But Rick has a very famous next-door neighbor…Sharon Tate."
Tarantino also gushed about how excited he is to have both actors working together, saying, "I've been working on this script for five years, as well as living in Los Angeles County most of my life, including in 1969, when I was seven years old. I'm very excited to tell this story of an L.A., and a Hollywood that don't exist anymore. And I couldn't be happier about the dynamic teaming of DiCaprio and Pitt as Rick and Cliff."
This is the first full-length film Pitt and DiCaprio have worked on together. Martin Scorsese did bring them together in 2015 for the short film The Audition, which costarred Robert De Niro. Even without glimpsing it, though, Once Upon a Time in Hollywood is already shaping up to be their most memorable collaboration.
Related: Everyone Is Joining Quentin Tarantino's Film With Brad Pitt and Leonardo DiCaprio