Brandon Kyle Goodman on How to Make Real Change in Hollywood
The "Modern Love" actor and "Big Mouth" writer has laid out a way forward for his peers through a series of personal and candid videos on Instagram.
---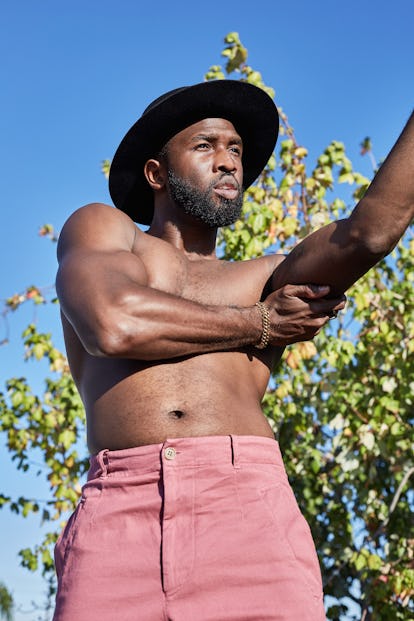 Photograph courtesy of Leslie Alejandro
Welcome to The People, our series highlighting those who have emerged as central figures in the anti-racism and Black Lives Matter movements. What began as a series of protests against police brutality following the death of George Floyd, a Black man killed by a white former Minneapolis police officer, has become a global racial reckoning. No industry or corner of culture has been untouched by this essential push for change—and there's still so much more to do. In this series, we'll speak with those who are at the forefront of this shift, redefining what it means to be an activist, and the folks transforming their platforms to disseminate information and resources on the way forward.
The actor and writer Brandon Kyle Goodman knows why Hollywood remains stagnant in its efforts to incorporate diversity and inclusion into a centuries-old system that largely keeps marginalized voices out. And he has an answer for the question of what can be done to create real change in his industry. It's a message he's spent the past few months circulating over social media, and one that's swirled around his mind for years.
"A shift in power is required," Goodman, who starred in an episode of "Modern Love," says, speaking over the phone from his home in Los Angeles, where he resides in Hollywood with his husband. "It requires people who are in power to step down, or to step aside, or to lose some percentage of their power. There is some sacrifice in that, which is for the greater good."
But Goodman, who's originally from Queens, New York, is realistic. He is aware how terrible it feels to lose something you've worked so hard to achieve—like a C suite position at a major distribution company, or a lead role in a blockbuster film. Who wants to feel like they're giving up their hard-earned spot, even if it, in the long run, means gaining so much more?
Here's an example of what people in power can do to dismantle the systems that be, he says. He points out Jenny Slate, with whom he worked on the Netflix animated series "Big Mouth." For the fourth and fifth seasons of "Big Mouth," Goodman has been in the writers' room; Slate voiced the role of Missy, a half-Black-half-Jewish character on the show. On June 24, Slate released a statement on Instagram that she would be stepping down from playing Missy, explaining that "Black characters on an animated show should be played by Black people."
One day following Slate's announcement, Goodman signed onto Instagram, as he's done often since the protests against the wrongful death of George Floyd began in May. He's spent much of his time in quarantine making videos in which he discusses the worldwide protests, racism, police brutality, his thoughts on inclusion in the entertainment industry, why Black people are not a monolith. This catalog of videos has caused his follower count to shoot up by 40,000 and counting—one clip in which he discussed why white people might be feeling shame in this moment garnered over 2 million views.
In a concise and thoughtful video, Goodman shares his feelings on Slate's departure. He centered the subject matter not around the actress herself (and in fact, Goodman never identifies her by name,) but instead, how other industry leaders can follow suit.
"You own your shit, you apologize for your shit, you tell us what the action is, and you take that action," he says, repeating these steps, almost like a mantra, more than three times, drilling it with polite firmness into his viewers' brains.
A week after posting the video, it's late morning on the West Coast and Goodman, who graduated from Tisch School of the Arts at NYU and spent some time in a sketch comedy group with fellow alumni before moving to New York five years ago, is chatting away on the phone. On this day, he says he feels motivated and positive—feelings that, since late May, have more often than not been superseded by anxiety and fear. But he's working on a project amplifying a group of Black trans women who he's "obsessed with," and that, coupled with frequent therapy sessions and "checking in" with himself throughout the day, helps stave off feelings of dread.
"Whenever you take it off of yourself and put that energy on helping or servicing or supporting somebody else, I always feel like that causes some of that angst to dissipate" he says.
The current Black Lives Matter movement has pushed Goodman to grapple with moments of heaviness all the same. In a conversation with his friend, fellow comedian Quinta Brunson on—you guessed it—Instagram Live, he discussed the pressure of having to deliver a best-of-the-best performance and written work as a Black person in entertainment—not only because Black people are held to a standard that requires perfection, but also because Goodman, as a queer Black person, feels the weight of the community on his shoulders. In any creative field, there's already a struggle of not feeling good enough, or worrying about criticism. Add the pressure of representing an entire people, and the emotions can be overwhelming.
"There's no space for failure, or development. You're representing all Black queer people with this movie," he says. "You got the shot and you have to do it right, because we might not get another shot. If Meryl Streep makes a bad movie, it's not like she's not going to get another one."
Corporations, businesses, and brands are stuck in murky waters—delivering platitudinal messages of solidarity with the protesters and those calling for systemic change, but returning to business as usual once pressure from the public lifts. In Goodman, who is using his social media platforms to talk openly and candidly about his experience in a Black man in America, there is someone laying down a clear path, an actionable plan that takes these institutions by the hand and says, "Do this." It seems almost too easy to say, but it's kind of refreshing.
"I think in any field, in any craft, you need development. No one comes out perfect. There's gotta be a chance to try something and do it wrong and get that feedback and go back to the drawing board and make something new," Goodman says.
The actor, whose latest project is a lead role in the Netflix movie, Feel the Beat, is cautiously hopeful about any significant changes that might befall the entertainment industry as a result of this current anti-racism movement. But the fact that Slate came to the table with a request to step down from Big Mouth before anyone working on the show brought it up marks some level of progress.
"It is important because what she's acknowledging is not just the good of the show but the good of the system," he says. "Jenny has been doing her work, and we can say she 'woke up,' and said to herself, 'This doesn't make sense. This is not aligned with who I am and what I believe in.' So she made a choice—because once you see it, you can't unsee it. But now that you're awake, what are you going to do with that?"
Related: Sophia Roe on Wellness and Racism's Inextricable Ties